Cucumber ice cream with mint and ginger as granita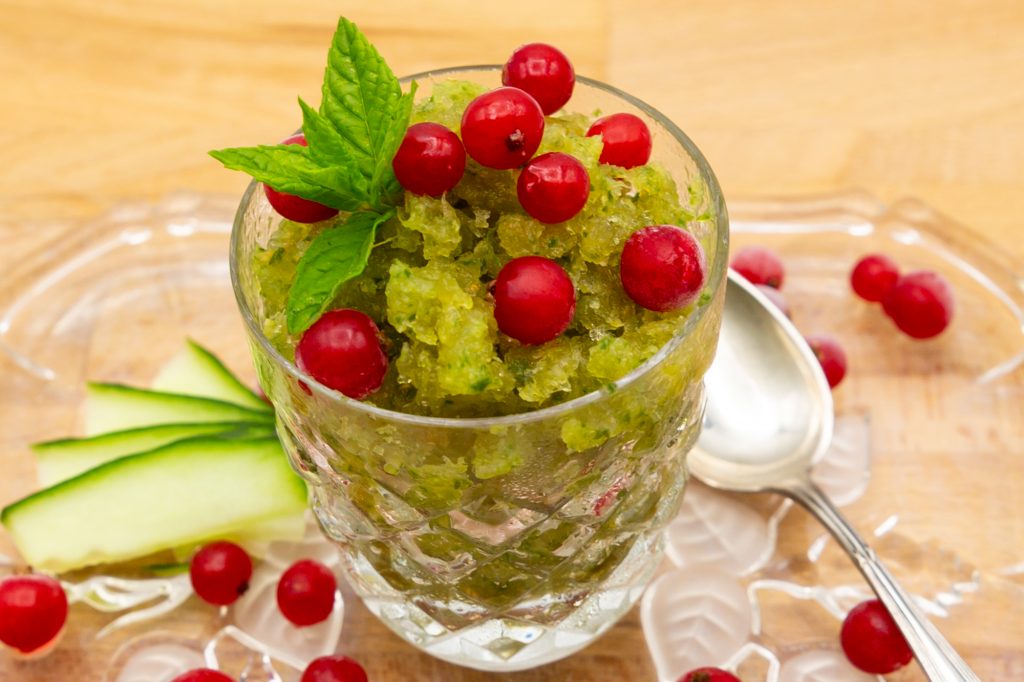 Cucumber ice cream according to this recipe is very refreshing and comes without refined sugar off. Coconut blossom sugar gives the ice cream a Caramel note. The Ginger and lime juice make it a perfect ice cream for the summer or as an intermediate course for a menu.
This time, I've chosen to make it as Granita was chosen.
The Granita is a very simple manufacturing variant. The mass is placed in the freezer and regularly Fork stirred through. The intention is to create larger ice crystals, therefore use a fork and not a whisk or hand mixer.
But the ice can just as well be Ice cream machine are produced or in Stem Ice- or Popsicle shapes can be filled.
Cucumber ice cream ingredients
4 portions
1 cucumber (approx. 400 g)
10 g ginger
30 g coconut blossom sugar
1 tablespoon maple syrup
5 g mint
50 g lime juice
50 g water
Preparation
Wash the cucumber and cut it into pieces.
Cut the ginger into pieces.
Place all ingredients except the mint in a blender and puree thoroughly.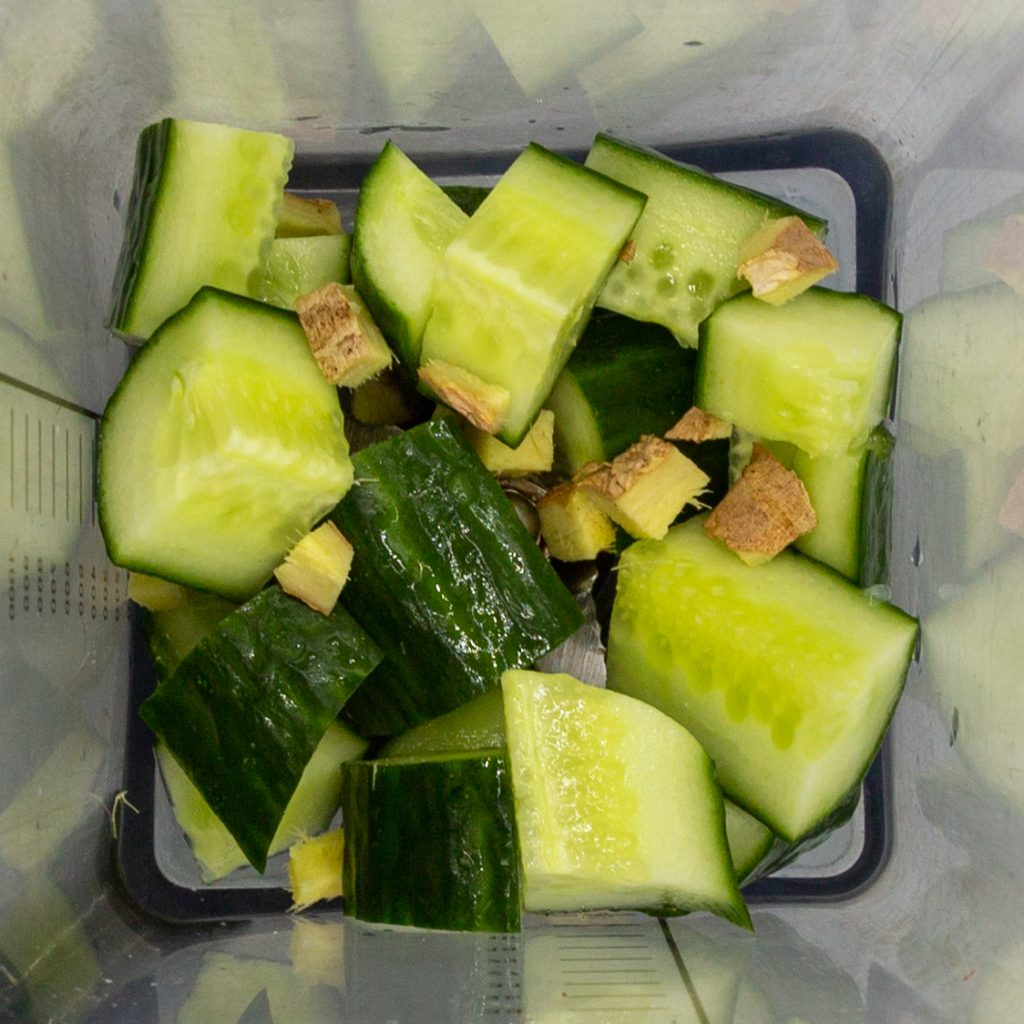 Add the mint and mix again. But not too long, so that the mint is still visible.
In freezer compartment freeze. In order to Granita the ice cream mass only with a fork. To obtain a finer ice cream, mix well every 30 minutes with a hand mixer (total duration 3 hours).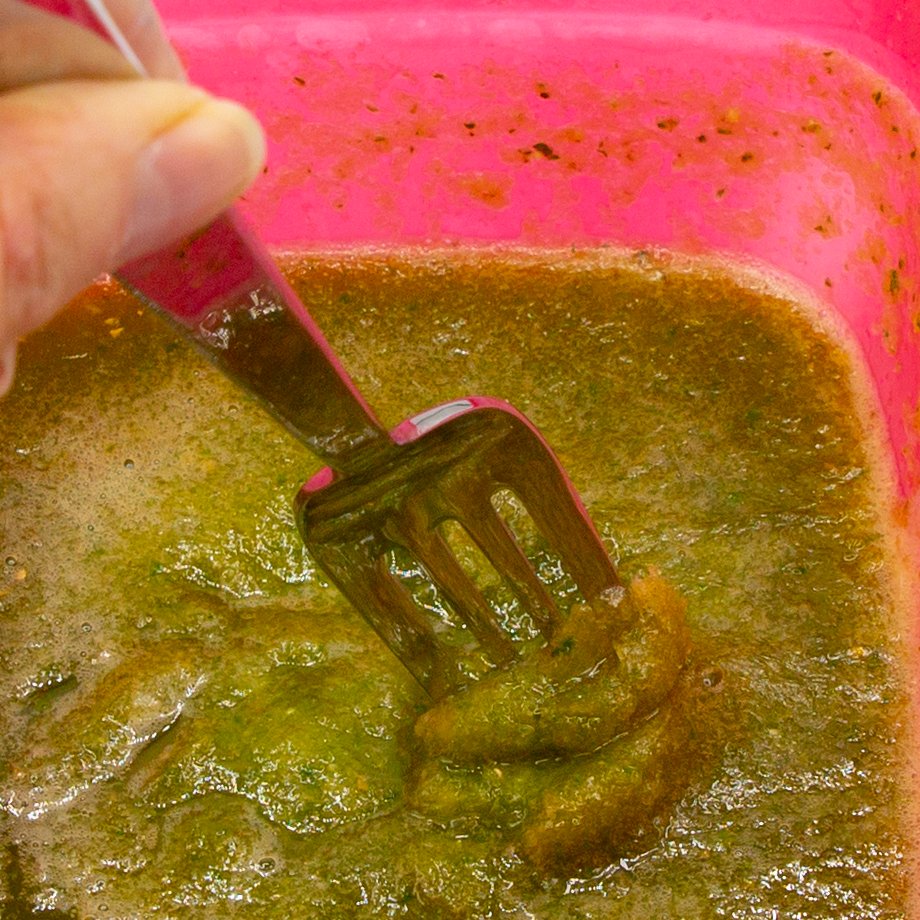 The ice can also be used in the Ice cream machine be prepared. Allow to pre-cool for a few minutes, depending on the model. Switch on the stirrer and add the ice cream mixture (duration approx. 30 minutes).
Alternatively in Stem Ice- or Popsicle shapes and let it freeze for about 3 hours.
If the cucumber ice cream longer in the freezer was stored, only for about 20 minutes in the defrost the refrigerator before you eat it. Stir the granita once again well with a fork.
Tips for making cucumber ice cream
I have processed the cucumber peel to keep the valuable ingredients. Also the ice cream looks nice and green. Of course you should pay attention to organic quality. But you might as well remove the cucumber peel before mixing.
You can recognize a fresh cucumber by the fact that it feels firm to the touch. The tip in particular tends to soften very quickly. Therefore touch the tip once and feel if it is still firm.
I also pay attention to the organic quality of the ginger and leave the peel on. The fresher and younger the ginger is, the better. But you can also peel the ginger beforehand. The best way to do this is to scrape the skin with a knife or spoon. Otherwise you tend to cut too much of the ginger tuber and discard it.
Decorate the ice cream best for contrast with red accents. Fruits such as strawberries, currants and raspberries or even goji berries come into question here.