Carrot and orange popsicles: Make your own ice cream on a stick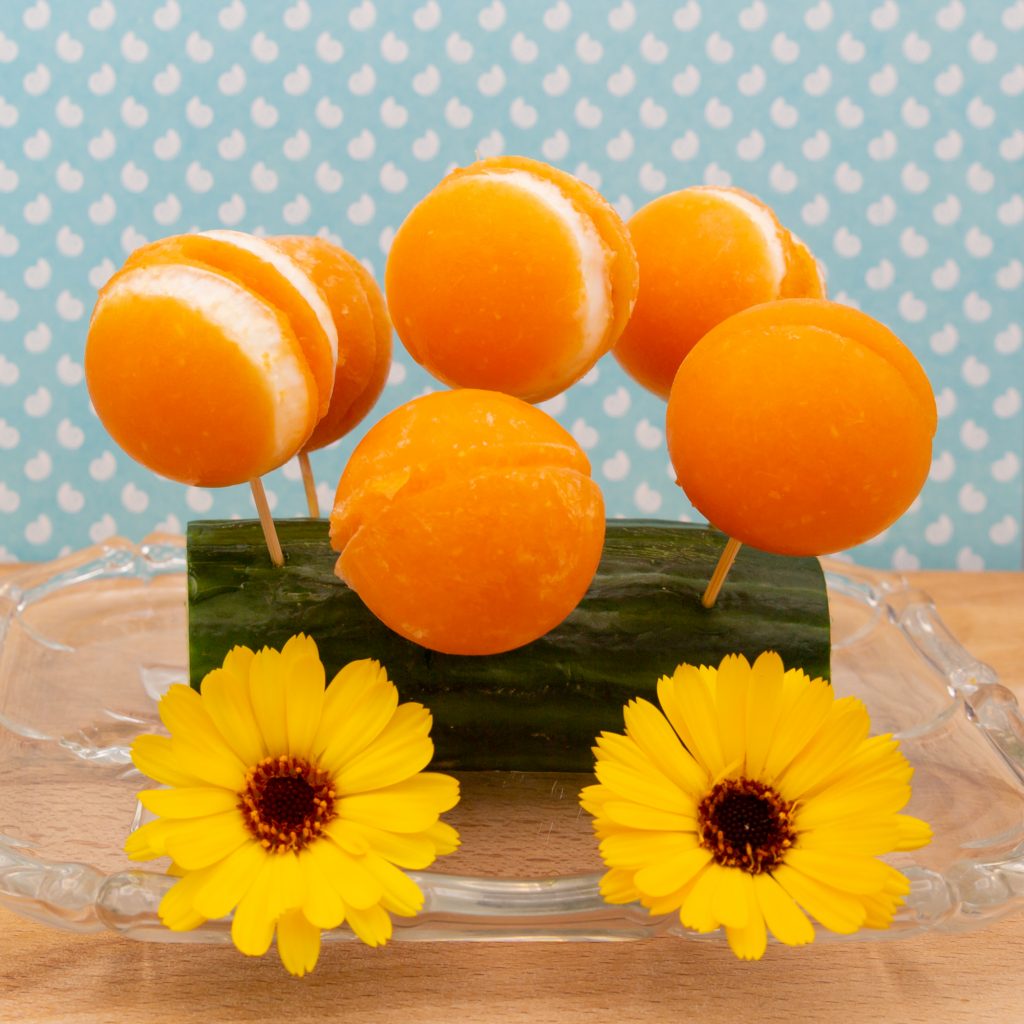 In keeping with Easter, here is a carrot orange ice cream recipe to make a very tasty popsicle yourself. For sweetness, oranges and some maple syrup are added. The ginger gives the ice cream a special touch.
What are ice pops?
An ice pop is actually just the English name for popsicle. In this case a water or milk based liquid poured into ramekins, with a Stem and frozen. With this type of ice no ice cream machine or any other intermediate step is necessary.
Therefore, you can make this ice cream very easily yourself and it is also good for the Production together with children. Only the waiting time until the ice cream is ready could be a bit long for some little sweet tooth 😉 .
Ingredients carrot-orange ice cream
250 g carrots
12 g ginger (can also be omitted for children)
4 oranges (one untreated)
4 TBSP. Maple syrup*
4 tablespoons lime juice
Preparation
Peel the carrots and cut them into pieces.
Rub the peel off an (untreated) orange.
Cut off the peel including the white skin from all oranges. It is best to first halve the oranges and cut off the peel including the white on a cutting board. Then cut the orange into slices. When doing this, pips will fall out very easily.
Put all prepared ingredients, maple syrup and lemon juice in a blender and puree finely.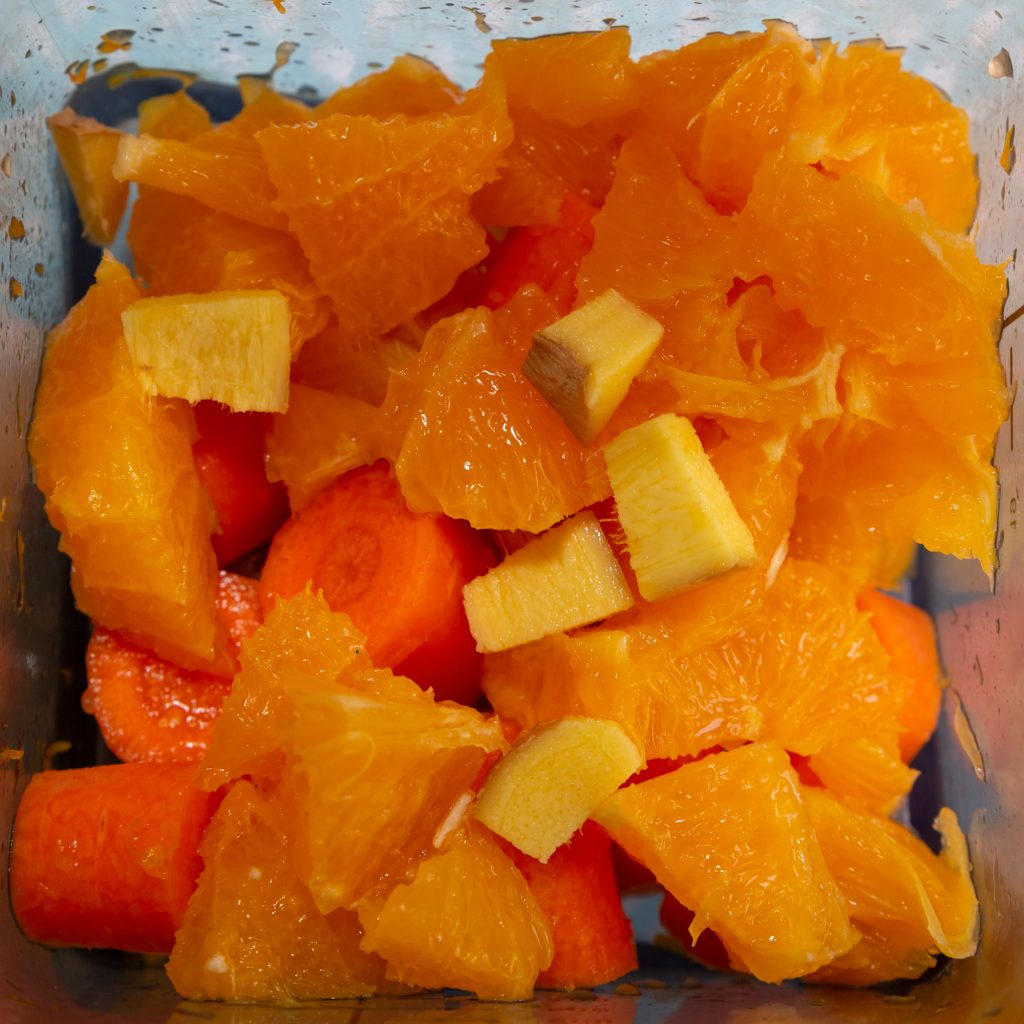 To obtain a finer ice cream, pass the mixture through a sieve. You can also omit this step if you do not mind the pieces in the ice cream.
Pour the mixture into popsicle molds or other containers (see tips) and freeze for at least 5 hours.
You can read below how I made the spherical ice pops with the yogurt layer.
Tips for making popsicles and especially carrot-orange popsicles
If you no popsicle molds or ice cube molds you can take any shape that continues upwards. I have for example Shot glasses made of plastic are used. These can also be used over and over again if you treat them with care. But also go small glasses or e.g. rinsed Yoghurt cup.
In order to get the ice out of the container, first run it under hot water and then by means of Hand heat continue to warm until the ice slides out easily.
As stems you can use different things depending on the size. For example, offer Toothpicks for the ice cube molds, but also quite normal Metal spoon can be put into larger molds. However, you have to be careful when eating that in the end, the ice cream slides away much faster than from a wooden stick. I always take the Plastic spoon home with me, which I get at the ice cream parlor with my ice cream. I think they are just too good to throw away. Of course, these can be used just as well.
If you want the stem to be in the middle, just Rubber Rings fix it.
For my Ice Pops I have the Egg holder of my refrigerator misappropriated, after I have no use for it anyway. Maybe you have at home something like that still lying in the closet? But you can also Silicone baking pans use.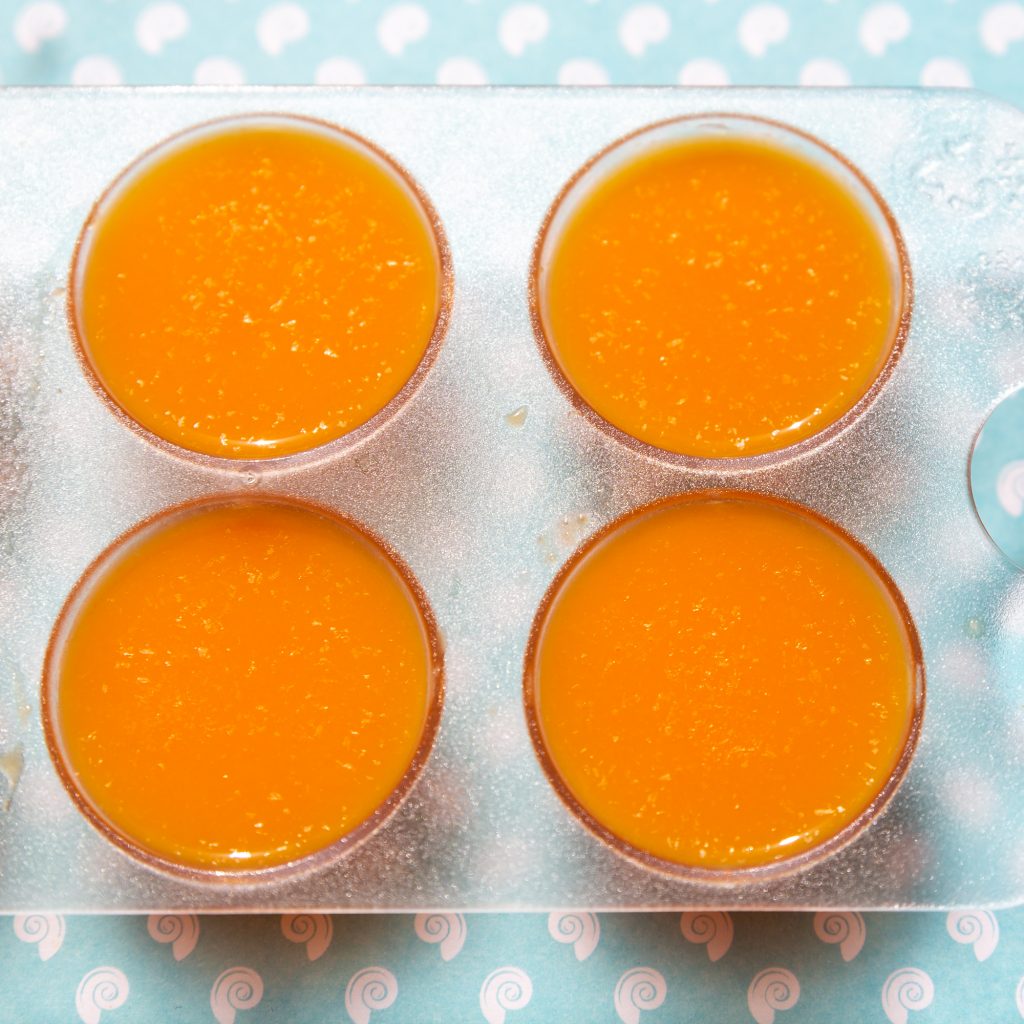 For the ice pops with Yoghurt layer just a small amount of the Frozen yoghurt ice cream or vegan frozen yogurt make and freeze in layers. At the end, stick two halves together with a little ice cream mixture, do not forget the stem in between and freeze again.
The smaller the mould, the faster you get your finished ice cream. The round ice pops, for example, are ready in less than 3 hours.
More Recipes with ginger in ice are the Golden milk ice cream and that Cucumber ice cream with mint. Both are also vegan. You can find many more vegan recipes or Popsicle recipes on my blog.
---