Cherry ice cream with chili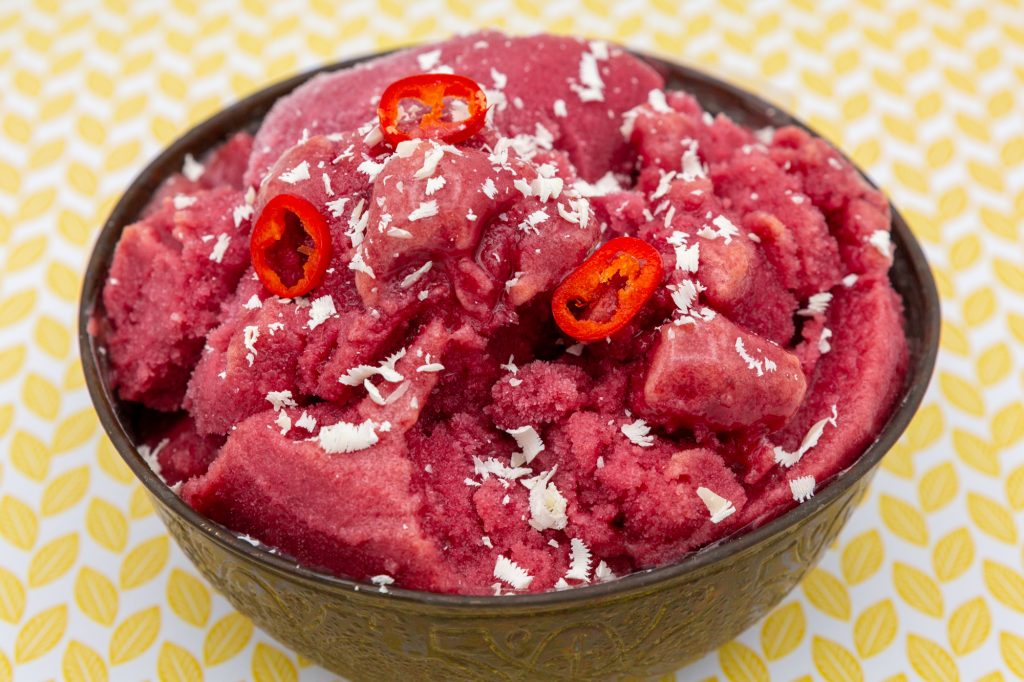 A cherry ice cream recipe if it's ever especially fast to go. You only need Glass of sour cherries and we're good to go.
Anyone who wants to add a cherry ice cream special flavor and make an impression on his guests, gives Chili with this. But don't worry, the sharpness is still pleasant even for sensitive people like me.
For children you can use the Chili also simply omit and the ice cream very good in Handle ice forms fill. So a All-round recipe for all occasions.
Ingredients cherry ice cream
3 portions
350 g sour cherries, pitted, from the jar
300 g collected water (from drained cherries)
90 g sugar
1 small red chilli (optional)
1 pinch of salt
Preparation
Drain the cherries in a sieve and collect the cherry brandy in a pot.
Halve the chilli once lengthwise, remove the seeds and cut into rings.
Add the sugar and chillies to the kirsch in the pot and bring to the boil for 2 minutes.
Blend the cherries with the cherry syrup in a blender or hand blender. The chillies should not be mixed with the cherry syrup unless you like it particularly hot.
The Ice cream machine prepare and pre-cool for a few minutes depending on the model. Switch on the stirrer and add the ice cream mass (duration approx. 30 minutes).
Alternatively in freezer compartment Allow to freeze and mix well every 30 minutes with a hand mixer (total duration 3-4 hours).
If the cherry ice cream longer in the freezer was stored, only for about 20 minutes in the defrost the refrigerator before you eat it.
Tips for making cherry ice cream
The cherry ice cream is very good with chocolate combine. And that in all possible variations. Be it with Chocolate shavings in or on the ice or in combination with Chocolate ice cream.
Should you really Chili fans then you'll be able to Chili naturally also with the cherries together mix. Personally, that would be way too spicy for me. But there are different tastes.
If you want to make the cherry ice cream differently spicy for the individual foodies, you can use the cooked Chili's in a pan until the water has evaporated and they lightly caramelised and reach to the ice for individual sharpening.
I have for the decoration from a nice white paper (e.g. chocolates inside packaging are suitable here well) small boxes folded (one base and one lid per portion) and filled with the ice cream. After this Instructions the boxes are really easy to fold.