Parfait recipe: creamy ice cream without ice cream machine
If you don't have an ice cream machine at home and you like cream ice cream, try making parfait. It is really easy to prepare and after 6 hours you will have your ice cream ready.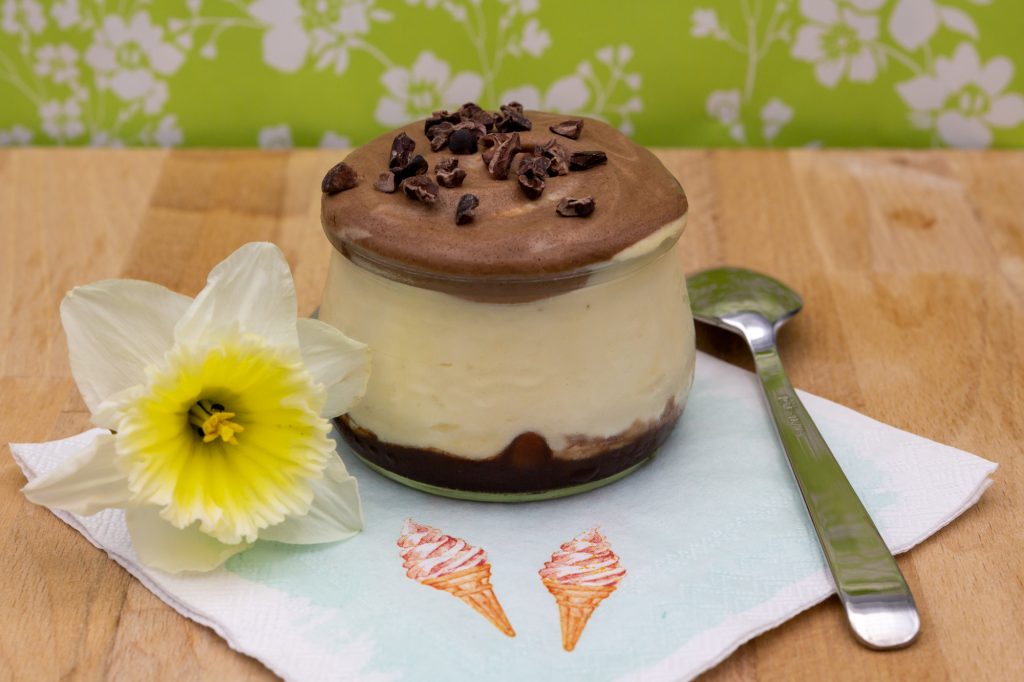 Parfait recipes consist mainly of Egg yolk, sugar and cream. The proportion of cream is very high, resulting in a mousse-like consistency that is exceptionally tasty. Hence the name "Parfait" from the French for "perfect".
The ice mass is frozen without stirring. The resulting fine crystalline structure is characteristic and so desired. The high proportion of eggs and cream ensures that the ice cream does not become too firm and only forms fine crystals.
At the Modification of the parfait recipe with fruits, nuts, cookies, fruit sauces and spices, there are no limits to your imagination.
But first of all, let's talk about the production of the base material and the process. I use some milk to make the parfait recipe a touch lighter and to be able to heat the egg-sugar mixture better without it curdling.
Ingredients of the basic recipe for Parfait
for about 6 portions
3 egg yolks
75 g sugar
100 g milk
300 g cream
Optional: vanilla, cocoa powder, amaretto or whatever else you can think of (see. Tips)
Preparation
Place the eggs and sugar in a pot and mix well with a whisk
Add the milk and slowly heat up to a maximum of 65°C while stirring.
Check the temperature with a thermometer and stir the mass at 65°C for about 15 minutes.
If you want to flavour the mass, e.g. with vanilla, now is the right time (see also tips).
Let it cool down and in the meantime whip the cream until stiff.
Using a hand mixer, also whip the egg mixture into a cream.
Fold the whipped cream into the egg cream.
If fruits are to be added to the parfait, carefully fold them in now.
Whip a baking tin or bowl with cling film.
Pour the mixture into the mould and let it freeze overnight or for at least 6 hours.
Before consumption the parfait should be about 20 minutes in the refrigerator to get the right temperature.
Then the Form briefly in warm water and drop the parfait on a plate. Remove the foil and decorate with toppings, sauces or fruits as desired.
Tips
Is it a larger or very rigid shapethe wall should first be covered with Edible oil and only then insert the foil. Then the parfait can be overturned more easily.
To Flavouring of the parfait you need per recipe e.g. 1/2 vanilla bean, 1-2 tablespoons cocoa powder, 1-2 tablespoons amaretto or similar.