Frozen yoghurt with guaranteed success
Frozen yogurt (or frozen yogurt) is very Easy to make, as yogurt in itself makes a good ice cream base. The recipe is super quickly prepared and can be used without significant loss of quality also in the freezer can be produced.
Your own Frozen yogurt ice cream at any time of the day or night. You just have to remember to keep a stock of yogurt in the fridge.
In the meantime, I have already developed several variations of this recipe. If you are interested in a vegan variant, you will find the Vegan frozen yogurt recipe found. An alternative with Greek yogurt I have also already tried. Even more substantial is my Recipe for a creamy curd ice creamthat I can also only recommend to you.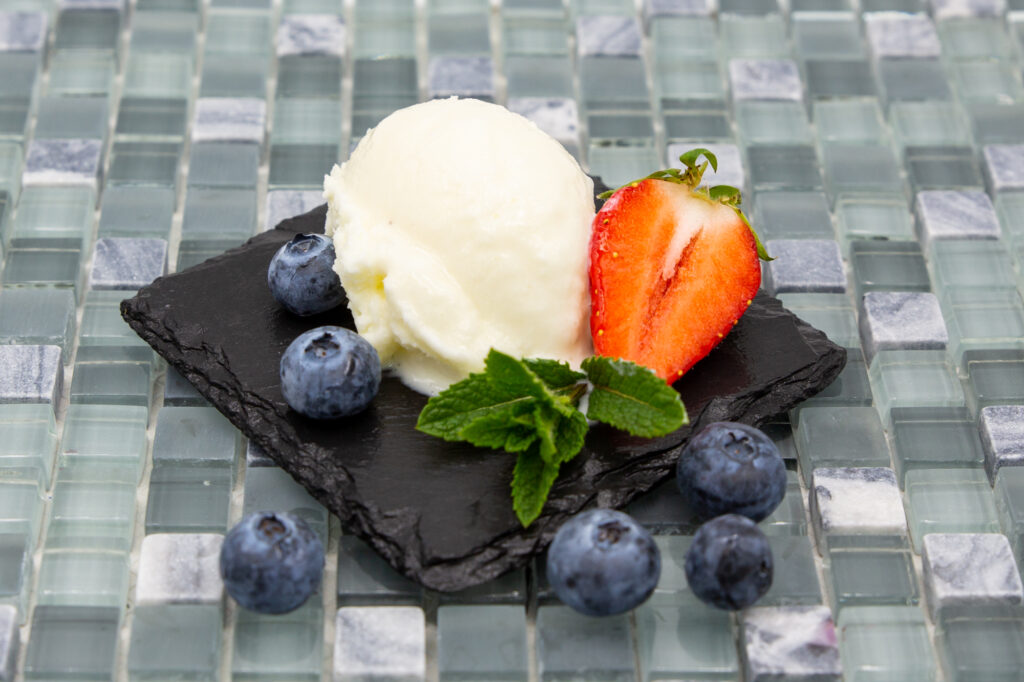 Ingredients frozen yogurt
2 portions
250 g yoghurt (3-4% fat content)
10 g vanilla sugar
50 g sugar syrup (e.g. bar syrup or Lauter sugar: 25 g sugar + 25 g water)
1 shot of lime juice
1 pinch of salt
Production of refining sugar
Equal parts water and sugar (so for this recipe. 25 g water and 25 g sugar) briefly simmer in the pot.
The sugar syrup has the advantage that the sugar crystals are already dissolved. This means that the sugar is very quickly combines with the yogurt.
You can also use refining sugar on Stock as it is used for various types of ice cream, especially sorbets. Pour into a bottle while still hot, store in a cool place and consume within approx. 2 weeks.
---
Preparation of frozen yoghurt in 2 steps
It couldn't be simpler: mix all ingredients together with a hand mixer or hand blender briefly on high speed until a uniform mass is formed.
Pour the mixture into the precooled ice cream machine (duration approx. 20 minutes) or in the Freezer mix vigorously every 30 minutes with a hand mixer. This takes about 4 hours.
Last updated on 1 October 2023 at 8:03 . Please note that prices displayed here may have changed in the meantime. All information without guarantee.
Tips for frozen yogurt
The ice cream should best same day be plastered completely, because it becomes very hard in the freezer. If you have kept the ice cream longer in the freezer, then for approx. 30 minutes in the refrigerator Allow to thaw and stir or mix well once again.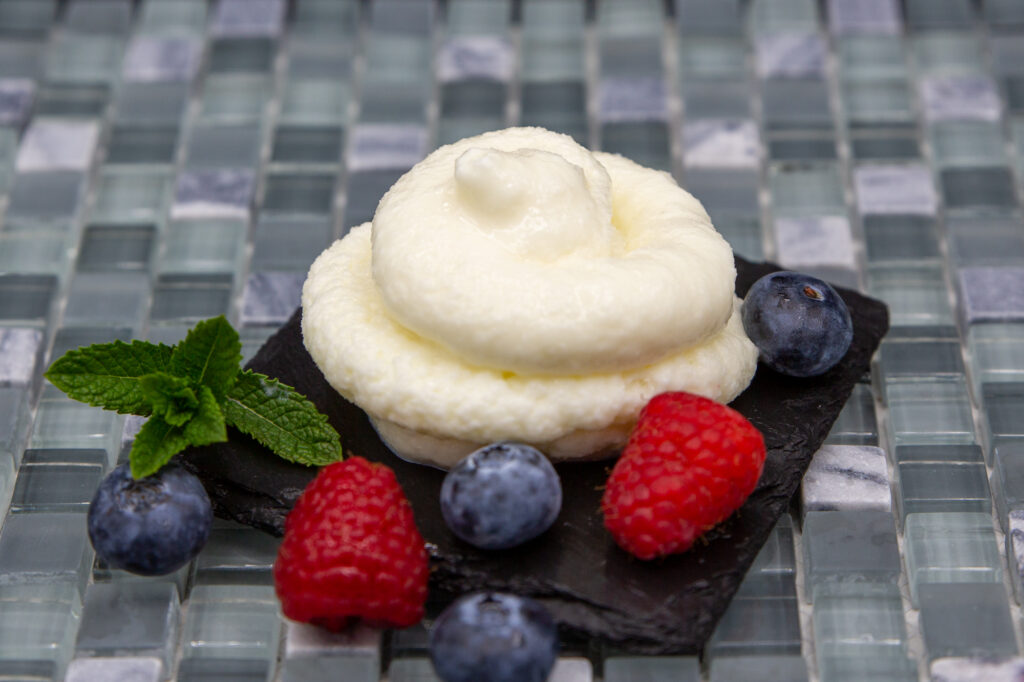 To arrange, you can put the ice cream in a Spray nozzle with a large opening or in a freezer bag. To do this, place the piping nozzle or bag with the edge folded over in a slightly larger glass and fill with the ice cream. In the case of the freezer bag, cut off the tip with scissors. Once you pick up the piping nozzle or bag, you have to do it quickly so that not too much of the ice cream melts. Drape a nice curl onto a plate or into a bowl and top with Toppings (see below) decorate
The Vanilla sugar best do it yourself. Why, you can read in my contribution to the Difference between vanilla and vanillin read about it. There you will also learn how the food industry is leading us around by the nose. For the homemade vanilla sugar simply a scraped vanilla pod* to approx. 200 g sugar and store in an airtight container.
Toppings for frozen yogurt
Here are some inspirations on how to decorate your yogurt ice cream:
Fresh Fruits seasonal (strawberries, raspberries, blueberries, currants, mango, pineapple, kiwi, bananas, etc.)
Fruit sauces such as Strawberry sauce. Other sauces can also be easily made yourself: Puree fruit with a little powdered sugar or lactose, add a dash of lime juice if necessary.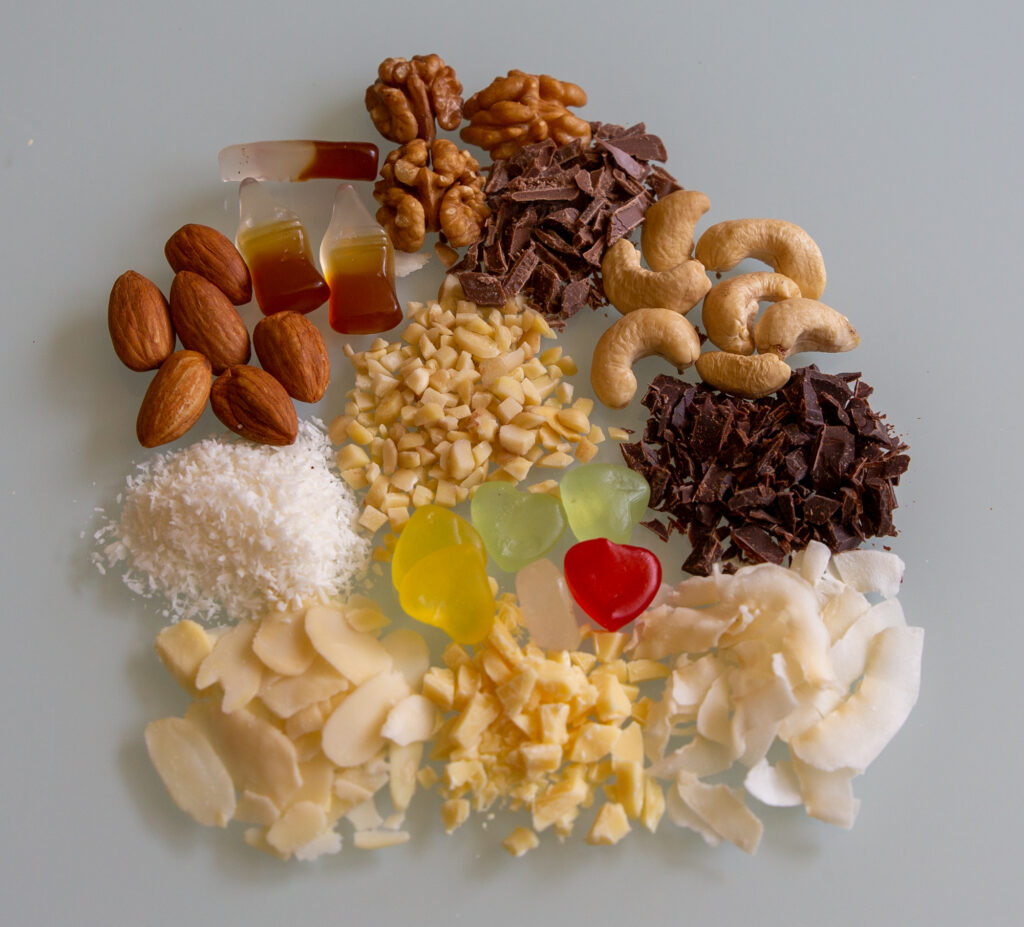 Gummy bears
Chocolate shavings (white, dark or milk): simply shave a bar of chocolate with a sharp knife or if you want it even finer with a Grater*.
Coloured crumbles
Biscuits
Muesli
...and much more
---
To frozen yogurt or frozen yogurt can be very well different Sorbets combine, such as an exotic Mango sorbet, Pineapple ice cream from the freezer or a classic raspberry sorbet.
Or do you fancy a quickly prepared sundae with yogurt-cherry ice cream?
Try also my recipes for Frozen yogurt from Greek yogurt or my recipe for Cheesecake ice cream with Philadelphia.