Vegan frozen yoghurt ice cream - as good as the original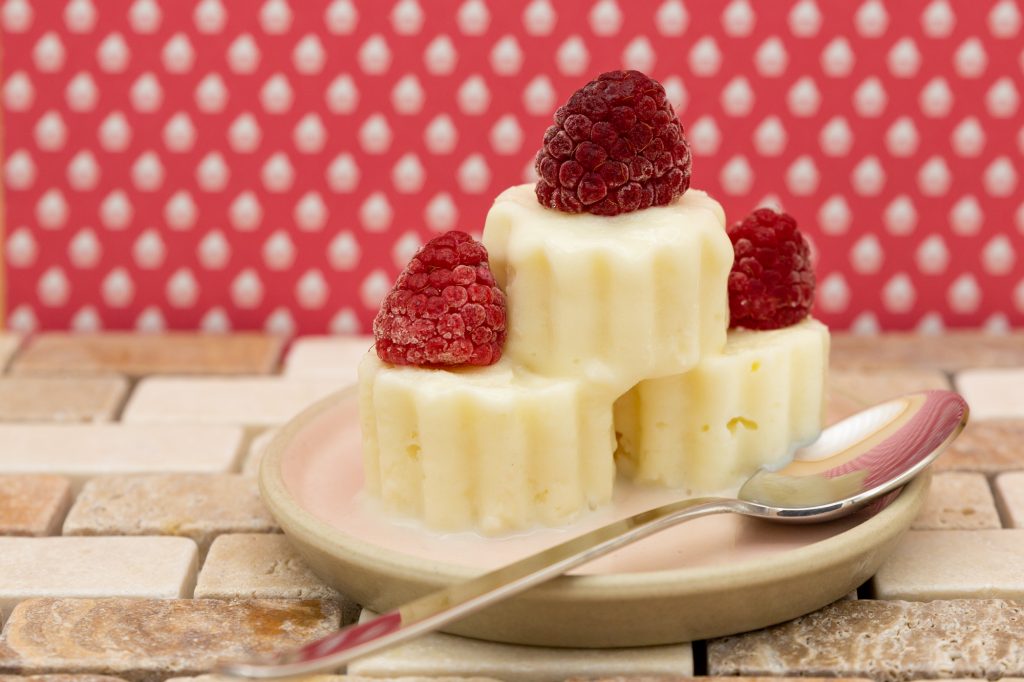 This ice is based on the Frozen yoghurt ice cream recipe from cow's milk. However, you can also use any other plant-based yoghurt to make the recipe in a slightly modified version. I have adjusted the amount of sugar, because on the one hand the vegan yoghurts are usually already a bit sugared and on the other hand not as sour as the original. The recipe is prepared super fast and can easily be made in the freezer without any significant loss of quality.
Ingredients vegan yoghurt ice cream
2 portions
250 g vegetable yoghurt (3-4% fat content)
10 g vanilla sugar
40 g sugar syrup (e.g. bar syrup or lump sugar)
1 tsp lime juice
1 pinch of salt
---
Production of lump sugar
Cook in equal parts water and sugar (for this recipe 20 g water and 20 g sugar) briefly in the pot.
The sugar crystals are already dissolved by the sugar syrup. This means that the sugar combines very quickly and easily with the yoghurt.
It is also possible to produce lautered sugar for stock, as it is used for various types of ice cream, especially sorbets. Simply pour it into a bottle while it is still hot, store it in a cool place and consume it within approx. 2 weeks.
---
Preparation of yoghurt ice cream in 2 steps
Blend all ingredients with a hand mixer or hand blender for a few minutes at high speed until a homogenous mixture is obtained.
Put the mass in the Ice cream machine (duration approx. 20 minutes). During the production in the Freezer compartment Mix vigorously every 30 minutes with a hand mixer. This takes about 4 hours in total.
Tips
It is best to eat the ice cream the same day, because it becomes very hard in the freezer. When produced in the freezer, there is a slight loss of creaminess, as slightly larger ice crystals are formed.
If you want something a little more unusual, you can, for example, fill the ice cream into a syringe with a large star opening and arrange it on a plate. Alternatively, you can also fill the ice cream into moulds, as shown in the picture above. I used a cookie cutter for this. The latter works best when the ice cream is already a little bit frozen.
Toppings
Here are some inspirations on how to decorate your yoghurt ice cream:
Nuts: flaked or chopped almonds, chopped hazelnuts or walnuts
Fresh seasonal fruit (strawberries, raspberries, blueberries, currants, mango, pineapple, kiwi, bananas, etc.)
Fruit sauces (simply homemade: puree the fruit with a little icing sugar or caster sugar, if necessary add a dash of lime juice)
vegan chocolate sauce
Chocolate sprinkles
Coloured crumbles
Brittle
Biscuits
Muesli
Coconut Flakes