Brittle: caramelise nuts in 5 minutes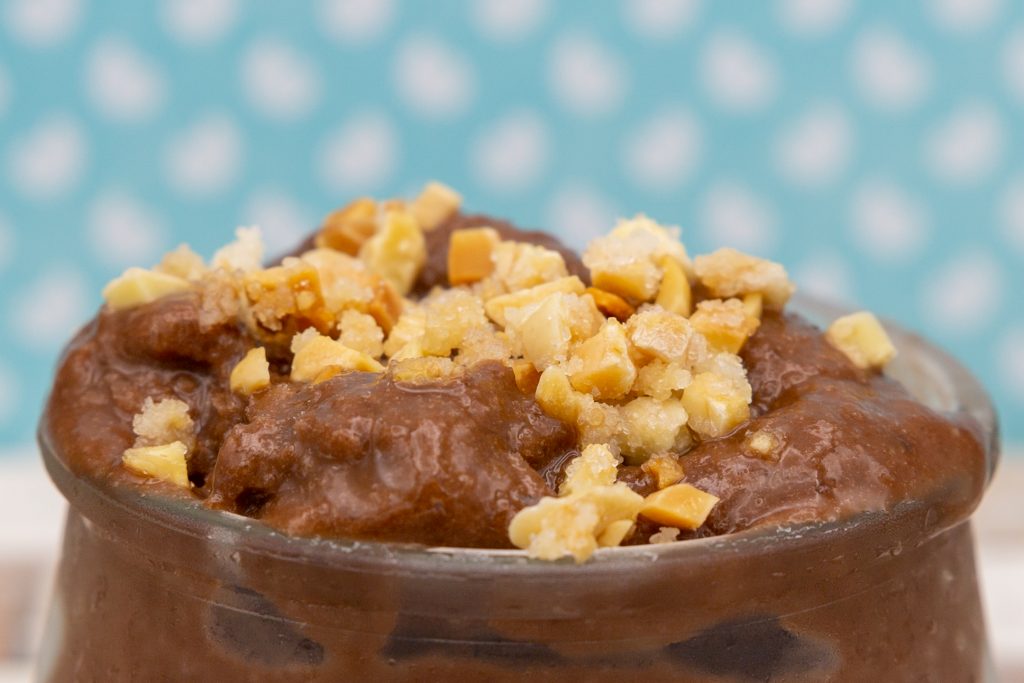 What is brittle?
Brittle is nothing but caramelised nuts or pips. From walnuts, hazelnuts, almonds, pistachios, sunflower seeds to pumpkin seeds, everything can be coated with a layer of sugar. This leads to the deliciously crispy and sweet Brittle feeling.
Even though some people may be afraid at first. It's... really easyto make your own brittle. With only few ingredients and in a short time anyone can produce a great result.
You only have to pay attention to a few tips, which I will of course tell you further down.
ingredients
Preparation of brittle
Chop nuts with a food processor or knife if you didn't buy chopped nuts.
Put the sugar and nuts in a coated pan.
Heat the pan at high temperature and stir regularly with a wooden spoon.
After a few minutes the sugar starts to melt. You can see this very well in the picture below.
Adjust the heat to a medium temperature and stir continuously.
Continue stirring until all nuts are covered with the sugar mass and have taken on a light brown colour.
Let it cool down on a plate.
Tips
Better, Whole nuts to buy and these fresh to chopbecause chopped nuts go rancid faster and lose flavor. But I can also understand everyone who buys the chopped version right away.
The thicker the bottom of the pan, the more evenly the heat is distributed and released. The heating of sugar and thus the production of brittle is more successful with a proper coated pan with thick bottom.
At melted sugar be very careful! Do not bring it into contact with skin or even taste it. The high temperature can quickly lead to burns. The stickiness of the mass makes it additionally difficult to cool down quickly at this point.
There is also the possibility of something Butter (approx. 1 tablespoon on top of the recipe described above). But I prefer the variant without butter and it also keeps better.
If everything sticks together after cooling down, simply put it in a bag and mix with a rolling pin crumble.
Fill the pan with warm water after production. The remaining sugar mass will gradually dissolve in the water. This means that you have no problems with Clean the pan.
Storage
The caramelised nuts can be used in a Glass airtight many months cool and dry must be kept. I'm going to make a little Stock and I'll have some ready when I need them.
Use of brittle
Of course I use brittle mainly for Ice cream. Especially in combination with Milk ice cream varieties it is unbeatable. At Chocolate ice cream, Vanilla Ice Cream and Nougat ice cream make caramelized nuts especially good. Brittle also finds for many Cakes et al Desserts Use, such as pudding or mousse
Variants for brittle
You can easily try out different variations here. Just add one of the ingredients listed below near the end of the caramelisation process over the nuts or kernels. One should not add the spices too early, otherwise the heat will cause the spices to become bitter or burn. Only salt can be added right from the start.
Cinnamon or speculoos spice: are of course very well suited for the Christmas season
Vanilla: is always a good option
Salt: is an interesting combination for people who love contrasts
Chili: for those who like it a little hotter. Fits for example very well to Chocolate ice cream.
Cardamomwith an Asian touch, e.g. with chai latte ice cream
---