Vegan caramel sauce from 4 ingredients
A recipe for a really tasty vegan caramel sauce, which you can make with just a few ingredients in 15 minutes ...in the kitchen. This sauce goes well with various types of ice cream such as vegan frozen yoghurt ice cream.
Instead of the usual cream Coconut cream is used, which also Coconut cream is called (see Tips).
ingredients
2 portions
50 g sugar
35 g water
30 g coconut cream
1 pinch of salt
optional: a pinch of vanilla powder or scraped vanilla pod
Preparation of the vegan caramel sauce
Bought coconut cream is usually a little firmer. First dissolve it with 20 g water. Some coconut creams contain ground coconuts. If you don't want to have grated coconut in your caramel sauce, put it through a sieve after dissolving.
Then bring the remaining water (15g), sugar and salt to the boil in a pot or pan without stirring. Everything should be wetted with water, otherwise shake the pot a little.
Continue cooking without stirring until the sugar mass has become amber-coloured. Then remove from the heat quickly. Always be especially careful with hot sugar syrup and do not get anything on your skin!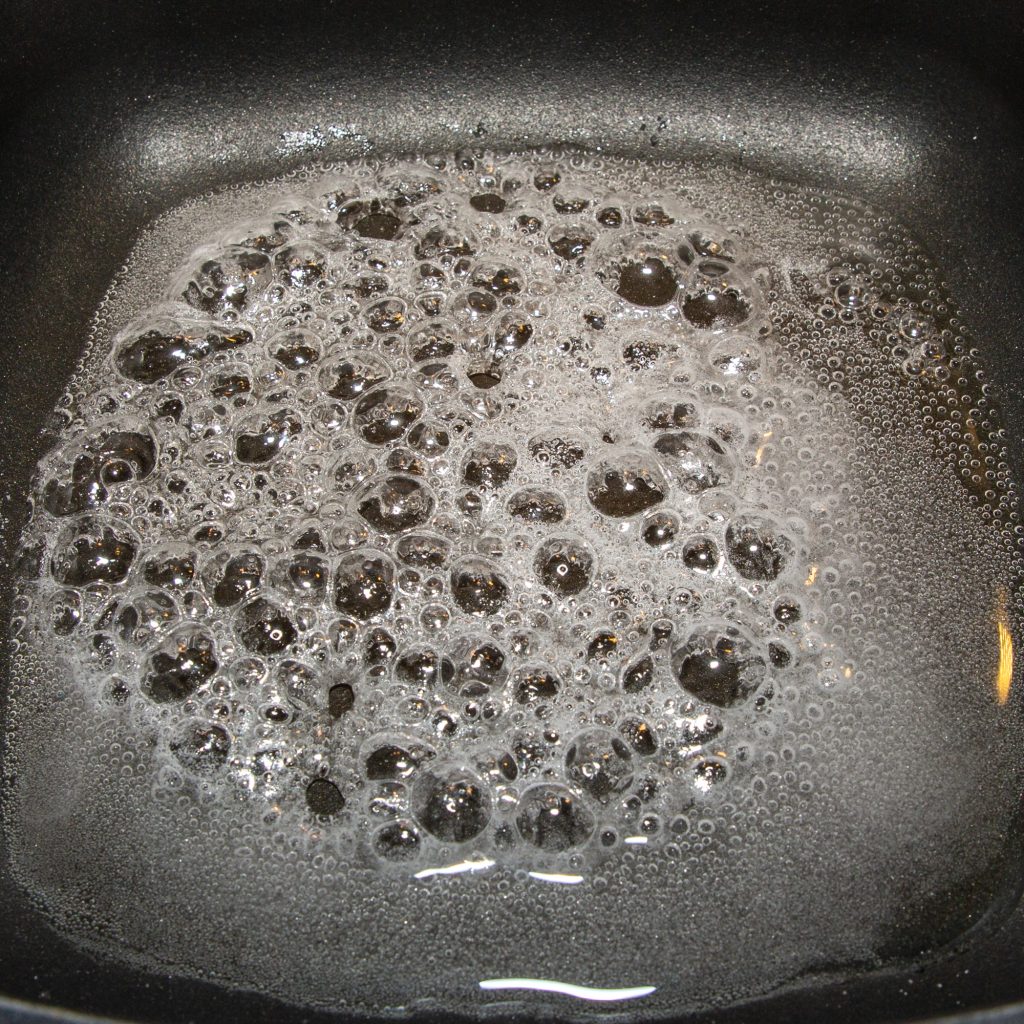 Quickly stir in part (approx. 1/3) of the dissolved coconut cream with a wooden spoon.
Then stir in the rest of the coconut cream in portions.
Heat up again while stirring until boiling.
Let the finished caramel sauce cool down. If the sauce is not used up immediately, it is best to pour it into a container while still hot. At The sauce keeps for about 2 weeks in the refrigerator. It gets thicker with time. Then warm it up briefly before use. Either in a water bath or in the microwave.
The caramel sauce goes very well with ice cream varieties such as Vegan frozen yoghurt or vegan chocolate ice creambut she also does very well with pancakes, waffles or cakes.
Tips on vegan caramel sauce
Coconut cream or coconut cream should not be confused with Coconut milk. However, you can also make coconut cream from a coconut milk pack. After a while the coconut milk Grease upstairs. Usually this is the case with most of the packs you can buy. You skim it off and you have very tasty coconut cream. However, it is easier to buy coconut cream right away.
If you're looking for coconut cream from a Coconut milk carton remember that before you open it, you must make sure that you have DO NOT shake may!
The pot or the frying pan best soak immediately with warm water and flush it out. Once the caramel has set, it just makes more work unnecessary.