Passion fruit ice cream with yogurt and tonka bean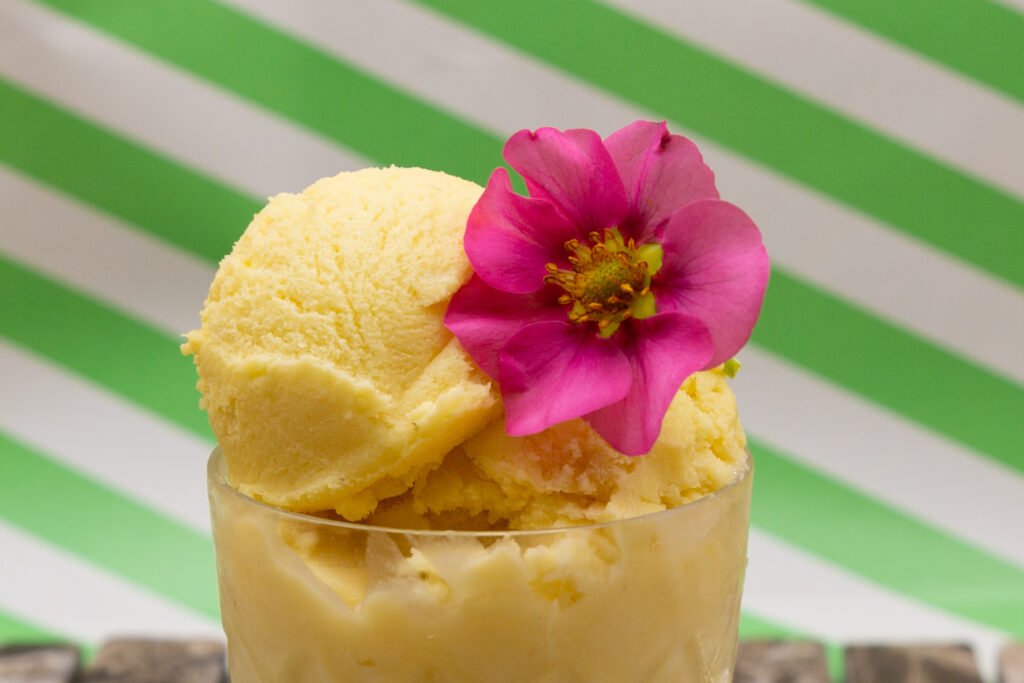 Do you know this too? You buy Passion fruit juice (for example, for a cocktail evening) and then half remains. That's how I felt recently and so I thought I'd make a Passion fruit ice cream from it. What can I say, it is super tasty have become. So feel free to try it out and let me know what you think.
Normally I am someone who likes to use fresh ingredients, but here was Leftover recycling announced. Unfortunately, you can not simply transfer the recipe to fresh passion fruit (passion fruit). In the purchased juice is relatively little fruit content - in my case it was 25% - and in addition it also contains sugar.
If you are interested in a recipe with fresh passion fruit (or passion fruit), then write it in the comments and I'll be happy to test out the recipe again with fruit 😀.
The added Yogurt makes the ice cream creamy and dampens the acidity from the marcujas.
For an interesting additional flavor, I opted for the Tonka bean decided. This conjures up a hint of vanilla and bitter almond flavors in the ice cream.
Ingredients passion fruit ice cream
4 portions
Preparation passion fruit ice cream
First boil down the passion fruit juice by half. Either you note the amount of liquid (e.g. with a wooden spoon) or you weigh it. In the end it should be about 170 g.
Stir in sugar, dextrose and salt and simmer a little more until everything is dissolved. Turn off the heat.
Add tonka bean grating, just a pinch or a little more depending on taste (please note the Tips). Stir in the rubbing and leave to infuse on the hot stove top for about 10 minutes.
Then remove from heat and allow the syrup to cool to lukewarm.
Stir in the yogurt. Either leave to infuse further in the refrigerator (e.g. overnight) or continue with the next step.
Just before preparing the ice cream, whip the cream with a mixer until stiff and fold into the ice cream mixture.
The ice cream machine prepare and pre-cool for a few minutes, depending on the model. Switch on the mixer and pour in the passion fruit ice cream mixture (duration approx. 30 minutes).

Alternative Make ice cream in the freezer and mix well every 30 minutes with a hand mixer (total time about 4 hours). Please note that the ice cream becomes much harder when made this way.
If the ice cream is to be kept in the freezer for a longer period of time, let it soften in the refrigerator for about 20 minutes before eating.
Tips
Tonka beans can now be found in every major Supermarket by the spices find or order online*.
The tonka bean with a fine grater rub. For example I have these Grater*, which is very sharp and durable. But you can also use a cheaper grater without problems, for example, for nutmegs. After that the tonka bean again pack airtightto preserve the aroma.
Since the tonka bean Coumarin contains, should not be used too much. But as long as one carefully dosed, it should not be a problem. It is very difficult to give a quantity, because it depends on how much of the ice cream is eaten and who eats it. Please be especially careful with children. For the amount of ingredients given here only one Pinch up to maximum few millimeters rub off the tonka bean. Too much tonka bean is usually much too dominant anyway.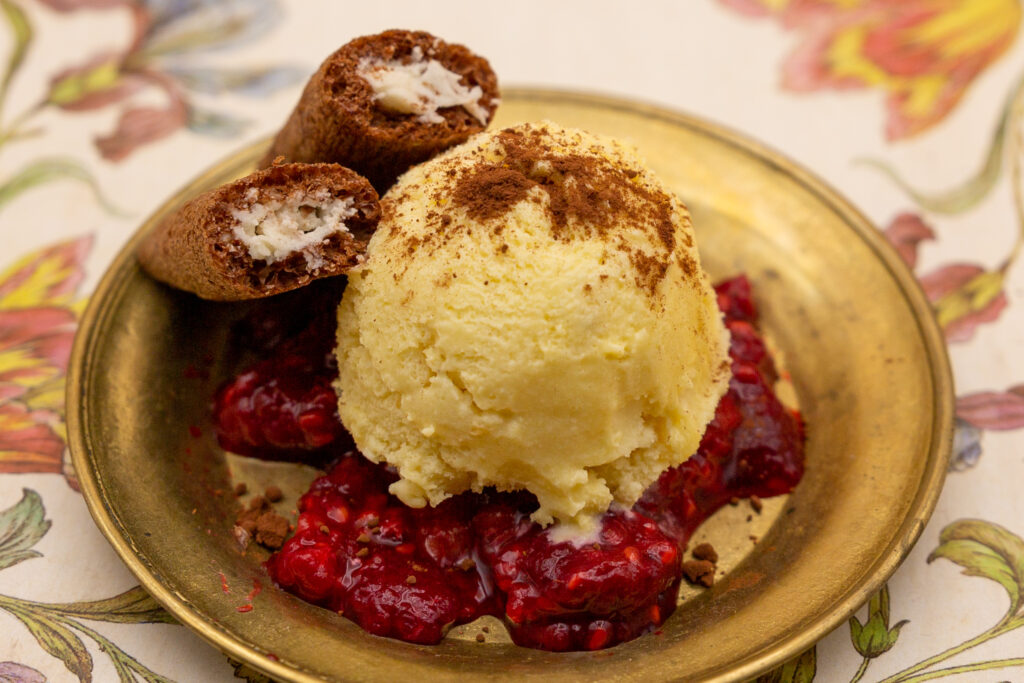 ---
More Yogurt ice cream recipes are for example Blueberry ice cream from coconut yogurt, classic frozen yogurt or Greek yogurt ice cream.
The passion fruit ice cream goes very well with Raspberry sorbet or you make a Raspberry sauce according to my recipe for strawberry sauce to this. Vanilla Ice Cream or Vanilla sauce are also very well combined with this ice cream.