Mango ice cream with milk: fruity and creamy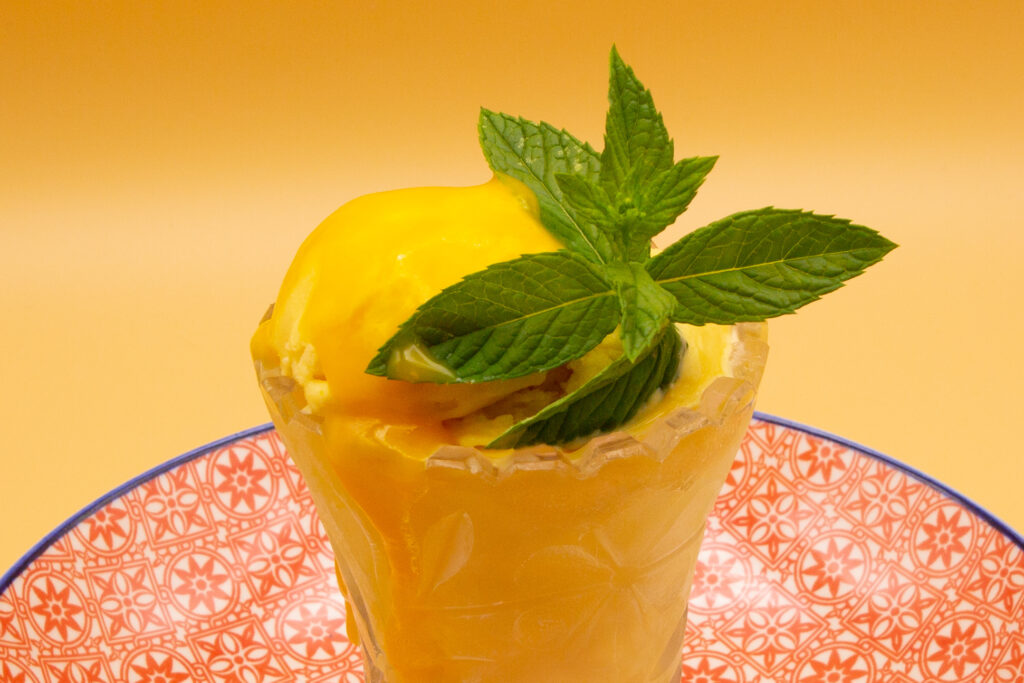 Mango ice cream tastes exotic fruity and is just right for warm summer days. But this is not a sorbet. Who is looking for a recipe without milk or a vegan recipe, which will be at the Mango sorbet found. But today's recipe is about a creamy milk ice go.
So that you do not have too much work with the cutting and pureeing of the mangoes, I have ready mango puree used (s. Tips). But you can also buy fresh mangoes and process them.
Ingredients mango ice cream
4 portions
Preparation mango ice cream
Heat all ingredients except the mango puree and lemon juice together in a saucepan, stirring until just before boiling.
Hold at this temperature for 5 minutes while stirring.
Allow the milk ice cream mixture to cool to lukewarm and then stir in the mango puree. Alternatively, peel the mangoes and remove the flesh from the core and puree well in a stand mixer. A Instructionshow to Mango Meat the best way, you will find at the recipe for Mango sorbet.
If you like it a little more sour or have used a very sweet mango puree, you can now add lemon juice and mix well. It is best to approach carefully with the amount of lemon juice and taste again and again until the mango ice cream mixture is a little tart. Remember that it is normal that the unfrozen ice cream mass always tastes a little too sweet.
As far as possible, leave to infuse in the refrigerator for 4 hours. Otherwise, process after cooling.
The ice cream machine prepare and pre-cool for a few minutes, depending on the model. Switch on the mixer and pour in the mango ice cream mixture (duration approx. 30 minutes).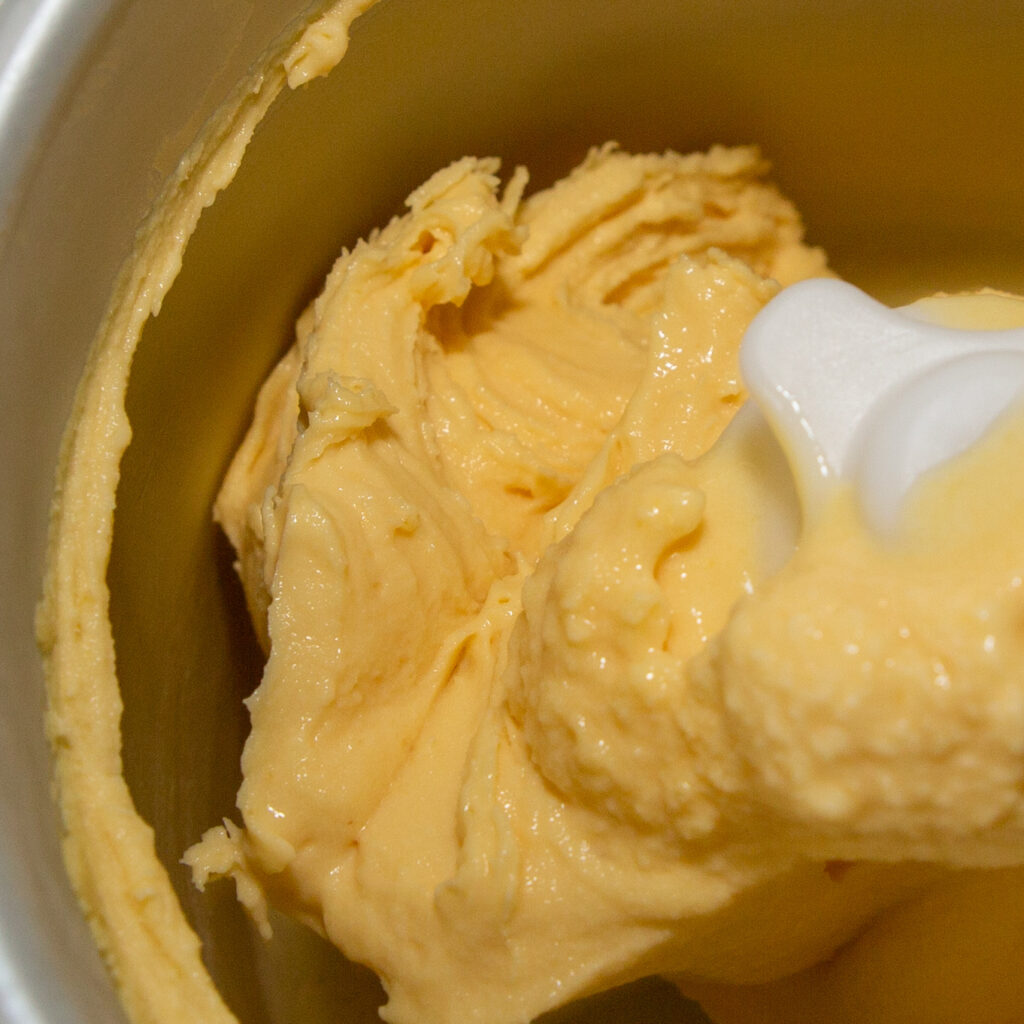 Alternative Ice in the freezer freeze and mix well every 30 minutes with a hand mixer (total time about 4 hours).
Tips
You can find mango puree in well sorted Supermarkets, in the Asian store or online.
Unfortunately, mango puree is rarely available in organic quality. Alternatively you can of course Organic mangoes buy them, peel them and puree. One Instructionshow to Mango Meat the best way, you will find at the recipe for Mango sorbet.
If you Mango puree left over, you can use this well freeze or drizzle over your ice cream. You should use the puree do not store in the can, but decant.
Depending on the sweetness of the mango puree, the ice cream mixture can be more or less Lemon juice ...can take it. Make sure the lemon juice only after the milk has cooled to add. Otherwise, you will have a curdled milk ice cream mass faster than you look. Unfortunately, this can no longer be saved.
If you like fruity Milk ice cream varieties is, why don't you also try my exotic passion fruit ice cream, black currant ice cream or quick peach ice cream off.
Mango ice cream can be very good with Frozen yoghurt, Quark ice cream or Vanilla Ice Cream be combined in a sundae.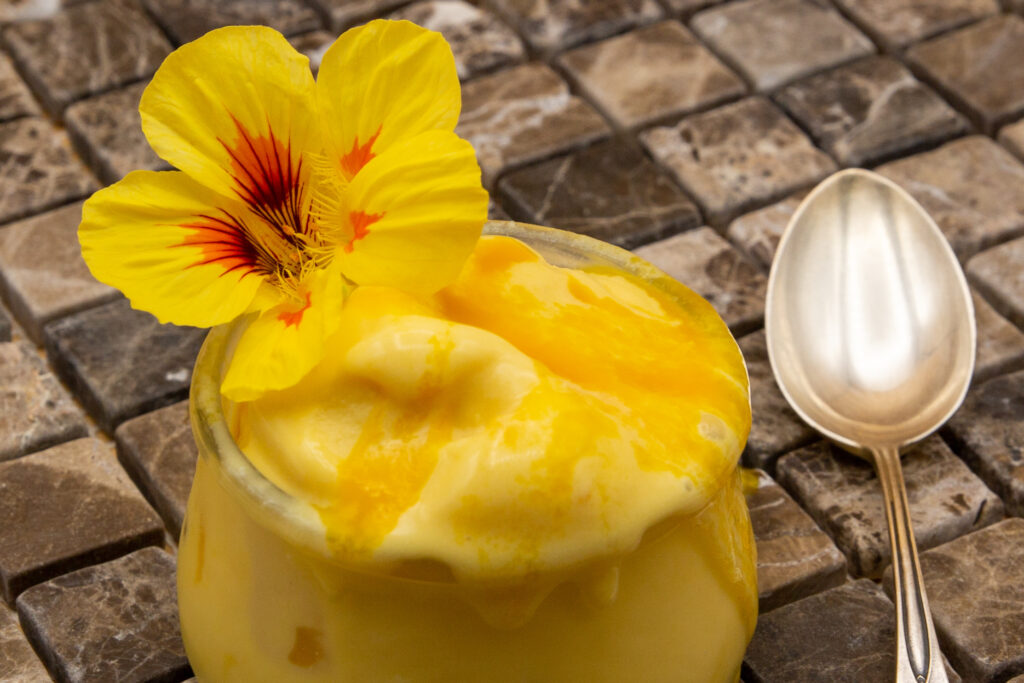 ---