Bacio ice cream or chocolate nut ice cream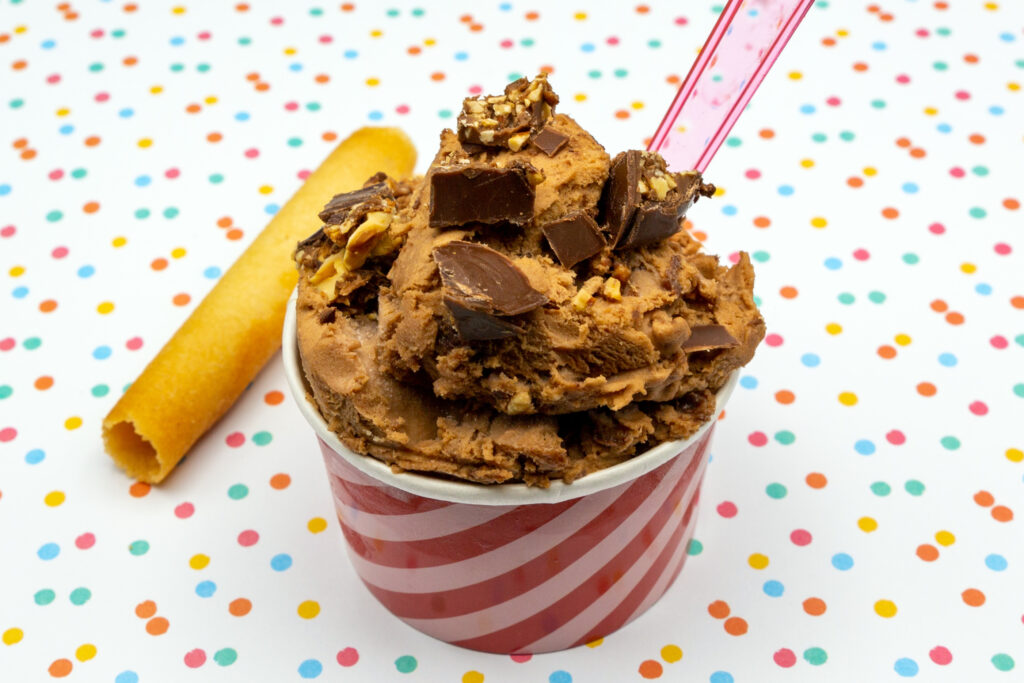 An Chocolate nougat ice cream with crunchy hazelnuts not only sounds tempting, it is also mega delicious. Maybe you know this ice cream also under the name Bacio ice cream or Gelato al Bacio.
Especially Italy enthusiasts are likely to Baci will be a household name. This Italian chocolates is very well known and it is a chocolate praline with a whole hazelnut and nougat cream as the core. Remotely reminiscent of Ferrero kisses and in fact Baci also means Kisses. So if you can't find a Baci in the supermarket, you can also without much problems Ferrero kisses use as a substitute.
I brought you a recipe ovuleless created. Who does not Ice cream machine owns, you can also make the ice cream in the freezer. But I would recommend you to use an ice cream maker to make the Creaminess to increase. If you're still wavering over whether or not you should buy an ice cream machinecheck out my article on it.
Ingredients Bacio ice cream
4 portions
400 g milk
100 g cream
45 g glucose
20 g skimmed milk powder
15 g cane sugar
15 g dextrose
5 g cocoa powder
1,5 g locust bean gum
1 pinch of salt
25 g nougat
20 g hazelnut puree
45 g chopped hazelnut pralines (e.g. Baci or Ferrero Küsschen)

Preparation Bacio ice cream
Heat milk, cream, glucose, skimmed milk powder, cane sugar, dextrose, cocoa powder, locust bean gum and salt together in a saucepan while stirring and heat up to approx. 60°C.
Stir in the nougat, hazelnut nut and about half of the hazelnut pralines until the nougat and the pralines have dissolved as much as possible.
Hold at approx. 60°C for 10 minutes while stirring.
Allow the ice cream mixture to cool and, as far as possible, let it sit overnight in the refrigerator. Otherwise, continue to process after cooling.
The remaining chopped hazelnut pralines are melted just before the end of the freezing process to be incorporated into the ice cream mixture. The chocolate mixture should only be warm to the touch.
The Ice cream machine prepare and pre-cool for a few minutes depending on the model. Switch on the stirrer and add the ice cream mass (duration approx. 30 minutes).
Just before the ice mass is ready, add the melted hazelnut pralines to the ice cream mixture.

Alternatively in freezer compartment freeze and mix well every 30 minutes with a hand mixer (total time about 4 hours). When the ice cream is ready, the melted hazelnut pralines can be layered with the ice cream.
Fun Fact
Who searches the Internet for "Bacio Gelato" instead of "Gelato al Bacio" will come across a few pages that have absolutely nothing to do with ice cream production. Because this name also bears a plant that was bred to satisfy completely different cravings than those for ice cream. 😉