Peach ice cream: lightning recipe from 5 ingredients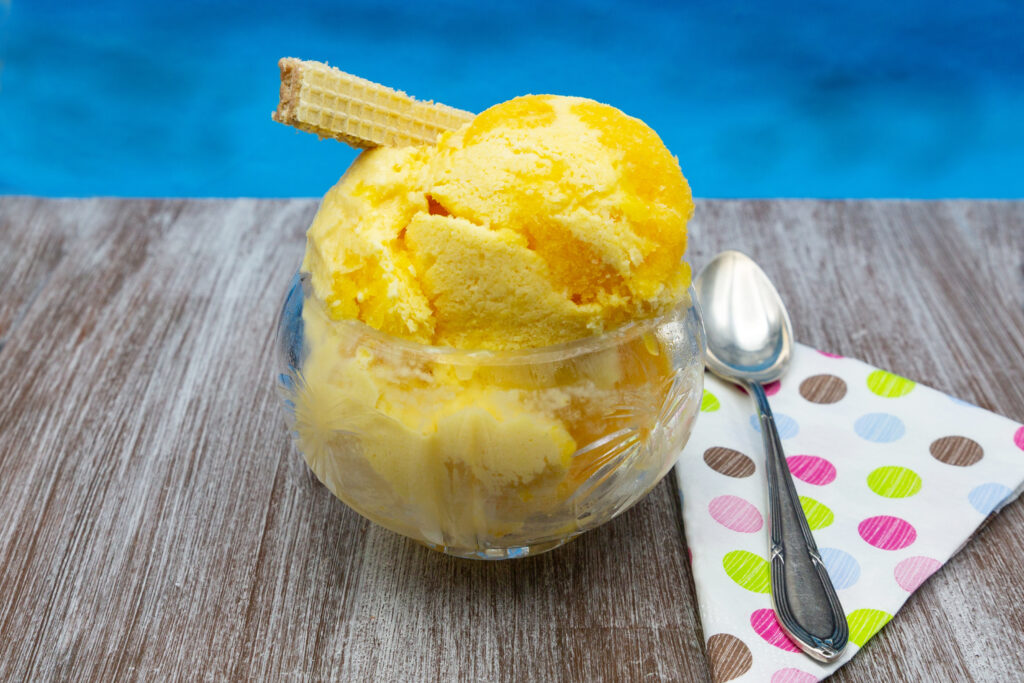 Peach ice cream from this recipe is really very simple and quick to make. You buy a Can of peaches, mascarpone cheese and a Lemon. The rest of the ingredients you have as "old hands" certainly already at home.
The mascarpone makes the ice cream nice and creamy and the peach provides a pleasant sweet-fruity ice cream. This recipe comes ovuleless and for once I've got it in the freezer made, because I had no desire to fire up the ice cream maker. It gets creamier in the ice cream maker, but the freezer also gives very good results.
Two ice cream masses are made, which are layered at the end. Through the Stratification of the two ice masses creates a beautiful Marble effect. If this is too much effort for you, you can also process all ingredients in a single ice cream mass.
Ingredients peach ice cream
For 4 servings you need the following ingredients:
1 can of peaches (drained weight: 480 g, save 180 g of liquid)
alternatively: 4 peaches, 90 g sugar, 90 g water (s. Tips)
125 g mascarpone
20 g Dextrose (=grape sugar)*
2 tablespoons lemon juice
1 TSP Honey*
Preparation peach ice cream
Preparation time: approx. 10 minutes
Freezing process without ice cream machine: 4 hours
(you can find detailed instructions in my post on the Production in the freezer)
Freezing process with ice cream machine: 60 minutes (for two ice cream masses), 30 minutes for one ice cream mass
Put the canned peaches (about 480 g) and 180 g of the collected liquid in a blender.
Also add the dextrose and lemon juice.
Mix everything well until it is finely pureed.
Place about half of the peach ice cream mixture in a container and place in the freezer.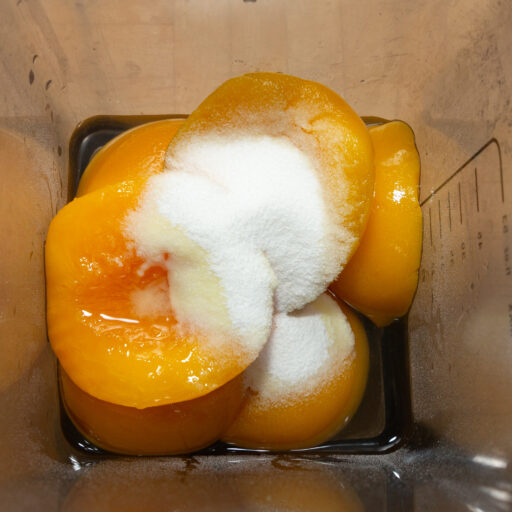 Mix the rest of the ice cream mixture with the mascarpone and the honey again.
Place the mascarpone-peach ice cream mixture in a second container and place in the freezer.
After 1 hour, mix both ice cream masses well with a hand mixer. Then mix every half hour for about half a minute. After about 3-4 hours, the two ice cream masses should be well frozen, but still relatively soft.
Now either layer the two ice cream masses alternately and put them back in the freezer or layer them in glasses and put them in the freezer. Allow to freeze through for at least 1 hour.
Alternatively, the two ice cream masses can also be combined in a ice cream machine (duration approx. 30 minutes per ice cream mass, i.e. 60 minutes in total). If you don't want to make two ice cream masses in a row in the ice cream maker, you can let the mascarpone ice cream mass freeze and add the peach ice cream mass just before the end. Then there are no clearly separated layers, but it shortens the preparation significantly (about 35 minutes).
If the ice cream has been kept in the freezer for longer, for example overnight, it will become hard. Then let it thaw in the refrigerator for about 30 minutes before eating.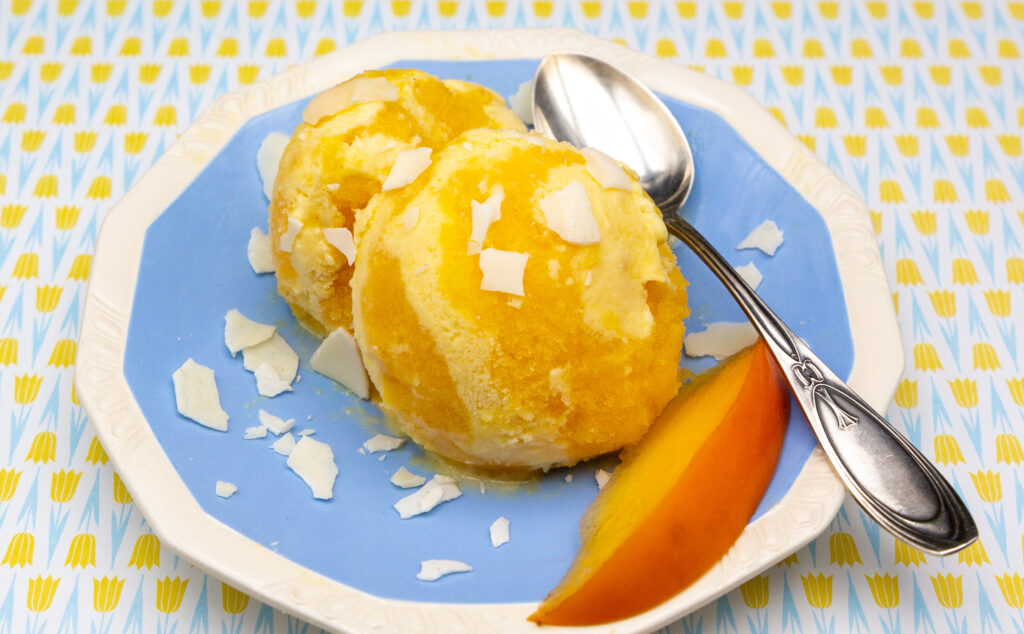 Tips peach ice cream:
If you fresh peaches you want to use, the peaches must be very mature be and before peeled be. To do this, cut the skin of the peaches crosswise on the top and place in hot water for about 3 minutes. Then leave to cool in cold water. Now, starting from the incision, the skin can be removed with a knife. The draining water from the can can be replaced with 90 g sugar and 90 g water. Heat both together in a pot until everything has dissolved.
Very good fit crumbled amarettini, caramelized nuts or white chocolate to the peach ice cream.
For the Freezer tank method containers should be selected in which you can easily beat the ice masses with the hand mixer. If areas such as corners cannot be reached well, larger ice crystals will settle there. This is not bad, but makes the ice cream a little less creamy overall. So best round container select
---
Last updated on December 7, 2023 at 19:16 . Please note that the prices displayed here may have changed in the meantime. All information without guarantee.
To the peach ice cream goes very well Frozen yoghurt or Vanilla Ice Cream. I have also developed vegan variants to both recipes: a Frozen yogurt with vegetable yogurt and a reduced sugar vegan vanilla ice cream.
If you have leftover mascarpone, you could also use my Tiramisu ice cream or Malaga ice cream try out