Caramel sauce - deliciously velvety
A sure-fire recipe for a delicious caramel sauce, prepared in 15 minutes with just a few ingredients. This sauce goes well with various types of ice cream, such as vanilla ice cream. An unbeatable combination is certainly Frozen yoghurt with caramel sauce.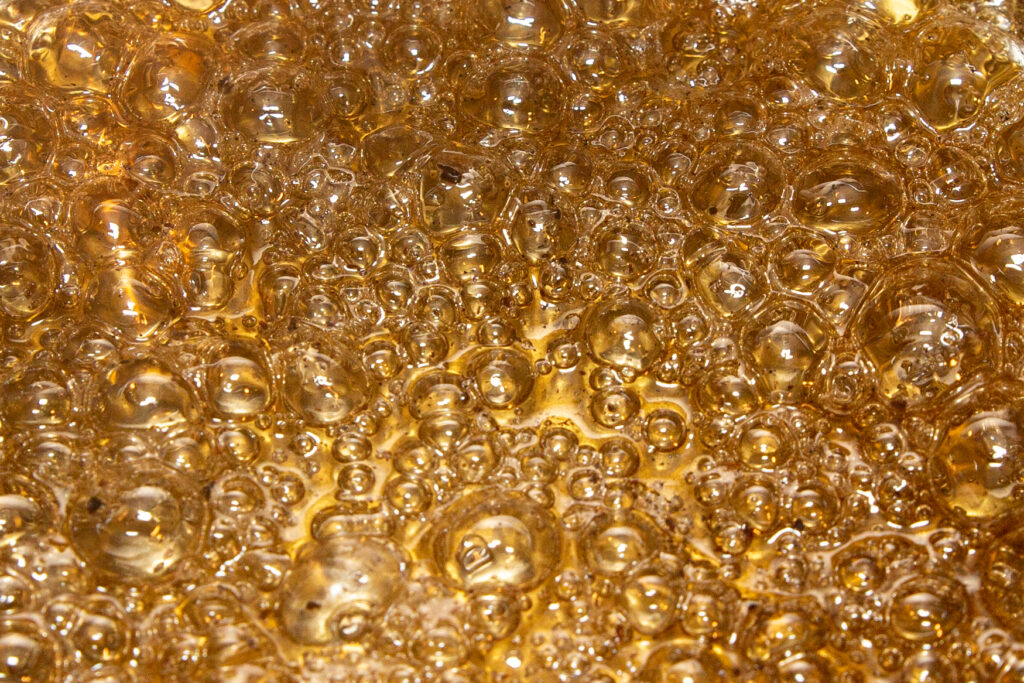 ingredients
2 portions
70 g sugar
20 g water
20 g butter
60 g cream (room temperature)
1 pinch of salt
optional: a pinch of vanilla powder or scraped vanilla pod
Preparation of the caramel sauce
Bring water, sugar, salt and if necessary the vanilla to the boil on medium heat in a pot. Meanwhile stir with a wooden spoon until the sugar is dissolved.
Then continue to simmer the sugar mass on a low heat without stirring until it has reached a golden brown colour. With the above mentioned quantity this takes about 5-8 minutes. You should always be especially careful with hot sugar syrup, as you can get burns very quickly. Therefore, choose a pot that is high enough to avoid splashes.
Remove the pot from the heat and stir in the butter with a wooden spoon.
Stir in the cream in sips. It is best to bring cream to room temperature. If the cream is still too cold and the sugar is lumpy, you can simply warm it up again.
If the sauce is not used up immediately, it is best to pour it into a container while still warm. The sauce will keep in the refrigerator for about 2 weeks. With time it becomes thicker.
---
The caramel sauce goes very well with all types of milk ice cream, such as vanilla ice cream, Frozen yoghurt or chocolate ice cream, but also with pancakes, waffles or chocolate cake she does very well.
Tip
It is best to soak the pot immediately in warm water and rinse it out. Once the caramel has set, this only makes more work unnecessarily.