Tonka bean ice cream with berries without ice cream machine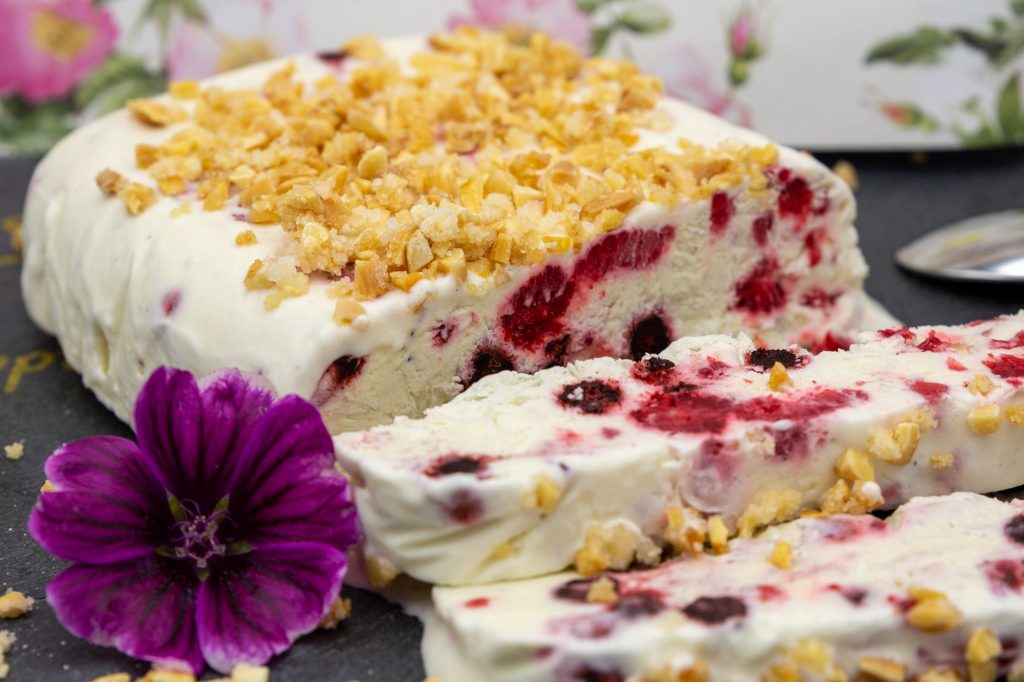 In this recipe for tonka bean ice cream uses a special spice, which in recent years has gained more and more fans. Many are reminded of the taste of Tonka bean* of vanilla, but with other components such as caramel and almonds. So it goes well with Milk ice cream. Meanwhile, tonka beans can be found in every major supermarket in the spice section.
This recipe comes without ice cream machine out, because it is a Parfait. The main ingredients are Egg yolk, sugar and cream.
The ice mass is frozen without stirring. The resulting fine crystalline structure is characteristic and so desired. The high proportion of eggs and cream ensures that the ice cream does not become too firm and only fine crystals are formed.
If you don't have an ice cream maker at home, try using the Parfait production. It's really easy to prepare and After 6 hours you have your finished ice cream.
Ingredients for tonka bean ice cream
for about 6 portions
3 egg yolks
75 g sugar
100 g milk
300 g cream
Abrasion Tonka bean* (s. Tips)
300 g berries (e.g. raspberries, blueberries, strawberries, currants)
Preparation tonka bean ice cream
You can find step-by-step instructions for the preparation in the article on the Parfait production find.
Place the eggs and sugar in a pot and mix well with a whisk
Add the milk and slowly heat up to a maximum of 65°C while stirring.
With the help of a Thermometer* check the temperature and stir the mixture well with a whisk at 65°C for about 15 minutes.
The tonka bean with a sharp Kitchen grater* or nutmeg grater to it and mix.
Let the egg mixture cool and in the meantime whip the cream until stiff.
Using a hand mixer, whip the egg mixture into a cream, also at high speed.
Fold the whipped cream into the egg cream.
Add the fruits (e.g. raspberries and blueberries) to the mixture.
Whip a baking tin or bowl with cling film.
Pour the tonka bean ice cream mixture into the mould and let it freeze overnight or for at least 6 hours.
Before consumption the parfait should be about 20 minutes in the refrigerator to get the right temperature.
Then the Form briefly in warm water and drop the tonka bean ice cream on a plate. Remove the foil and decorate with toppings, sauces or fruits as desired.
Tips
Since the tonka bean Coumarin contains, should not be used too much. But as long as one Normal dosage, it should not be a problem. I take for this recipe approx. 2-3 Millimeter of one bean. It is very difficult to give a general indication of quantity because, in addition to your own taste, it depends on how much of the ice cream is eaten and who is eating it. Please be especially careful with children.
Is it a larger or very rigid shapethe wall should first be covered with Edible oil and only then insert the foil. Then the parfait can be overturned more easily.
If you have fruit with a cavity like RaspberriesThey should be cut in half beforehand or, in the case of frozen berries, crumbled so that no air holes form in the parfait.
As a topping for the parfait fits very well homemade nut brittle. I used chopped almonds.
Other Parfait recipesthat can be easily made in the freezer are for example Marzipan ice cream with amaretto or my vegan basil ice cream.
If you Tonka beans like, then try also my Passion fruit ice creamwhich gets a very special flavor component from the tonka bean.
Milk ice cream varieties with vanilla flavor are for example my creamy cashew ice cream, classic vanilla ice cream or Bee sting ice cream.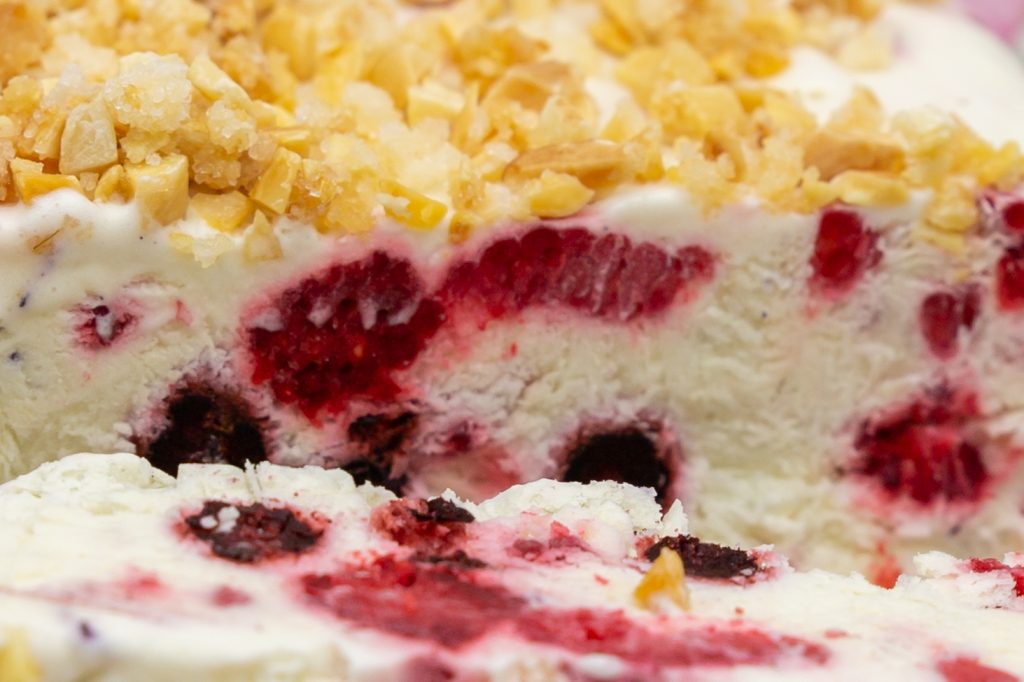 ---
*With the affiliate links in this post you support my blog to cover the basic costs without any disadvantage for you. Thank you very much for that!