Bee sting ice cream: milk, almonds and honey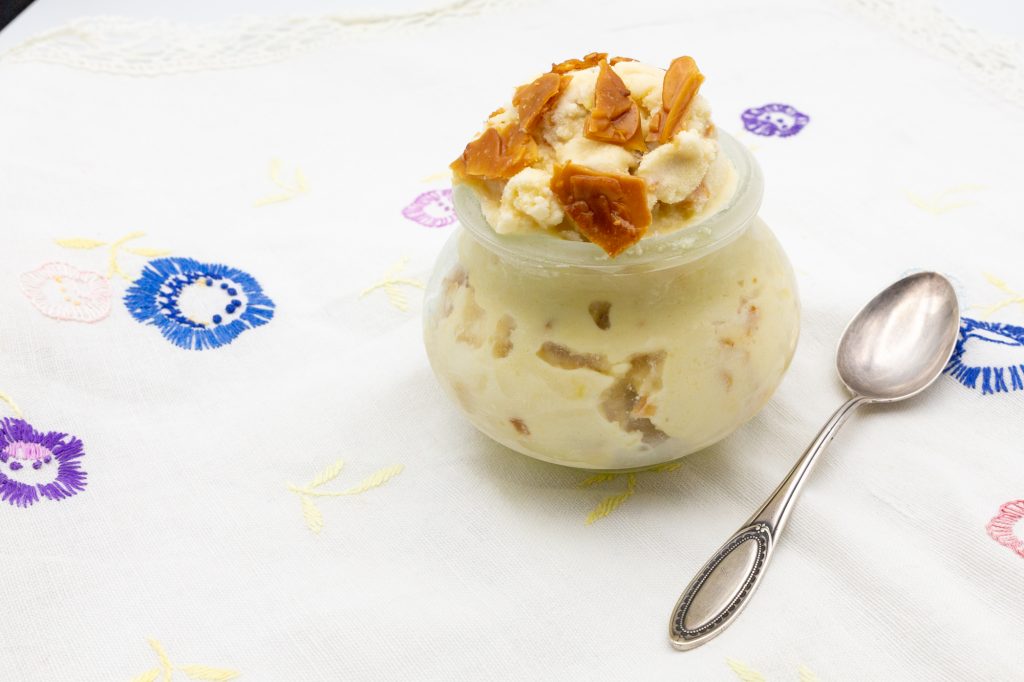 Bienenstich ice cream is the dream come true for every lover of this classic cake.
Why bee sting is so popular? Because the union of Vanilla cream cream and Almond brittle is so delicious. You'll find the same with this ice cream.
It has a nice creamy consistency and tastes like Vanilla, honey and milk. Together with Almond brittle slivers the ice cream looks a lot like a bee sting. You'll be surprised.
Ingredients bee sting ice cream
For 4 portions you need the following ingredients for the almond brittle and the ice cream mixture.
Almond brittle
50 g flaked almonds
25 g butter
35 g sugar
1 tablespoon honey
1 tablespoon cream
Ice mass
Preparation bee sting ice cream
Almond brittle
Heat the last 4 ingredients (butter, sugar, honey, cream) in a pot or pan while stirring until everything is dissolved.
Then add the flaked almonds and simmer for a few minutes.
Spread the almond sugar mixture on a baking paper and bake in the oven at 180°C for 6 minutes until the almond brittle is caramel-coloured (see also Tips).
Break into pieces when cold.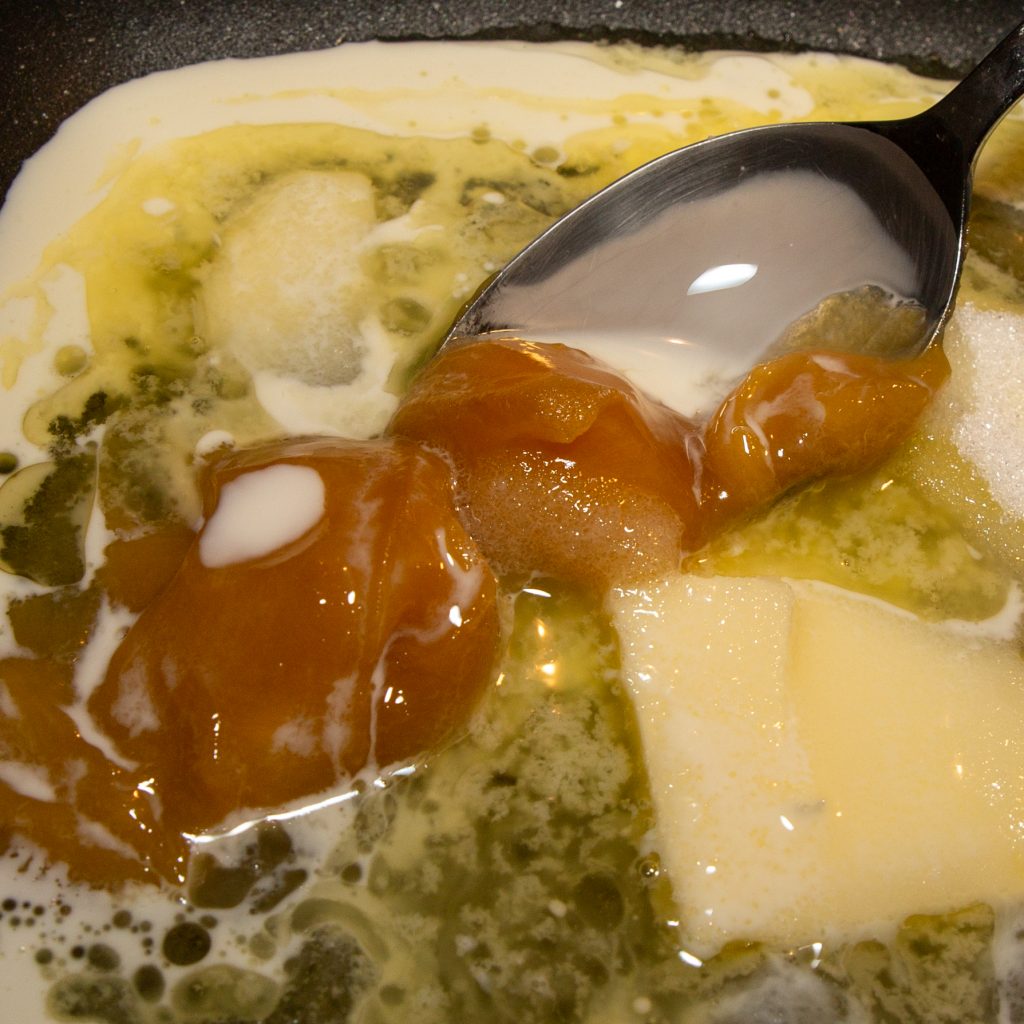 Ice mass
Warm milk, cream, condensed milk, dextrose, vanilla pod, locust bean gum and salt while stirring until just before boiling.
Keep at this temperature for a few minutes. Stir constantly so that nothing burns.
Let the ice cream mixture cool down a little and stir in the honey until it is completely dissolved. Honey should not be heated above 40°C, so that the valuable ingredients are not lost.
Leave in the refrigerator for a few hours to intensify the vanilla taste. If you do not have that much time, you can also use vanilla extract as an alternative.
The ice cream machine prepare and pre-cool for a few minutes depending on the model. Switch on the stirrer and add the ice cream mass (duration approx. 30 minutes).
Alternatively the Ice in the freezer freeze and mix well every 30 minutes with a hand mixer (total time about 4 hours).
Just before the ice mass is finished, the Almond brittle while the ice cream machine is running. For the freezer variant, mix in the almond brittle after the last stirring step. Leave some almond brittle for decoration.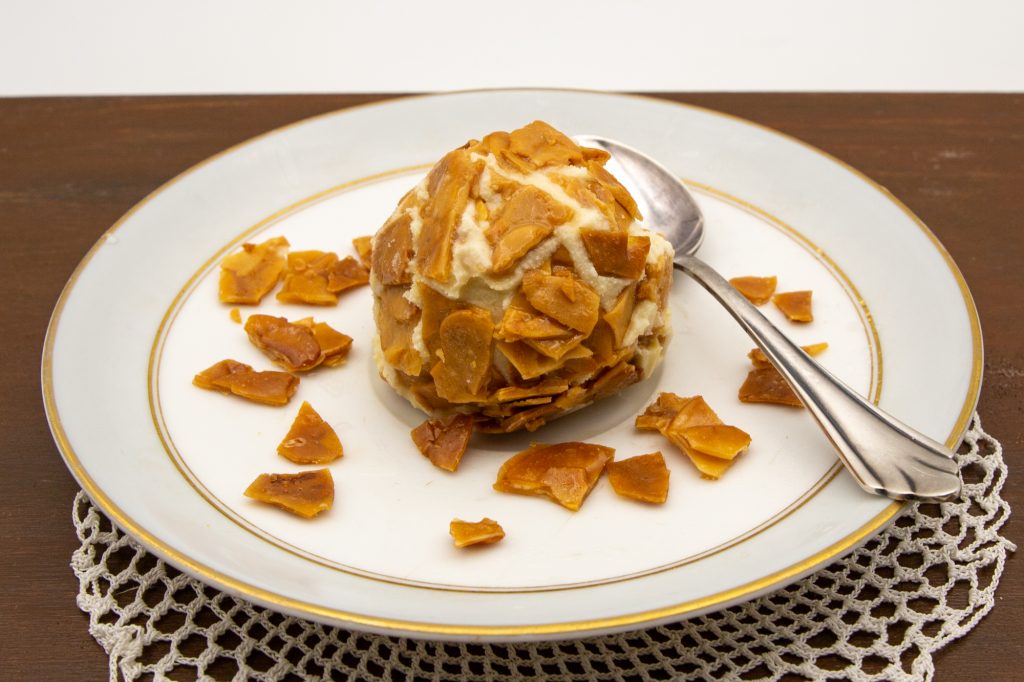 Tips on bee sting ice cream
If you have the Almond brittle bake, be aware that the whole mass will be very liquid at first. So let Sufficient distance from the edge from the grid or turn the tray once in between if it is not completely flat. Otherwise, the mass will move further and further to the edge.
The almond brittle Not too dark otherwise it will quickly taste like burnt sugar. The color should be light brownish.
If you also have a Bee sting ice cream scoop as in my picture, take cling film and cover it with almond brittle. Then put an ice cream scoop inside and close the foil together with the brittle around the scoop (see gallery below). Place the ice cream ball once more for 1 hour in the freezer.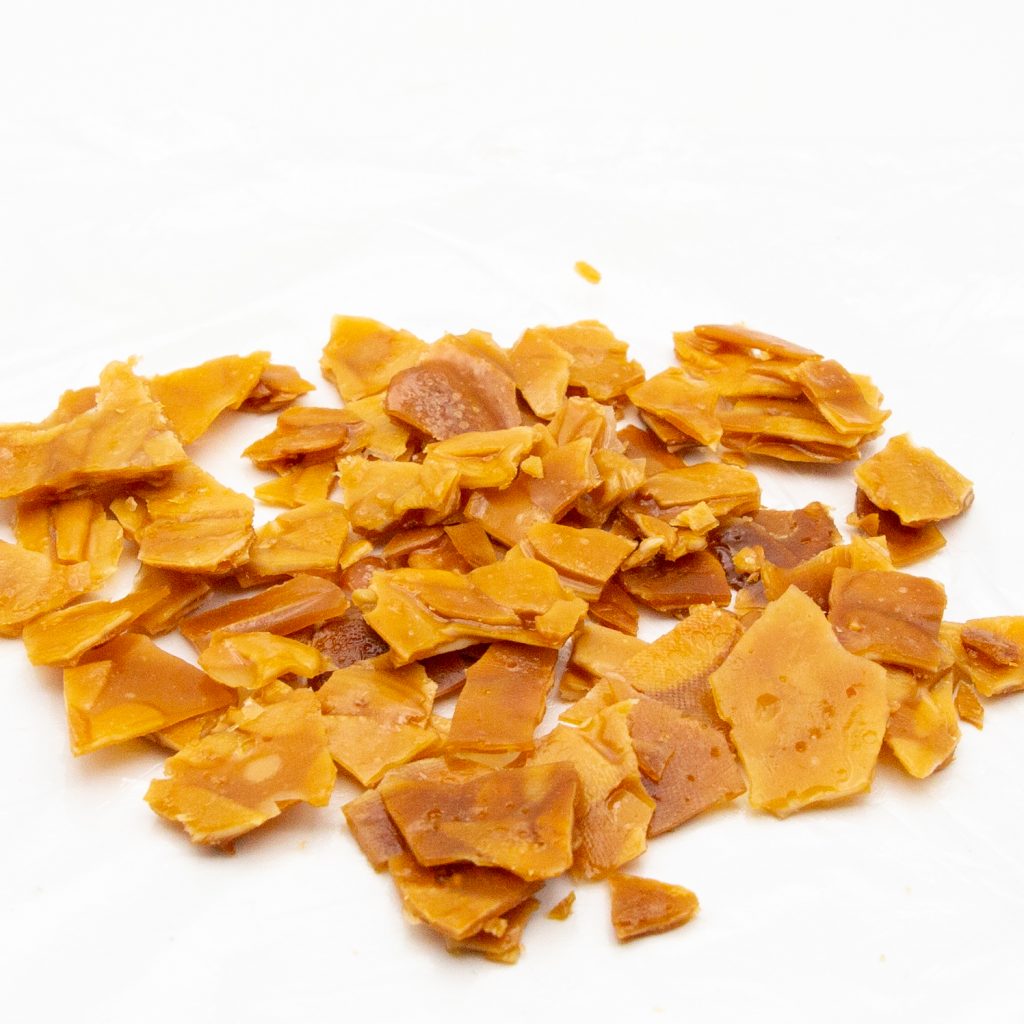 If you are looking for other Milk ice cream varieties are, then I can offer you a delicious poppy seed ice cream, a light marzipan ice cream with chocolate chips or a fruity raspberry milk ice cream recommend.
If you are fans of Ice cream with honey then have a look at my Frozen yogurt recipe from Greek yogurt, my creamy pine nut ice cream or the ingenious combination with sesame seeds in honey sesame ice cream an.
---