Just make your own sundae: Yoghurt-cherry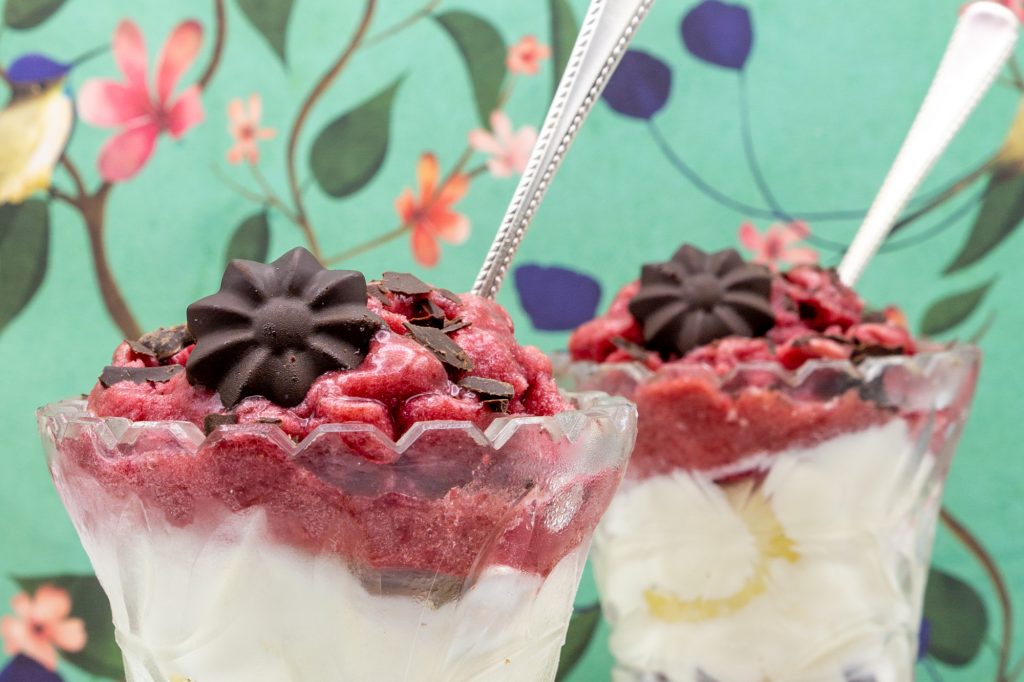 Making sundaes yourself is really easy. However, it comes down to the Combination onto show off each type of ice cream to its best advantage. Toppings and fruit are also a must.
Here I have a Yoghurt-cherry sundae designed - supplemented with Dark chocolate and Currants. The homemade cherry ice cream still has a slightly spicy note. If you don't like that, you can simply omit the chili. However, it's a great combination when the chili heat is softened by the yogurt ice cream. Try it out!
Either you buy the corresponding ice cream in the supermarket or, even better, make it yourself.
The Cherry Ice Cream and that Yoghurt ice cream can also be used without problems in the Freezer compartment without ice cream machine can be made. For this you have to plan a preparation time of about 4 hours. In the ice cream machine you can prepare your sundaes after about 1 hour.
Ingredients for the sundae
You don't really need much for this fancy sundae. The ingredients below are enough for 6 sundaes for dessert. If you haven't eaten before, I'd recommend the same amount 3 persons use.
Suggestion for decoration: Chocolate shavings (or other toppings, see Tips), currants (or other fruits), cream
Best you cool your cups or bowlsthat you want to use later. At least in the refrigerator, but better yet in the freezer. Ice Cream Parlors do the same and always have some of their mugs in the chest for pre-cooling.
---
Production of cherry ice cream
You can find tips and a detailed instruction in the recipe article for the Cherry Ice Cream.
Ingredients cherry ice cream
For 6 sundaes for dessert or 3 sundaes:
350 g Sour cherries* (pitted, from the jar, drained weight)
300 g collected water (from drained cherries)
90 g sugar
1 small red chilli (optional)
1 pinch of salt
Preparation
Drain the cherries in a sieve and collect the cherry brandy in a pot.
Optional: Cut chili in half lengthwise once, remove seeds and cut into rings.
Add the sugar and chili (optional) to the kirsch in the pot and bring to a bubbling boil for 2 minutes.
In a blender or with a hand blender, blend the cherries well with the strained cherry brandy syrup. The chilies should not be mixed with, unless you like it particularly spicy.
The ice cream machine prepare and pre-cool for a few minutes depending on the model. Switch on the stirrer and add the ice cream mass (duration approx. 30 minutes). While you prepare the yoghurt ice cream, let it freeze even more in the freezer.
Alternatively in Freezer Allow to freeze and mix well every 30 minutes with a hand mixer (total duration 3-4 hours). Here, yoghurt ice cream and cherry ice cream can of course be prepared in parallel.
---
Production of yoghurt ice cream
Tips and detailed instructions can be found in the recipe article on the yoghurt ice cream varieties. Here you can choose between Yoghurt ice cream made from 3%igem yoghurt, Quark ice cream or Greek yogurt. If you want to keep your sundae vegan, I already have a vegan yoghurt ice cream recipe that tastes exactly like the original.
Here now the Variant with Greek yoghurt.
Ingredients for frozen yoghurt
For 6 sundaes for dessert or 3 sundaes:
Preparation
Frozen yoghurt can be prepared really quickly. Mix all ingredients together with a hand mixer or hand blender on a high setting for a few minutes.
Put the mass in the ice cream machine and allow to set (duration approx. 30 minutes).
Alternatively in Freezer Mix vigorously every 30 minutes with a hand mixer. This takes about 3 hours depending on the quantity.
---
Composition of the sundae
Now you can start putting your sundae together.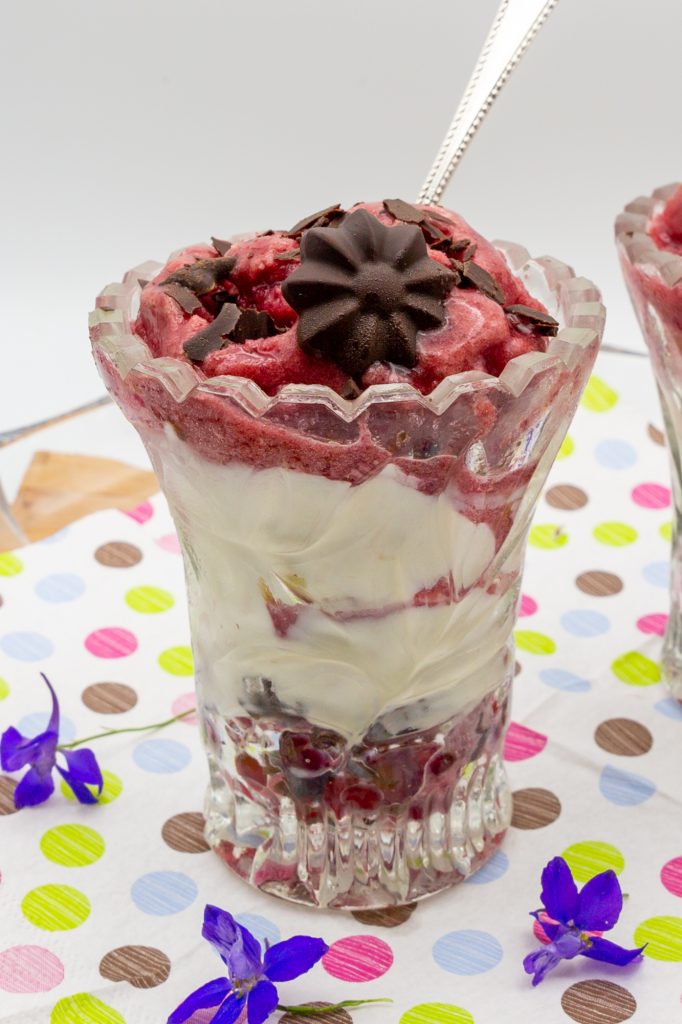 You take the pre-cooled cup and put a finger-wide fruit in it. I used currants, but you can also use cherries.
A couple of chocolate chips on top of that will do very well.
This is followed by 1-2 scoops of yoghurt ice cream.
Finally, the cherry ice cream follows.
For those who like cream, there is now the icing on the cake.
As a topping, chocolate shavings and chocolate figures like flowers are suitable. A few fruits can also be added. Other ideas for toppings can be found in the tips section.
Tips
If you want to prepare the ice-cream sundae for the conclusion of a menu, you can do this without problems already a time before and then back in the freezer put. In that case, you should ask the But leave out the cream for now and add just before serving. If the sundae is in the freezer for more than 4 hours, it is best to let it thaw for 20 minutes in the refrigerator.
Also suitable as toppings or intermediate layers are Crisp muesli, crumbled amarettinis, Coconut flakes* or homemade brittle.
Should you have a clear higher cup than I have, you might as well multiple layers of yoghurt ice cream and cherry ice cream alternate, so that you can spoon both layers in combination when eating.
Should you Chocolate moulds you can easily make chocolate flowers or other shapes yourself. I always do this when I have some melted chocolate or couverture left over from baking, for example. Then put only so much into the chocolate moulds that just the ground covered is.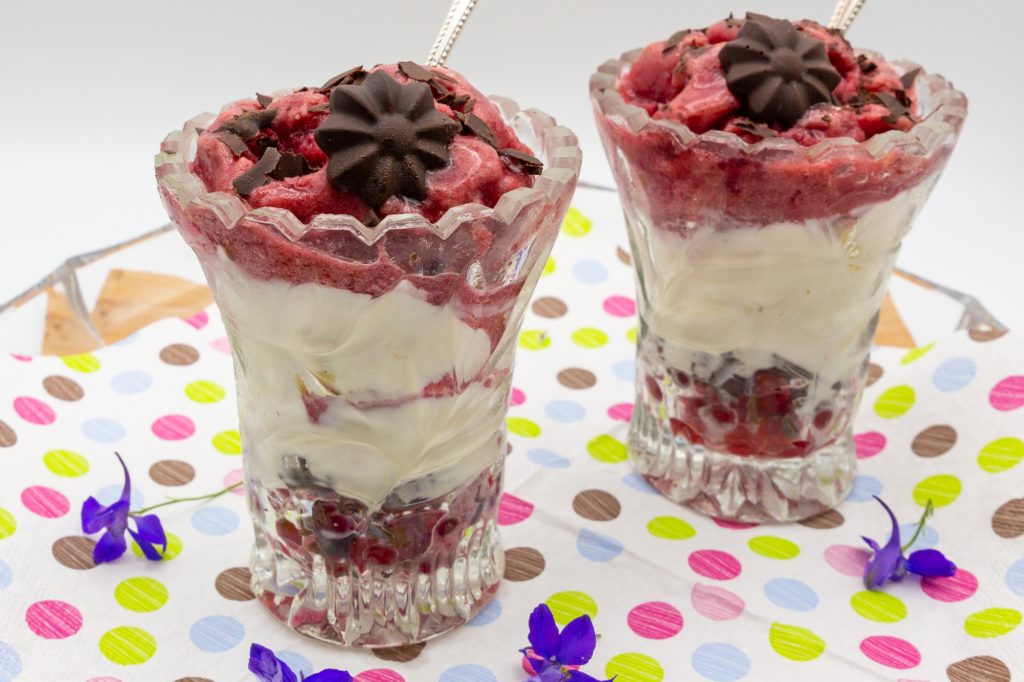 If you like Yoghurt ice cream like, then try also times my Passion fruit ice cream with tonka bean, Blueberry ice cream with coconut yogurt or makes your own ice cream confection.
---