Making nougat ice cream or gianduia ice cream yourself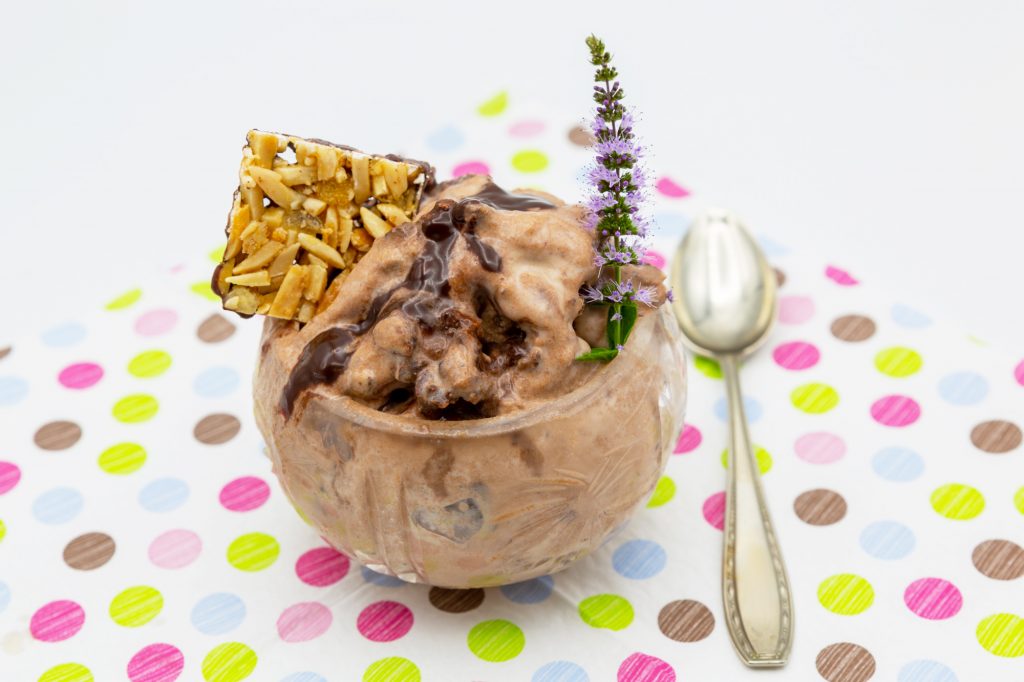 For my nougat ice cream will dark nougat used. Nougat is the ingenious combination of roasted and ground nuts, sugar and cocoa and as ice cream, of course, I like it even more 😉.
Dark nougat is also Gianduia or Gianduja and was invented when very high duties were imposed on cocoa in Napoleon's time. To stretch the chocolate, nuts were added. So actually a stopgap solution that has produced a wonderful delicacy.
This ice cream classic comes ovuleless out and can of course also without ice cream machine can be made. But I would recommend you use an ice cream maker to make the Creaminess to increase. If you are still wavering on whether to buy a whether or not you should buy an ice cream machinecheck out my article on it.
Ingredients Nougat ice cream (Gianduia ice cream)
4 portions
Preparation Nougat ice cream (Gianduia ice cream)
Heat all ingredients (except those for the optional topping) together in a saucepan, stirring, until about 60°C.
Hold at 60°C for about 10 minutes while stirring.
Allow the ice cream mixture to cool slightly and let it sit in the refrigerator overnight if possible. Otherwise, simply process after cooling.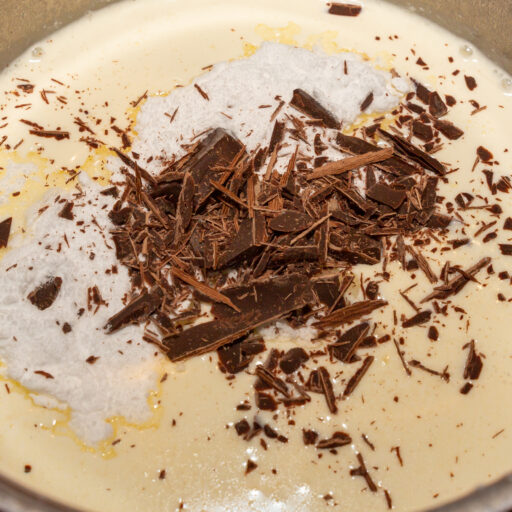 Optional Topping
Lightly toast chopped hazelnuts in a pan without fat, stirring.
Turn off the cooker and remove the pan from the heat.
Pour chopped chocolate or chocolate drops over nuts and mix well until all nuts are coated in chocolate.
Transfer chocolate covered nuts to a baking paper or plate and let cool.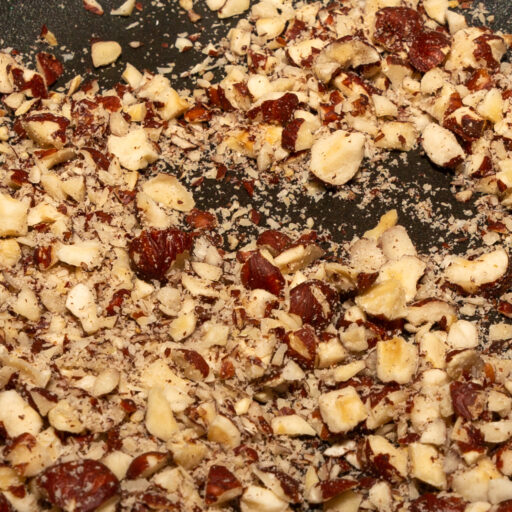 The ice cream machine prepare and pre-cool for a few minutes, depending on the model. Switch on the mixer and pour in the ice cream mixture (duration approx. 30 minutes).
Just before the ice mass is ready, chocolate nuts can be added to the ice cream. Alternatively, you can sprinkle the nuts on the ice cream before serving. Or as I did: both together 🙂 .

Alternatively the Ice cream making in the freezer freeze and mix well every 30 minutes with a hand mixer (total time about 4 hours). When the ice cream is ready, you can stir in the chocolate-coated nuts.
Last updated on December 7, 2023 at 19:16 . Please note that the prices displayed here may have changed in the meantime. All information without guarantee.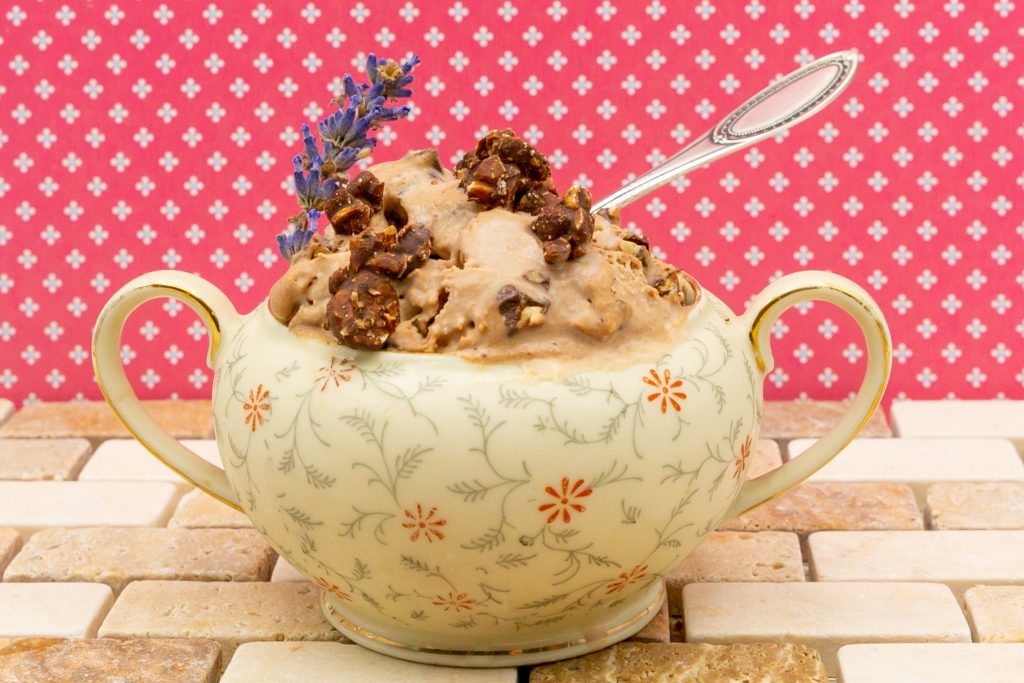 Worth knowing and tips on nougat
Dark nougat (Gianduia) consists of hazelnuts and cocoa. White nougat is made without cocoa and is not related to the dark nougat. It is produced differently depending on the place of origin. Examples of white nougat are Turkish honey or torrone. So white nougat is not suitable for the production of this ice cream.
When buying dark nougat you should be aware of the Quality pay attention. I mostly use the dark nougat from Vivani*. There should be At least 25% Hazelnuts be contained. Somewhat difficult to control is the quality of the hazelnuts. Here I would rely on famous producers sit. The Grinding degree should be as fine as possible. You can test this yourself by letting a piece of the nougat melt in your mouth. If coarse grains remain, this is not a good sign. Lecithin has no place in chocolate or nougat. It is best to keep your hands off such products.
You can Make your own nougat. However, it is much finer in consistency when you buy it. 😉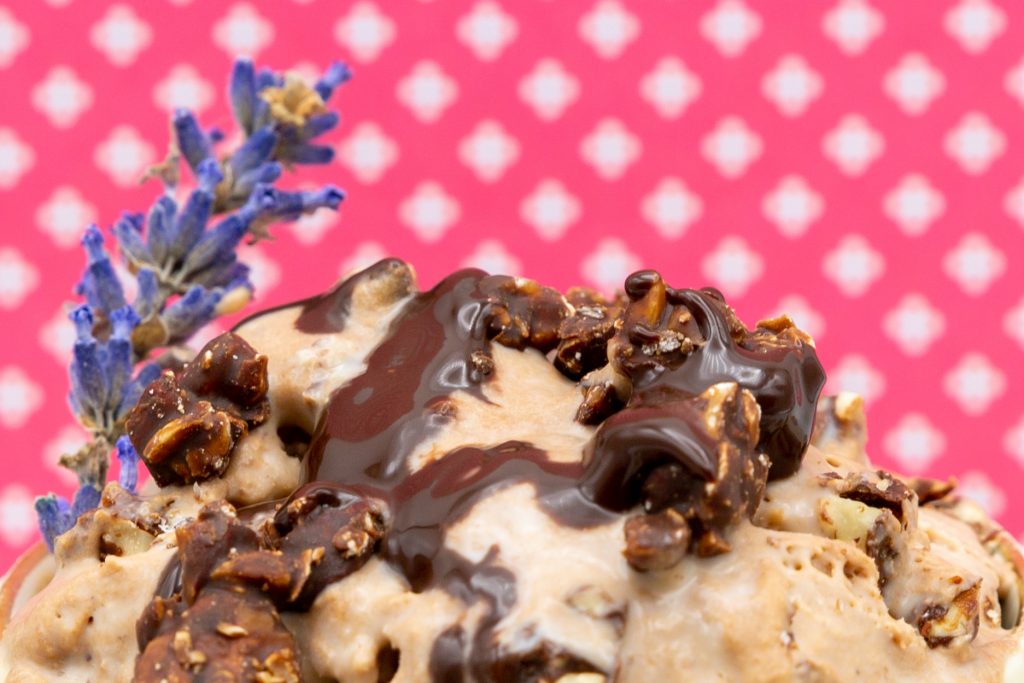 ---
If you liked this recipe, be sure to check out my other Ice cream classic on such as Bacio ice cream from Ferrero kisses or Stracciatella ice cream without egg. You taste but certainly also my creamy Bee sting ice cream with caramelized almonds, a creamy pine nut ice cream with crunch effect or a Marzipan ice cream with chocolate chips.