Why you should take an ice course at Ballabeni Icecream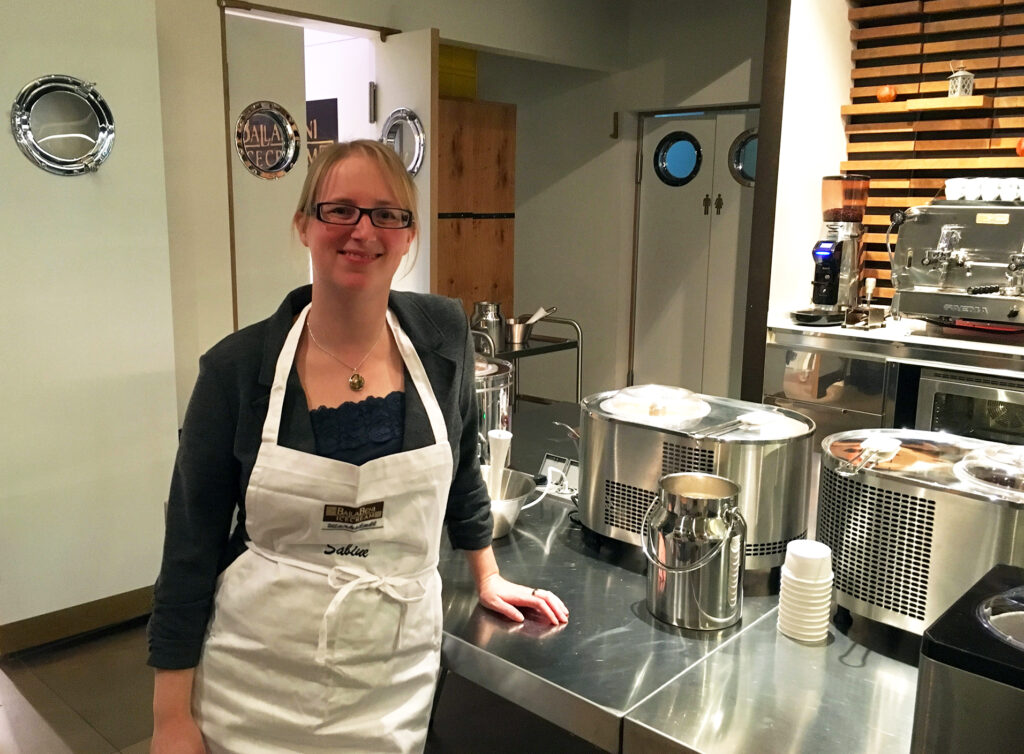 In beautiful Munich you have a lot of choice between many good ice cream parlors and ice cream artists. A very well known Master of ice cream making is Giorgio Ballabeni. He and his team offer in winter ice courses where you can learn how to make them at home.
Recently I remembered that a few years ago we attended one of those ice courses there. Four years to be exact and therefore I can only show you a few photos. If I had known at that time that I was going to have this blog, I would have taken more photos.
You can imagine, however, that this is a very special occasion was. But let's start at the beginning.
How do I get a seat?
The first hurdle was first of all to get a place for an ice course. Because the courses are much sought-after and you have to register in good timeto be able to participate in it. We have Mail address registered and were then informed which Dates there will be. These were quite far in the future, but we immediately registered.
Key data on the Ballabeni ice course
Group size: 8 persons (Status 08/2022)
costs: 215 Euro per person (Status 08/2022)
Duration: approx. 3,5 hours (Status 08/2022)
included are the ingredients, drinks, a Apron, a Folder with recipes and a signed by Giorgio Ballabeni Certificate
...and the best part is, you get to keep Ice try
The course takes place at Seidlstrasse 28 in Munich in the Ice workshop instead. This is a beautiful bright room with a lot of atmosphere. This is also where the new Ice creations for Ballabeni Icecream concocted and tested.
The group size is manageable. At the moment there are 8 people. With us, if I remember correctly, it was 12 people. But also our Group size was in any case still quite pleasant.
The Price can unfortunately already be called crunchy. But don't let that put you off! I haven't regretted a single cent and you get really plenty on offer.
Each participant also receives a high-quality apron embroidered with their first name. This is really a nice idea and makes it easier to address the various participants.
The little Folder contains information on the Ice composition and the Recipes with appropriate calculations.
Besides, you can even bring your own ice cream machineto practice the use of this and get tips. This is a really great offer. For ourselves it was too much lugging our Nemox Gelatissimo to take with us. We were also very keen to try out a different ice cream machine. Another participant actually brought her own Unold machine and that was also very interesting for the rest of us.
Performance of the great master
Giorgio Ballabeni came into the room and greeted us warmly at first. He told us about his path to ice cream production. What can I say, you just have to like him. A real Italian, proud of his ice cream empire (and rightly so) and you can tell at every moment his Love of ice cream on. In addition, he was eager to teach all participants something.
First he gave us the Basics explains what the ideal composition of an ice cream is and how he tests new ice cream creations. It was all very interesting and not too long, but just right.
The ice cream varieties in the course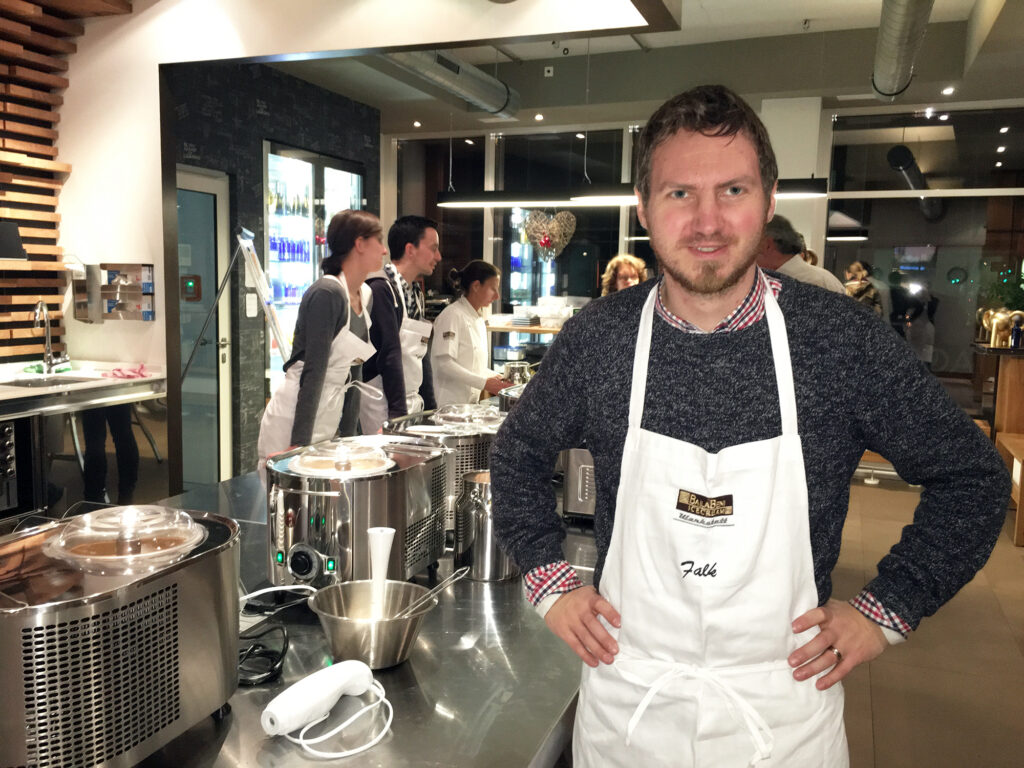 Then it got exciting, because we learned What ice cream varieties we would do today in the course:
Chocolate ice cream
Espresso latte ice cream
Hazelnut ice cream
Yoghurt ice cream
Banana sorbet
If you want, I'll take Ice cream recipes for this bit by bit in my ice blog. Many of them are with egg yolk and for a long time this was a bit too complicated and too delicate for me. In the meantime I've got the hang of it, but I still tend to make ice cream without eggs. In the ice course we have pasteurised egg yolk from the Tetra Pak. This of course makes the preparation much easier.
At every type of ice cream was allowed one of the participants to the master at hand go. We learned an incredible amount of interesting facts about the processes, details about the varieties and there were also tips about the ingredients or variation possibilities.
For the Espresso Ice Cream very many cups of espresso had to be made. Again, one of the participants was allowed to try his hand at this. He was first introduced to the art of making espresso. Finally, after a few practice cups, the manufactured espresso was quite passable even for the taste of Giorgio Ballabeni 😉
At the Banana sorbet we got the tip to scrape off the outermost layer of the bananas after peeling, so that the ice cream is finer. And I must say, I have never eaten such a delicious banana sorbet. I now also do this for my Milk ice cream with bananabecause then it tastes finer.
All types of ice cream were exceptionally good and very easy to make. Unfortunately, after a short time we were already incredibly full of all the ice cream.
Comparison of two different ice cream machines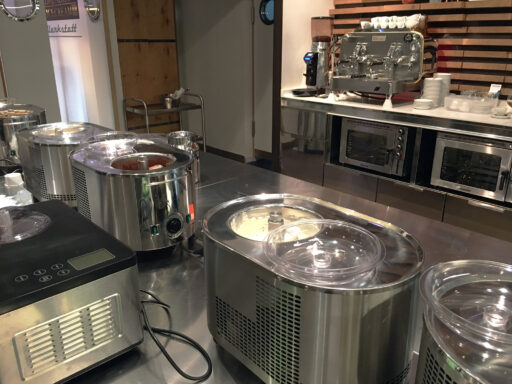 As I said. one participant their own Unold ice cream machine in the ice class. Unfortunately I can't remember the exact model. But those who know the company know that it is a very good machine, which is in the medium price range. The really interesting thing was, the same ice cream mass from two different ice cream machines to be able to compare directly with each other. And believe it or not, there is a tasting difference. It's not as if one machine outsmarted the other. But the ice cream from the Ballabeni ice cream machines was a bit creamier, because a lot more air was blown in.
The conclusion
At the end each participant gets a Certificate with a gold emblem. And we were also allowed other ice cream varieties from the Ballabeni assortment or the ice cream workshop try. However, hardly anyone could eat anything, since we already had so much ice cream.
Conclusion on the ice course at Ballabeni
I think you've noticed while reading very much liked was from the ice course at Ballabeni Icecream. Whether the reasonable price will deter you depends on how much you are interested in ice cream production. Anyway, I think that for his money the equivalent of ...gets. I have there highly skilled and my Enthusiasmto make your own ice cream has once again grown with it.