Ice making in a bag in only 3 minutes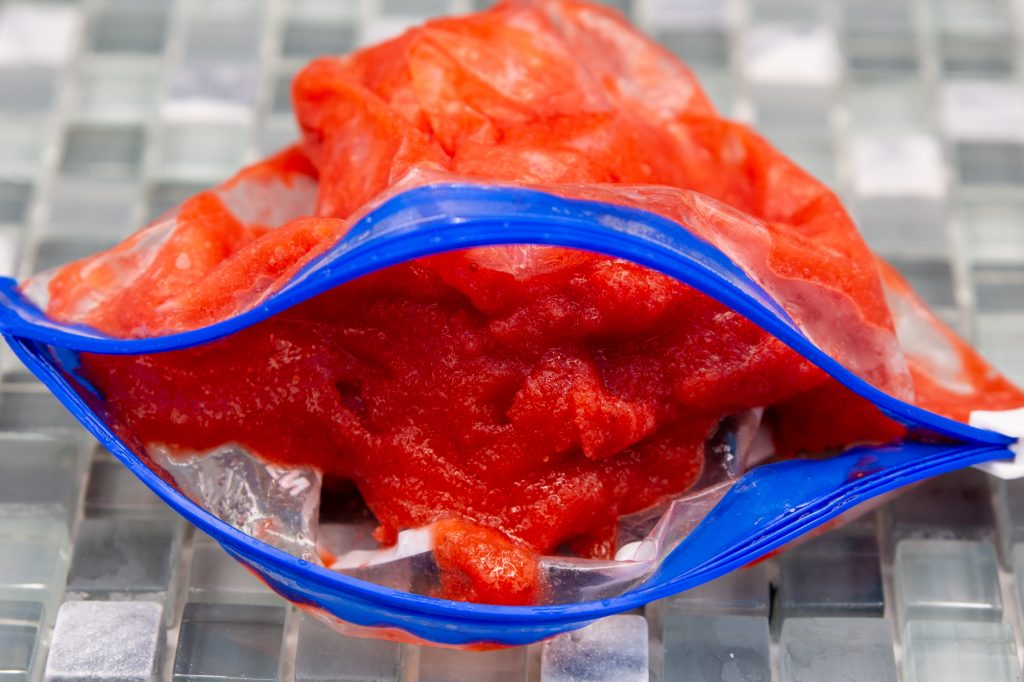 In the following I will introduce you to a very simple method of making ice cream without any equipment. You only need freezer bags and ice cubes.
Basic procedure for making ice cream in the bag
The procedure is simple and fast. One fills the cooled ice cream mass into a bag and puts it back into a larger bag with a mixture of ice and salt. Then shakes you do the whole thing for a few minutes and the ice cream is ready.
Accessories
1 litre freezer bag (e.g. ziplock bag)
3 litre freezer bag
approx. 2 liters of ice cubes (e.g. crushed ice)
3 tablespoons salt
optional: gloves
Step by step guide
Make the ice cream mixture according to the recipe and let it cool.
Then put the ice cream mixture into a 1-liter freezer bag and seal well. It is best to use a ziplock bag and press the air out a little.
Fill the ice cubes into a large freezer bag. Only enough so that the small bag still has room and you can close it well. Add the salt. It is optimal when the ice cubes are already somewhat thawed and an ice-salt-water mixture is created.
Now place the small bag with the ice cream mixture in the middle of the bag with the ice cubes and close the large bag tightly.
Shake the whole structure vigorously for about 3 minutes until the mixture is solid.
Tips for making ice cream in the bag
The ice is not very solid and does not stay frozen for long. Therefore you should consume it immediately.
To avoid freezing your fingers off while shaking, you can simply use gloves. Baking gloves also work well.
You can try all kinds of ice cream in this way, but it works very well with sorbets like Strawberry, Raspberry or Mango.
---
Unfortunately, it must be said that the use of plastic bags and ice cubes is not exactly sustainable. So a permanent solution is the production in the freezer bag certainly not. Above all, the ice cream is nowhere near as good as when made in the ice cream machine or in the Freezerbecause not so much air is introduced and the ice crystals are not so fine. But to try and certainly also with children it is a funny thing.