Vegan vanilla ice cream, reduced sugar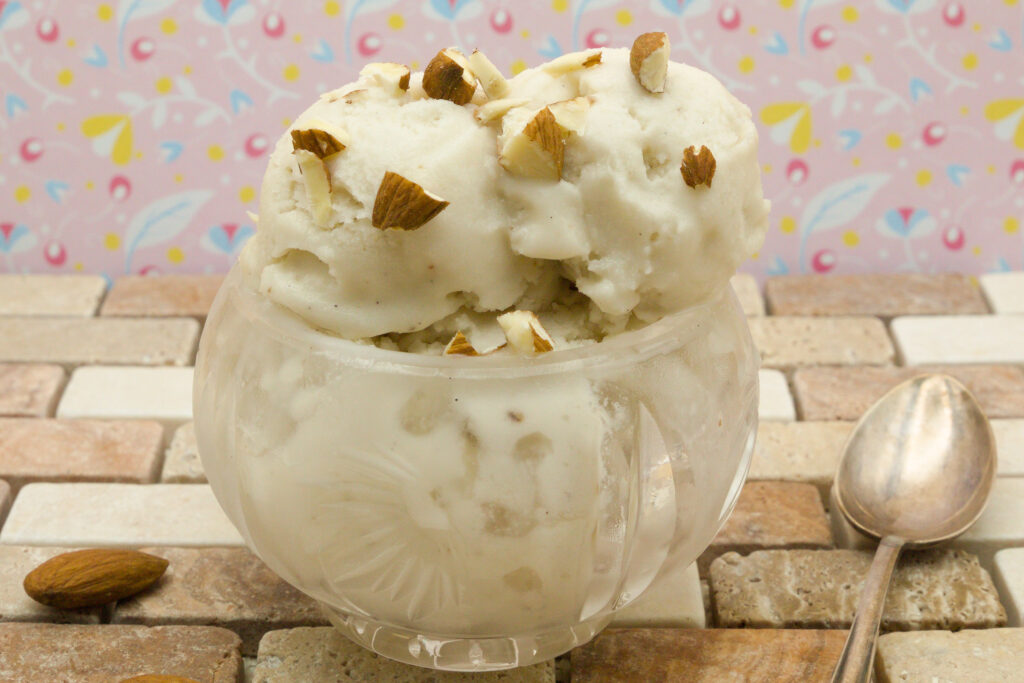 With this recipe for vegan vanilla ice cream I have fulfilled two wishes. Since I'm currently as good as possible without dairy products, I have used this time almond milk and nut puree. In addition, the recipe should also low-sugar be. The result is a beautiful creamy vanilla ice creamthat you should definitely try out.
The ice is quickly prepared. If you have an ice cream maker you can make it already enjoy after 1 hour. However, the ice cream mixture can also be prepared well the day before and stored in the refrigerator. Then the vanilla flavor can develop even better.
Who is looking for a Recipe with cow's milk is, which will be used at the classic vanilla ice cream found.
Ingredients vegan vanilla ice cream
4 portions
Preparation vegan vanilla ice cream
Preparation: about 15 minutes
Resting time: at least 15 minutes up to one day
Freezing time: approx. 30 minutes (with ice cream maker) or 4 hours (without ice cream maker)
Mix the almond milk with inulin, erythritol, xylitol, dextrose, glucose and the salt, stirring and heat until everything is dissolved.
Scrape out the vanilla pod and add to the milk mixture, including the pod, or alternatively stir in the vanilla paste. Heat for a few more minutes just before boiling, stirring.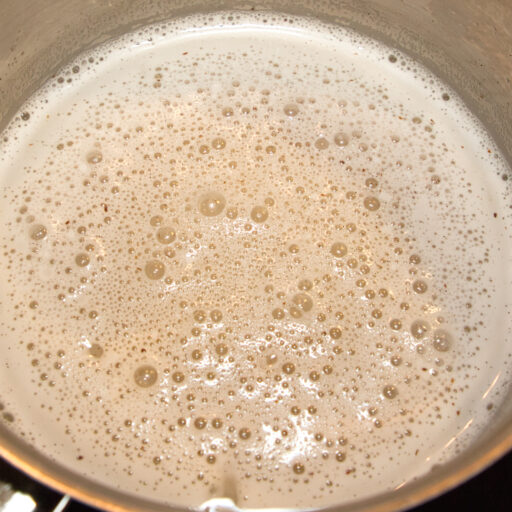 Turn off the heat and allow the ice cream mixture to cool slightly. Stir in the locust bean gum, guar gum.
Then whisk in the cashew nut paste.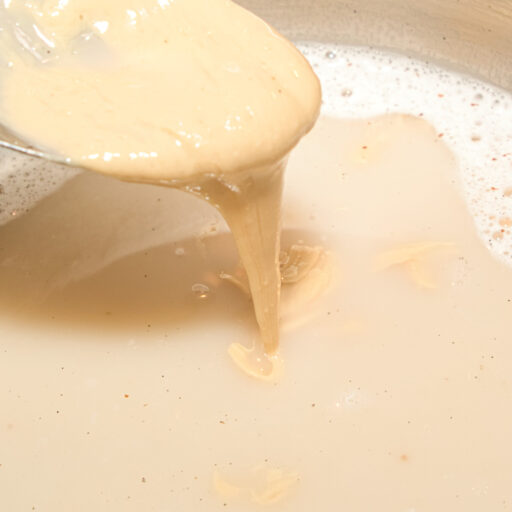 The ice cream mixture is best left to infuse in the refrigerator for at least 15 minutes or overnight.
Optional: before you freeze the ice cream mixture, you can blend it with a hand blender or froth it with a milk frother.
The ice cream machine prepare and pre-cool for a few minutes, depending on the model. Switch on the mixer and pour in the ice cream mixture (duration approx. 30 minutes).
Alternatively in Freezer freeze and mix well every 30 minutes with a hand mixer (total time about 4 hours). However, the ice cream will not be as creamy when made this way as in an ice cream maker.
The ice cream is soft in a freezer of about -18 ° C even after days. If your freezer is a little colder, simply let it thaw in the refrigerator for about 10 minutes before eating.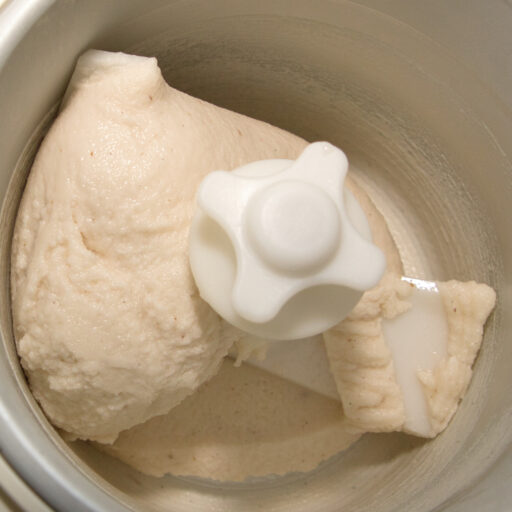 Vegan vanilla ice cream tips
In the recipe is relatively much Inulin contain. Some people are sensitive to it with flatulence or diarrhea. If you are not sure whether you tolerate inulin well, eat only two bullets for now (which corresponds to approx. 4 g inulin). This is an amount that should not actually cause any problems. Inulin is very good for the intestinal flora and if you increase slowly, you can usually tolerate it without problems even in larger quantities.
At the Almond milk I bought the house brand of Rewe and it consists of 3% from almonds. However, you can buy any other almond milk for it. The important thing is that they unsweetened and has a similar content of almonds, otherwise the recipe is no longer correct. Alternatively you can also Almond milk itself from almonds produce or simply Almond paste in water (in this case: 15 g in 500 ml).
Very well goes with the vegan vanilla ice cream a vegan caramel sauce or Strawberry saucethat you can make yourself in just a few minutes. Chopped Almonds and fruits are also a nice topping.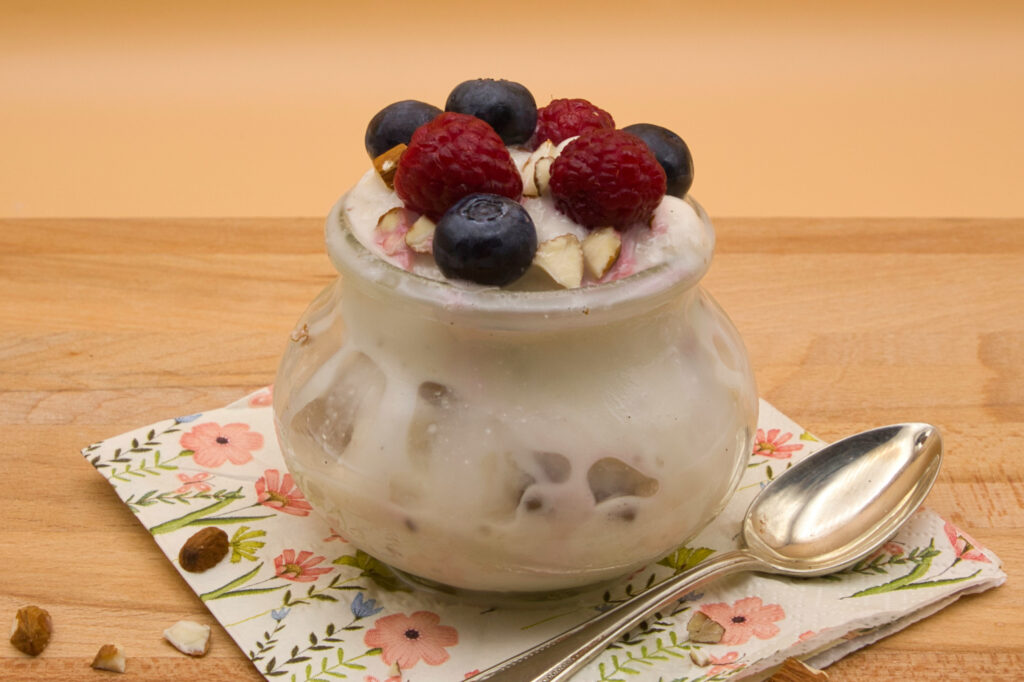 ---
Last updated on 1 October 2023 at 8:03 . Please note that prices displayed here may have changed in the meantime. All information without guarantee.
If you are interested in vegan nutrition, I can share my recipes for vegan stracciatella ice cream, Frozen yoghurt and Walnut ice cream recommend. Or have a look at the vegan ice cream recipes list an.