Cheesecake ice cream: recipe with Variegato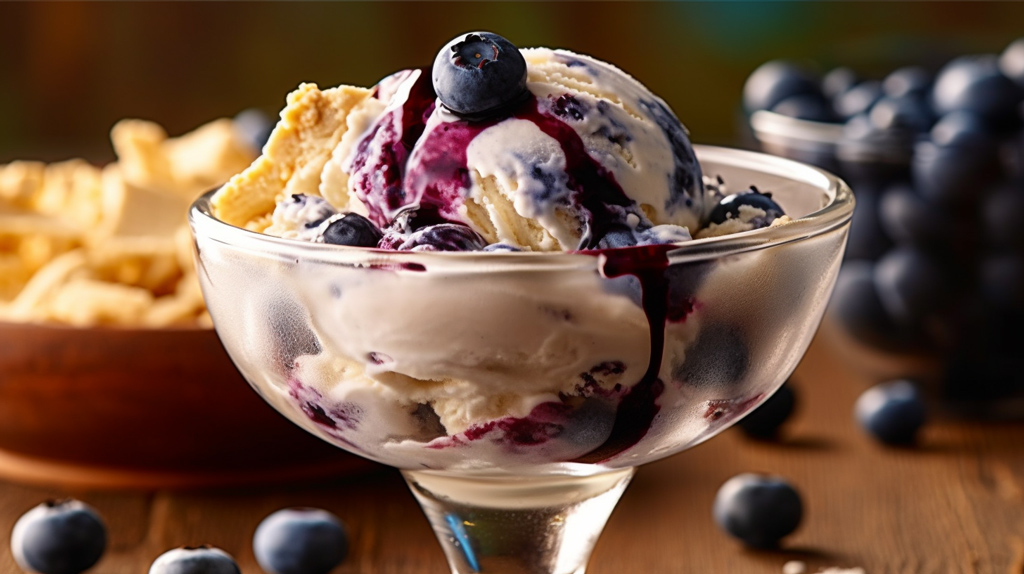 Cheesecake ice cream transforms the delicious taste of Cheesecake into a refreshing creamy ice cream. If you're like me and love cheesecake more than anything, you'll be thrilled with this ice cream recipe.
Combine the cheesecake ice cream with a Fruit Variegato from Blueberries, to create a Blueberry Cheesecake Ice Cream to create. But also the combination with Strawberries for a Strawberry Cheesecake Ice Cream or with the most different Toppings make a great ice cream variation.
If you are now wondering what a Variegato you will find a detailed explanation below at Worth knowing and tips. In short, it is the rough mixing of the ice cream with a sauce or fruit puree, as you see in the photo above, to make a Marbling to produce, but not perfect mixing.
So make your own Blueberry- or Strawberry cheesecake ice cream with this recipe. This works best with your own ice cream maker. In a pinch you can also use the Freezer method use
Content
ingredients Cheesecake ice cream
For 4 servings (approx. 500 g ice cream)
Preparation time: 10 minutes
Maturing time/cooling time: 1 hour or overnight
Freezing time: 30 minutes (ice cream machine), about 4 hours (freezer method).
Price: € 39.99

(€ 20.00 / Count)
Buy now on Amazon*
Price incl. VAT, plus shipping costs
Amazon
Zuletzt aktualisiert am 30. September 2023 um 7:53 . Wir weisen darauf hin, dass sich hier angezeigte Preise inzwischen geändert haben können. Alle Angaben ohne Gewähr.
Preparation ice cream
Put milk, cream and sour cream together with cream cheese in a pot and mix well with a whisk.
Scrape out the pith of the vanilla bean and add it to the milk-cream-cream cheese mixture.
Weigh the dry ingredients. Small quantities should be weighed with a fine scale (

e.g. Josh's digital scale MR5 | Feinwaage the in 0

from € 8.99 )* weighed out. Mix the ingredients well.
Gently heat the mixture in the saucepan and add the dry ingredients, stirring constantly with a whisk.
Continue stirring the ice cream mixture for a few minutes until just before boiling. Then turn off the heat and remove the pot from the stove.
Let the finished ice cream mixture cool and ripen in the refrigerator overnight if necessary.
Optional: if you have a Fruit Variegato with your cheesecake ice cream. Should you prepare this now, because this must also cool.
Shortly before the ice cream mass goes into the ice cream maker, the lemon juice is added. Make sure that the ice cream mass is cool (no more than lukewarm), otherwise the acid may cause flocculation.
Before freezing, it is best to mix the ice cream again with a hand blender (e.g. Braun hand blender MQ 5200WH from € 40.88 )* or stand mixer (e.g. Russell Hobbs Stand Mixer 2 from € 59.42 )* should be whipped up. This mixes all the ingredients well once again and introduces air into the ice cream mass.
Now you can use the ice cream machine prepare and pre-cool for a few minutes, depending on the model. In the ice cream maker, the freezing process takes about 30 minutes.
Who Glycerin wants to use, should do so when the ice cream mass is already quite solid, but not quite ready.
Alternatively, you can also make the ice cream in the Freezer perform. Every 30 minutes, the ice cream mass must be mixed with a hand mixer (e.g. Bosch hand mixer MFQ2210P from € 37.99 )* whipped (total time about 4 hours). The ice cream will not be as creamy in this production as in an ice cream machine.
If the ice cream becomes hard because, for example, your freezer is particularly cold, then simply allow the ice cream to thaw slightly in the refrigerator for about 20 minutes before eating.
Blueberry or Strawberry Cheesecake Ice Cream
With this simple recipe for a fruit variegato, you can turn your cheesecake ice cream into a real highlight make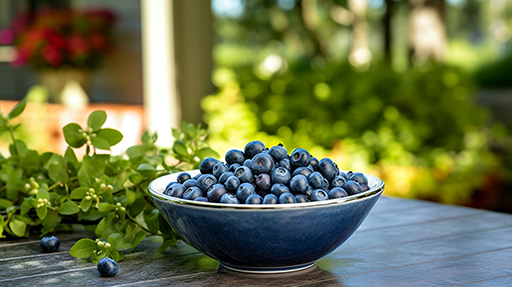 Ingredients blueberry variegato or strawberry variegato
The quantity is enough for approx. 500 g ice cream
Preparation fruit variegato
Allow frozen fruit to thaw. Wash fresh fruit well and remove stems and leaves if necessary.
Puree the fruit with lemon juice and sugar in a powerful blender.
Add dextrose and locust bean gum and blend well again for a few minutes.
Pour the fruit puree into a saucepan and bring to a boil, stirring once.
Allow the fruit variegato to cool well.
Optional: stir glycerin into the Variegato to keep it more liquid during the freezing process.
Merge ice and Variegato
When the ice cream is ready, layer the ice cream with the blueberry or strawberry variegato and then drive with a fork in a lying spiral through the layers. All who have ever made marble cakes know this procedure to create a marbling.
After that, the ice cream must first go into the freezer for a few hours.
The fruit sauce can also well stored in the refrigerator and drizzled over the ice cream before serving.
More great ideas for toppings
Fresh berriesIf you don't want to make Variegato, simply combine your ice cream with a handful of fresh strawberries, blueberries or raspberries. The sweet and juicy freshness of the berries goes perfectly with the creamy, milky taste of the ice cream.
Cookie crumbs: Crumble your favorite cookies, such as butter cookies, and sprinkle generously over the ice cream. The crispy texture of the cookies goes perfectly with the creamy texture. You can also mix the cookie crumbs with the ice cream in your Layer ice bin. Note that the cookie pieces are then rather soft become. But that is entirely up to you.
Various Homemade sauces are ideal in combination with this ice cream recipe: chocolate sauce, Caramel syrup and Peanut caramel sauce can be prepared easily and in a short time with my recipes.
Chopped Nuts: Add some crunch to your ice cream by adding chopped nuts like. Almonds, walnuts or pecans sprinkled on top. They provide not only an interesting texture, but also additional flavor. Caramelized nuts (brittle) according to my simple recipe give an extra kick.
Caramelized banana slices: Slice a ripe banana, caramelize it in a pan with a little butter and sugar, then place it over the ice cream. The warm, sweet bananas take cheesecake ice cream to a new level.
Let your creativity run wild and mix these toppings to your taste. No matter which version you choose, the cheesecake ice cream with Philadelphia will surely become an unforgettable treat with these delicious toppings.
Worth knowing and tips
With a Variegato (or Swirl) is about a creamy sauce or a fruit puree, which is roughly stirred into the ice cream to flavor and decorate it. The term "Variegato" comes from the Italian and means something like "varied". This refers to the appearance of the ice cream after the Variegato is added. It creates beautiful Pattern or stripes similar to marbling, which make the ice cream visually appealing. Variegati can be made in many different flavors, such as chocolate, caramel, strawberry, raspberry, blueberry, lemon and other fruits. You should make your Variegato always do it yourselfso you know what's in it. Since you already have all the ingredients for making ice cream, this is only a small step.
Instead of blueberries and strawberries you can also use the same ice cream for example with a Raspberry variegato make and thus Raspberry Cheesecake Ice Cream make. Simply use the same recipe as for the strawberry or blueberry swirl.
The ice cream recipe is for Philadelphia cream cheese optimized, but should also work with any other heavy cream level cream cheese. Many years ago Almette to the test winner of Stiftung Warentest been chosen. Nevertheless, many prefer to use Philadelphia for desserts and baking. Is that the same for you?
Zuletzt aktualisiert am 30. September 2023 um 7:53 . Wir weisen darauf hin, dass sich hier angezeigte Preise inzwischen geändert haben können. Alle Angaben ohne Gewähr.
---
If you like very much creamy Milk ice cream varieties then you should also try my Quark ice cream or Frozen yogurt recipe from Greek yogurt off.
The cheesecake ice cream also goes very well in combination with fruity Milk ice cream varieties such as Blueberry ice cream, Passion fruit ice cream or Raspberry ice cream.