Creamy peanut butter ice cream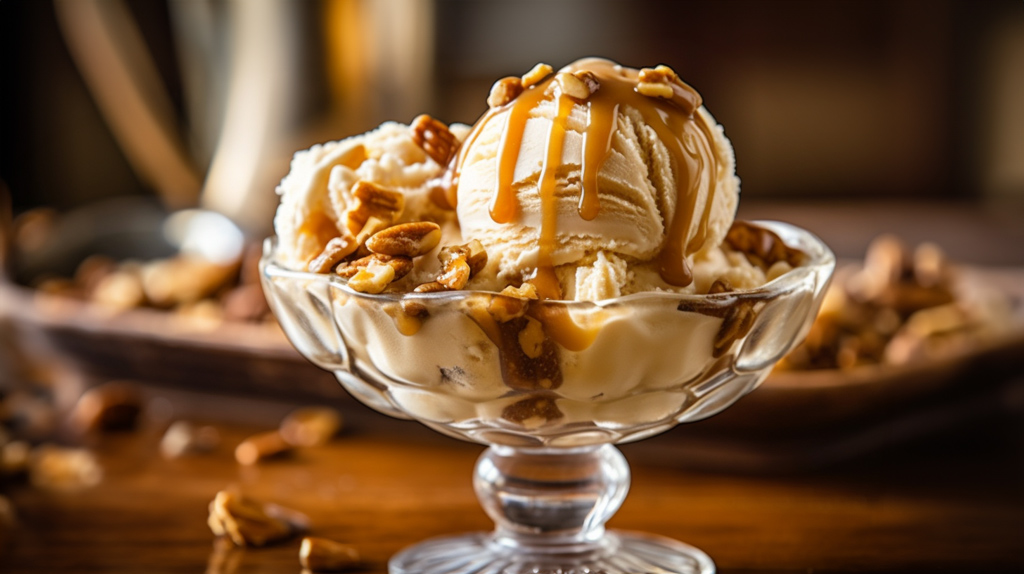 Peanut butter ice cream is a creamy, rich treat that is the perfect mix of Sweetness and nuttiness offers. When you Peanut Butter you will love this ice cream!
The recipe is ovuleless and we reach a creamy ice cream with our usual helpers from various sugars.
Do you want an ice cream similar to a Peanut Butter Cup Ice Cream then take a look at the Variation at the end of the article an.
With my tips you can make this ice cream both with as well as without ice cream machine make. Of course, it will be creamier in the ice cream maker. If you are still unsure and do not want to spend so much money on an ice cream maker, check out the Test winner in my ice cream machine comparison for beginners an.
Don't spend oodles of money on store-bought ice cream anymore (a I have made a comparative calculation here), but make your own peanut ice cream or Peanut Butter Cup ice cream.
Content
ingredients Peanut butter ice cream
For 4 servings (approx. 500 g ice cream)
Preparation time: 10 minutes
Maturing time/cooling time: 1 hour or overnight
Freezing time: 30 minutes (ice cream machine), about 4 hours (freezer method).
Zuletzt aktualisiert am 30. September 2023 um 7:50 . Wir weisen darauf hin, dass sich hier angezeigte Preise inzwischen geändert haben können. Alle Angaben ohne Gewähr.
Preparation
Weigh the dry ingredients (sugar, dextrose, glucose, locust bean gum, guar gum) and add a pinch of salt. Small quantities should be weighed with a fine scale (

e.g. Josh's digital scale MR5 | Feinwaage the in 0

from € 8.99 )* weighed out. Mix the ingredients well.
Add all liquid ingredients (milk, cream) together with the peanut butter (s. Tips) in a saucepan and mix well with a whisk. If the peanut puree is firmer, it will mix more easily if the stove is already turned on a little.
Heat the mixture in the saucepan and add the dry ingredients, stirring constantly with a whisk.
Continue stirring the ice cream mixture for a few minutes until just before boiling. Then turn off the heat and remove the pot from the stove.
Let the finished ice cream mixture cool in the refrigerator and ripen overnight if necessary.
Before freezing, the ice cream mixture should be mixed again with a hand blender (e.g. Braun hand blender MQ 5200WH from € 40.88 )* or stand mixer (e.g. Russell Hobbs Stand Mixer 2 from € 59.42 )* should be whipped up. This mixes all the ingredients well once again.
Now you can use the ice cream machine prepare and pre-cool for a few minutes, depending on the model. In the ice cream maker, the freezing process takes about 30 minutes.
Who Glycerin wants to use, should do so when the ice cream mass is already quite solid, but not quite ready.
Alternatively, you can also make the ice cream in the Freezer perform. Every 30 minutes, the ice cream mass must be mixed with a hand mixer (e.g. Bosch hand mixer MFQ2210P from € 37.99 )* whipped (total time about 4 hours). The ice cream will not be as creamy in this production as in an ice cream machine.
If the ice cream becomes hard because, for example, your freezer is particularly cold or this happens particularly quickly with nut ice cream varieties, then simply allow the ice cream to thaw slightly in the refrigerator for approx. 20 minutes before consumption or use the Tips note.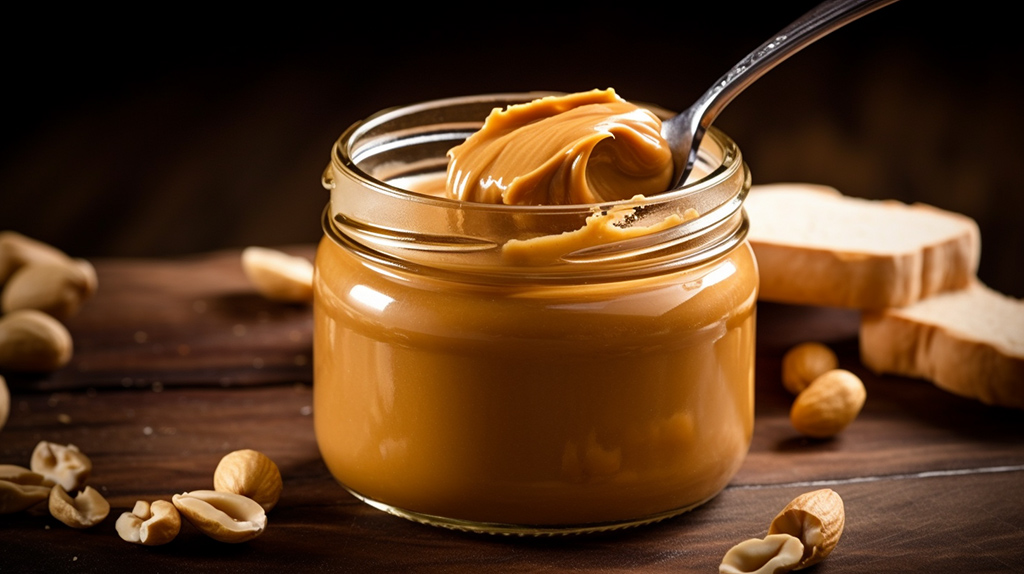 Ideas for variations peanut butter ice cream
Make your own Peanut Butter Cup ice cream like the one from Ben & Jerry's. In addition to the ice cream you need to Peanut Butter Chocolate Drops Stir into your ice cream. One option is to simply Peanut Butter Cups (

e.g. Reese's Peanut Butter Cups Minis

from € 25.35

(€ 18.78 / kg)

)* to buy. However, these are currently still somewhat difficult to obtain in Germany and expensive. You can also just make it yourself, for example after this Recipe. Chop the cups and add them to the ice cream mixture at the end of the freezing process. Another option would be simply Peanut butter and melted chocolate coarsely mix, let cool to hand temperature and drop into the almost finished ice cream mass while the machine is running.
Chopped peanuts (

e.g. Oriental & Local | Peanuts

from € 8.36

(€ 8.36 / kg)

)* naturally also go very well with this ice cream. Who likes can also salted and / or roasted nuts (

e.g. by Amazon peanuts roasted & salted

from € 3.00

(€ 6.00 / kg)

)* take. Another variant is to Brittle easy to use with peanuts as a topping.
Various Homemade sauces are also ideal in combination with the peanut ice cream recipe: chocolate sauce and Caramel syrup fit very well and can be homemade in a short time according to my recipe.
Classic also fit very well Banana and crumbled cookies like butter cookies with peanut butter ice cream.
Tips
Peanut Butter, or also Peanut cream, peanut butter and Peanut paste is mainly made of ground peanuts and is often processed with hydrogenated vegetable oil, salt and sugar to a spreadable mass. Therefore, you should make sure that you get a peanut butter from 100% Peanuts without additives buys. There are different varieties of peanut butter, from "coarse" (crunchy) to "fine" (creamy), and even some with reduced fat content or additives such as honey, caramel and cocoa. Use a high quality Peanut butter without palm oil and as few additives as possible. For the ice cream production it should be fine, so without pieces. I have good experience with the Peanut butter from Rapunzel (

e.g. Biona Organics Organic Peanut Butter

from € 4.99

(€ 19.96 / kg)

)* made
With nut puree settles after some time the oil above off. Then before use again well with each other stir. If the nut mixture is very firm, then with a Water bath additionally warm up.
Nut ice cream is always a little more difficult and will firmer in the freezer than other types of ice cream. This is due to the High fat content. However, you have to use a certain amount of nuts to get a nice nutty taste to achieve. Here helps Glycerin or also a Sip alcohol at the end of the freezing period. As alcohol comes a brandy (

e.g. Burgen Nussler Hazelnut

from € 21.95

(€ 43.90 / l)

)* or liqueur (

e.g. Catch the nut! | Premium Hazelnut Liqueur | Smooth. Golden. | 18% alcohol by volume | Tested by squirrels from the region | Charity gift | 0

from € 23.99

(€ 47.98 / l)

)* from nuts are in question.
Zuletzt aktualisiert am 30. September 2023 um 7:53 . Wir weisen darauf hin, dass sich hier angezeigte Preise inzwischen geändert haben können. Alle Angaben ohne Gewähr.
---
When you Nut ice cream like, then take a look at my recipes for Hazelnut ice cream, Walnut ice cream and Ferrero kiss ice cream on. They'll blow your mind just like this recipe.
An excellent combination for a Sundae would be Chocolate ice cream and Banana ice cream.