Vegan walnut ice cream recipe with caramelized nuts
In my opinion, you can eat walnut ice cream all the time. Be it on hot days or snuggled up on the couch in winter. The round taste and the sweet, crunchy nuts are a great combination and simply convey a Feeling good.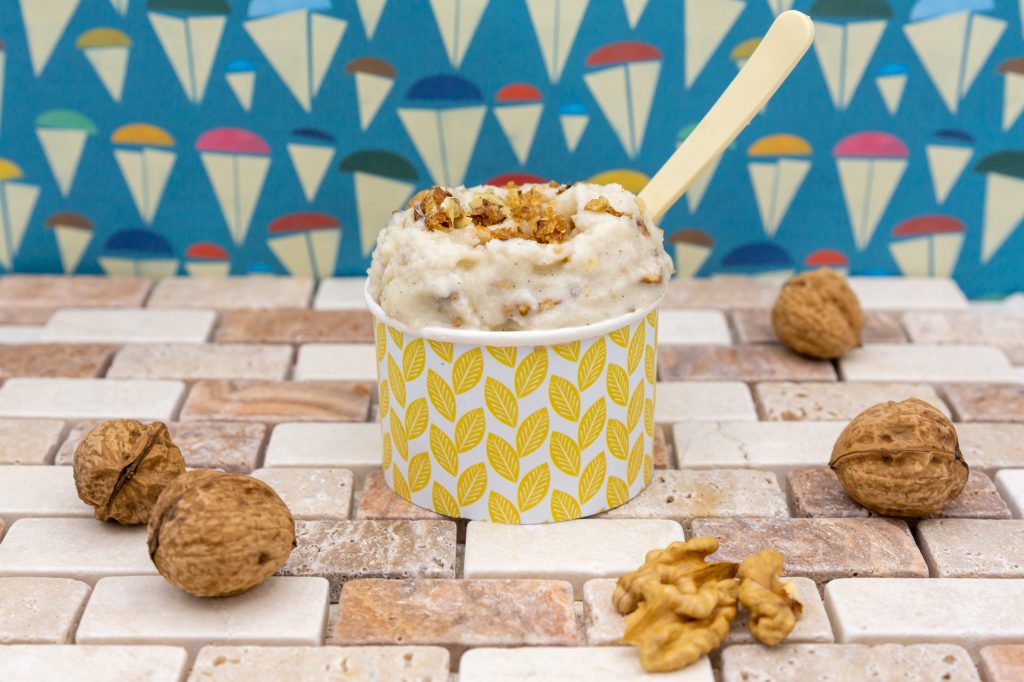 This walnut ice cream is based on Almond milk and provides a vegan variation to the traditional recipes. So if you are lactose intolerant or have a vegan diet, this recipe is a good alternative.
If you are looking for a classic walnut ice cream recipe you will also find on my blog.
You ever wonder what the Taste of walnut ice cream so unmistakable does? It's not the nuts, it's the Maple syrup. Without maple syrup, a walnut ice cream does not taste the way it usually does and no matter how many nuts there are in it.
Maple syrup is the concentrated juice of the sugar maple and is mainly produced in Canada. The juice is collected and then strongly boiled down to make the syrup.
ingredients vegan walnut ice cream
For 4 portions
500 g almond milk (buy or do it oneself)
4 tablespoons white almond paste
100 g maple syrup (80 g for the ice cream mass and 20 g for the walnuts)
1/2 vanilla pod
1 pinch of salt
50 g dextrose*
20 g of glucose*
20 g inulin
1 pinch guar gum
80 g walnuts
*alternatively replace with banana
Preparation
Bring the almond milk, almond paste, 80 g of maple syrup and the scraped vanilla pulp to the boil in a saucepan and simmer gently for 10 minutes, stirring.
Turn off the stove and stir in salt, dextrose, glucose, inulin and guar gum with a whisk.
Let the ice cream mass cool down.
Chop the walnuts and roast them in a pan without fat. Pour the remaining maple syrup over it and let it caramelise until the nuts are covered by a layer. Alternatively, the nuts can also be covered with Caramelized sugar will be.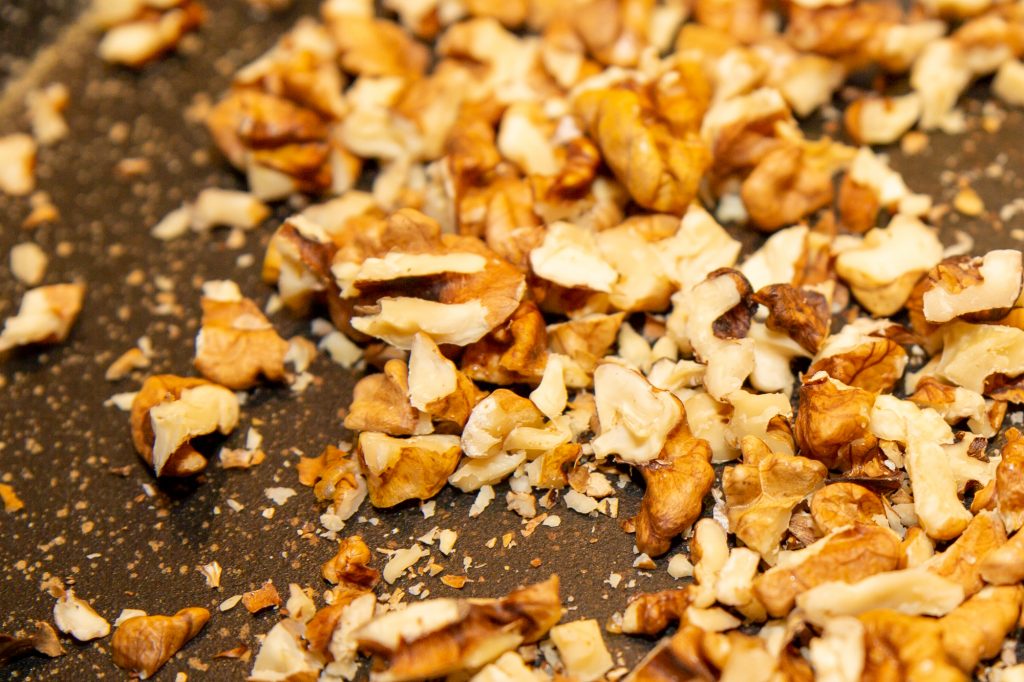 The Ice cream machine prepare and pre-cool for a few minutes depending on the model. Switch on the stirrer and add the ice cream mass (duration approx. 30 minutes). Add the caramelised walnuts shortly before the end. Before eating, let them thaw in the fridge for 30 minutes.
Alternatively in freezer compartment Allow to freeze and mix well every 30 minutes with a hand mixer (total duration approx. 4 hours). Before consumption, allow to thaw in the refrigerator for 15 minutes and mix well with a blender on a low setting. Then add the caramelised walnuts first.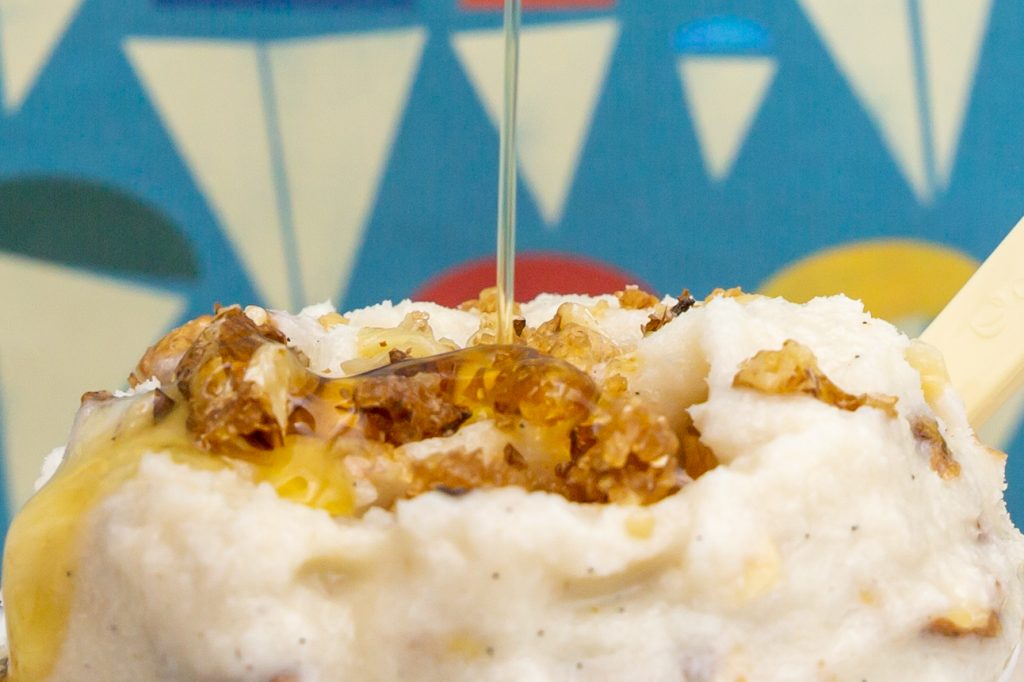 Alternative with banana
If you don't want to use dextrose and glucose, you can use very ripe banana replace. She should definitely have brown spots already, so that she is sufficiently sweet. The banana after cool down together with the milk-maple syrup mixture in a stand mixer puree.
You must be aware that a light banana flavour will always be present and that the ice crystals in this variant are significantly larger.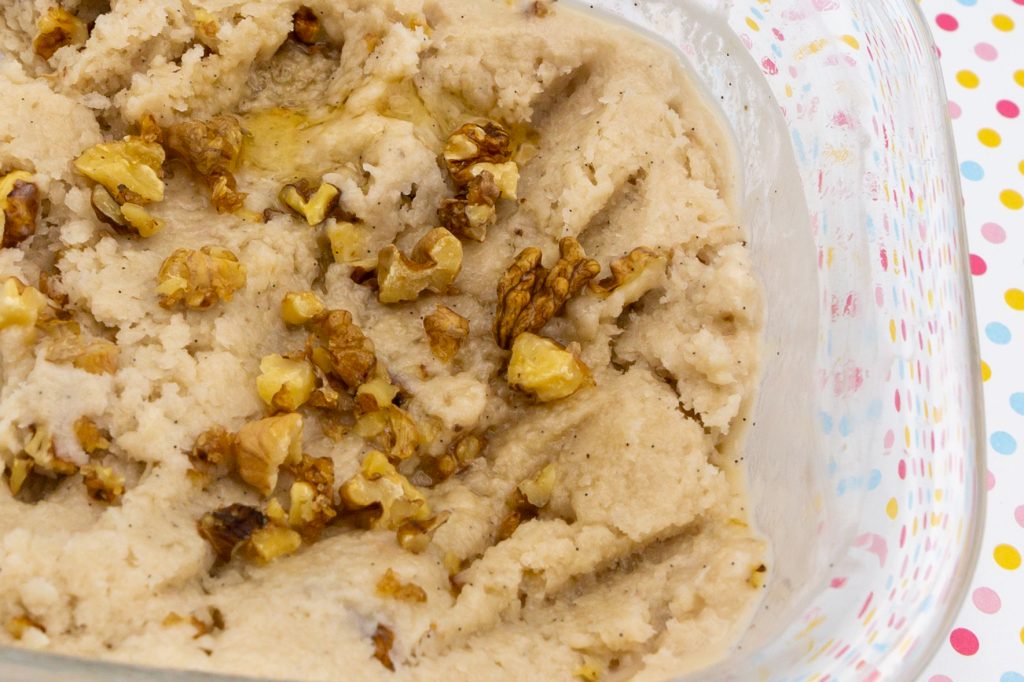 Tips for vegan walnut ice cream
There are very different qualities of Maple syrup and here is the rule: the lighter the better and milder is the syrup. In Europe, you can usually get syrup of the highest grade ("Grade A") in the supermarkets.
Be aware that maple syrup is strictly speaking Mixture of different sugars is. In other words, just because it is obtained from a tree does not mean it is healthy.
Walnuts should dark and chilly be stored. It is best to buy unpeeled nuts and only crack them when you want to process them further.
If you want to use the

Make your own almond milk

you can soak 100 g of almonds with 500 ml of water for 12 hours, rinse the almonds and mix with 500 ml of fresh water in a high performance mixer. Filter the almond milk through a straining cloth or nut cloth and collect it.
The Inulin leads to a better consistency of the ice cream and is found in e.g. chicory or Jerusalem artichoke. It is therefore a natural substance which is said to have positive nutritional properties. Inulin can be purchased in organic supermarkets or via the Internet.