Classic walnut ice cream: better than store-bought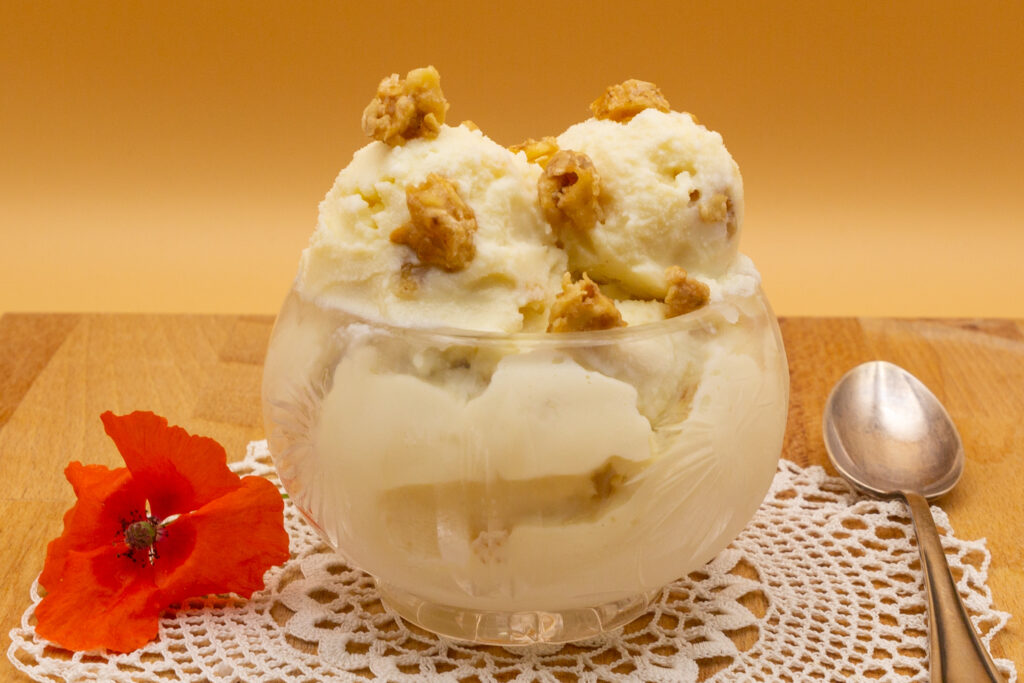 Walnut ice cream is one of the first ice creamI made myself many years ago. It is a Ice cream classic and taste for me always something very special. But it is not difficult to make. Between all my ice cream experiments, this ice cream variety always came back to the table, and yet I never managed to immortalize the recipe in my blog.
However, since I was at the Recipe for vegan walnut ice cream was asked for a non-vegan variant, here finally my recipe for a classic walnut ice cream without egg. I took on the difficult task for you not to always eat my walnut ice cream right away, but to document the making and the final product 🙂 .
As you probably already know, the secret of walnut ice cream is the Maple syrup. This shapes the characteristic taste and without this syrup simply can not do.
For my walnut ice cream recipe you also need in addition Dulce de leche. This is a kind of thick caramel that you can make yourself in just a few minutes. It keeps quite a long time in the refrigerator. Therefore, it does not need to be cooked from scratch every time.
Ingredients dulce de leche
For a small glass (approx. 125 ml)
75 g milk
50 g cream
65 g sugar or cane sugar*
1/4 vanilla pod* without seeds (e.g. from your vanilla sugar batch, see also Tips)
Ingredients walnut ice cream
For 4 portions
---
Preparation of dulce di leche
Preparation time: about 10 minutes
Place milk, cream, sugar and vanilla bean in a non-stick pan.
Heat, stirring, until it boils.
Simmer until the mixture takes on a caramel color and becomes viscous. Keep stirring in between. With this small amount it takes about 5 minutes.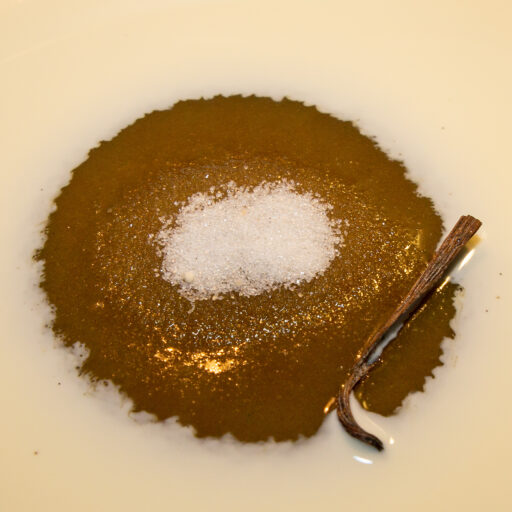 The dulce de leche is ready when you put a drop on a plate and after a short time it becomes so "solid" that it no longer flows down a plate held at an angle. Stop a little earlier rather than too late, otherwise you will have a very hard dulce de leche with sugar crystals (see also Tips).
Fill the caramelized sugar mass into a jar while it is still hot and store it in the refrigerator. As a rule, it still thickens when it cools down.
---
Preparation walnut ice cream
Preparation time: about 20 minutes
Freezing time: approx. 30 minutes (depending on the ice cream maker) or 4 hours (in the freezer)
Chop the walnut halves into pieces with a kitchen knife.
In a pan put the sugar and a little water. The amount of water is not so important, because it evaporates over time.
Heat, stirring, until the sugar mixture bubbles, then add the chopped walnuts.
Continue stirring over mild heat until all walnuts are coated and sugar mixture is thick.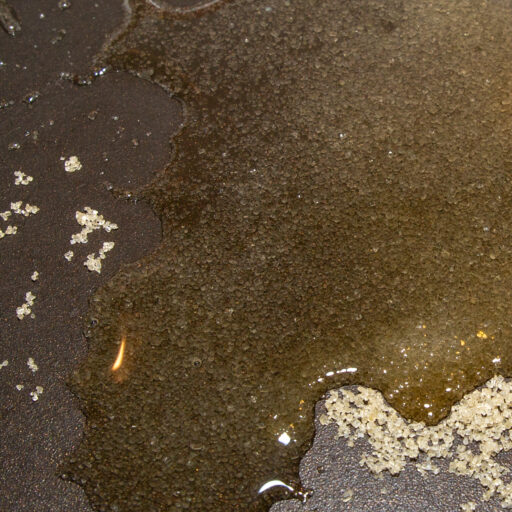 Spread the caramelized nuts on a plate and let cool.
For the ice cream mixture, place milk, cream, brown sugar, maple syrup, vanilla bean, dulce de leche and dextrose in a saucepan and heat, stirring, until almost boiling.
Simmer gently for 10 minutes.
Turn off the heat and whisk in the remaining ingredients.
Allow the ice cream mixture to cool. Best left to infuse in the refrigerator for several hours.
Before freezing, remove the vanilla bean and mix well once with a hand blender and whip up a little.
The ice cream machine prepare and pre-cool for a few minutes, depending on the model. Switch on the mixer and pour in the ice cream mixture (duration approx. 30 minutes). Just before the end, add the caramelized walnuts. You can also keep some for later decoration.
If your freezer is very cold, the ice cream may become hard. Then let the ice cream container thaw in the refrigerator for 30 minutes before eating.
Alternatively in Freezer according to instructions freeze and mix well every 30 minutes with a hand mixer (total time about 4 hours). Finally, layer in a container with the caramelized nuts. This variation will not be nearly as creamy. After some time in the freezer, remember to thaw the ice cream in the refrigerator about 30 minutes beforehand.
Tips for walnut ice cream
For this recipe you do not necessarily need whole vanilla beans with seeds, but can use the scraped pods use. With me these come mostly from my Vanilla sugar batchWhen I use the seeds from the vanilla bean for other recipes. Should you have no scraped vanilla beans at hand, simply use only half the specified amount.
With the quality of Maple syrup applies: the lighter the better and milder is the syrup. In Europe, you can usually get "Grade A" syrup in supermarkets. This corresponds to the highest grade.
Walnuts should dark and chilly stored. It is best to leave the nuts whole and chop them only on the day of preparation. I collect my walnuts myself in the fall. Mid-September to October is the time again. If you don't have your own garden, that's no problem. Check out if there is a walnut grower in your area. Walnut tree publicly accessible is. You can find a map on this Mouth robbery page.
Dulce de leche you can also use as Spread use. This is very common, especially in Central and South America.
Should your Dulce de leche too hard and you have sugar crystals in it, then pass the ice cream mixture once again through a Sieve. Some of these sugar crystals are very hard and do not dissolve despite the long cooking time. An ice cream with small hard pieces, unfortunately, is no fun and spoils your ice cream enjoyment.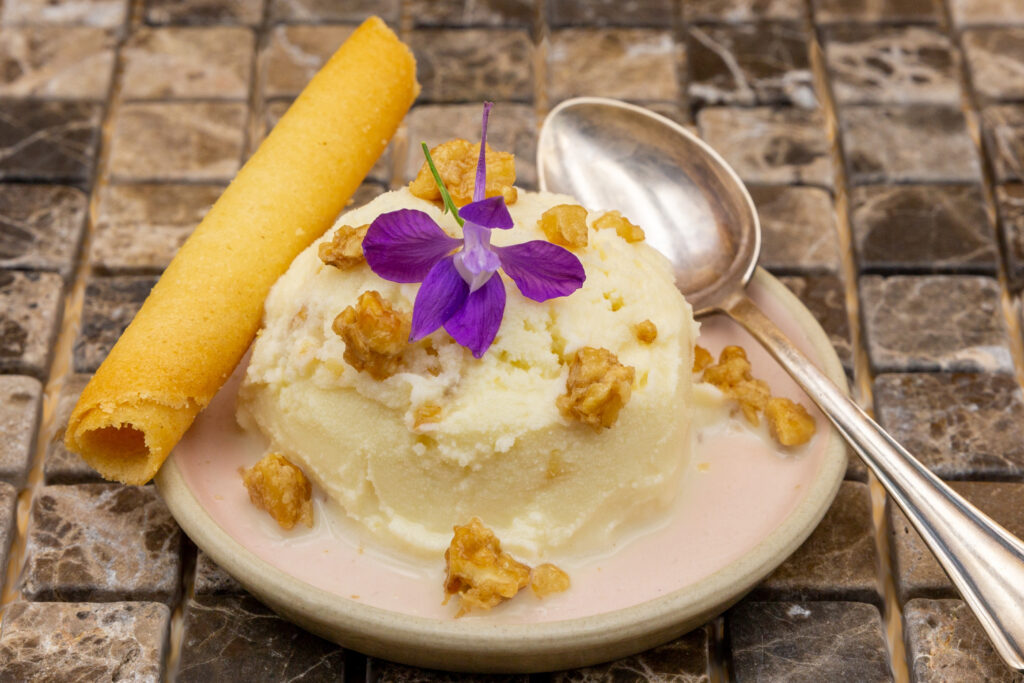 Other Ice cream classic like Malaga ice cream or Raspberry sorbet I can only recommend it to you. Or do you want to try something unusual? Then take a look at my Bee sting ice cream or Poppy seed ice cream an.
A Instructions on how to caramelize all kinds of nuts I have also put together for you.
---