Raspberry ice cream recipe with or without ice cream maker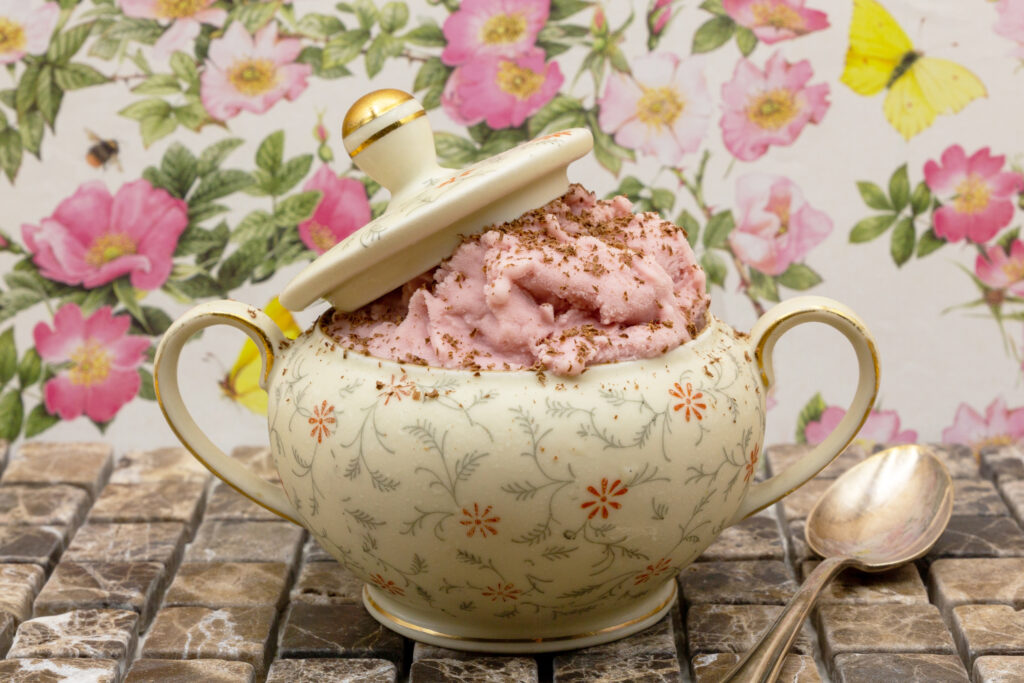 This recipe for raspberry ice cream is a fruity milk ice, which does not require egg and yet is creamy. It is one of the Ice cream classic, which can be found in any ice cream parlor.
You can fresh or frozen fruit use. Meanwhile, there are very tasty frozen raspberries in organic quality, which are suitable without restrictions for this great raspberry ice cream (see. Tips).
The ice is quickly prepared. If you have an ice cream maker you can make it already enjoy after 1 hour. But the ice cream mixture can also be well prepared the day before and stored in the refrigerator.
Who is looking for a Recipe without milk is or vegan wants to eat, which will be at the recipe for Raspberry sorbet find or transform the recipe for vegan orange ice cream from.
Ingredients raspberry ice cream
4 portions
Preparation raspberry ice cream
Preparation: about 15 minutes
Resting time: at least 15 minutes
Freezing time: approx. 30 minutes (with ice cream maker) or 4 hours (without ice cream maker)
If you use frozen raspberries, let them thaw first. If using fresh raspberries, rinse them and drain well in a sieve.
Puree the raspberries well in the blender. Since my blender only mixes everything completely with a lot of liquid, I pour some of the milk from the recipe to the raspberries.
If you want a very fine ice cream without seeds, pass the raspberry puree through a sieve. If you don't mind the seeds, you can skip this step.
Put all remaining ingredients together in a saucepan and heat while stirring. Do not boil, just heat until just before boiling.
Hold at this temperature for 5 minutes while stirring. This will change the texture of your ice cream mixture and make it creamier.
Allow the milk ice cream mixture to cool before adding the raspberry puree. Here you need to be a little patient. If the milk-cream mixture is still too hot, it may otherwise flocculate due to the acidity of the raspberries.
Once the milk-ice cream mixture is hand-warm (takes about 15 minutes), the raspberry puree is stirred in. The play of colors is particularly beautiful 🙂 .
Leave the raspberry ice cream mixture in the refrigerator for 4 hours or overnight. If you are in a hurry, you can also start the freezing process immediately after cooling.
The ice cream machine prepare and pre-cool for a few minutes, depending on the model. Switch on the mixer and pour in the raspberry ice cream mixture (duration approx. 30 minutes).
Alternatively in Freezer freeze and mix well every 30 minutes with a hand mixer (total time about 4 hours). Unfortunately, the raspberry ice cream will not be as creamy when made this way as it would be in an ice cream maker.
If your freezer is very cold, the ice cream will become somewhat hard over time during storage. Then let it thaw in the refrigerator for about 10-20 minutes before eating.
Interesting facts and tips about raspberries
You can make the ice cream with fresh or frozen raspberries produce. Meanwhile, you can also buy frozen fruit in organic quality in every major supermarket. It's best to check with Stiftung Warentest or other trusted testers beforehand. This Test shows that there are some very good products. Unfortunately, some products are contaminated with pesticides.
Fresh raspberries do not ripen. Therefore, when buying or picking raspberries, you should pay attention to very ripe fruits pay attention. Berry plantations are a good alternative if you don't have raspberry canes yourself.
Ripe berries can be recognized by the fact that the fruits are very easily detach from the bush. Besides they are intensively colored and fragrant good.
Fresh raspberries should preferably Quickly cooled become and quickly consumed. To do this, put the berries in the bottom shelf of the refrigerator.
To raspberry ice cream go very well Chocolate shavings, coconut shavings, various berries, Vanilla sauce and of course Waffles.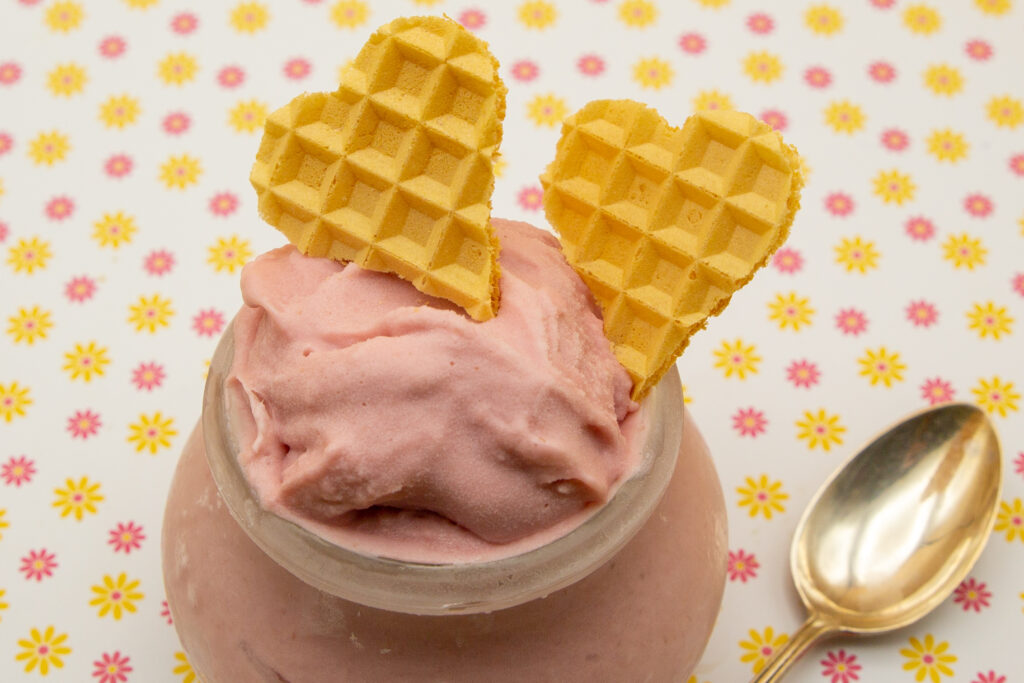 ---
Together with Chocolate ice cream and Vanilla Ice Cream you can use your own ice cream sandwich after prince Pückler make. More Ice cream classic like Bacio ice cream or Rum raisin ice cream can also be found on my blog.
Since their fruity Milk ice cream like, I can also give you my recipes for Passion fruit ice cream with tonka bean and summer watermelon ice cream with buttermilk recommend.