Coconut ice cream easy to make yourself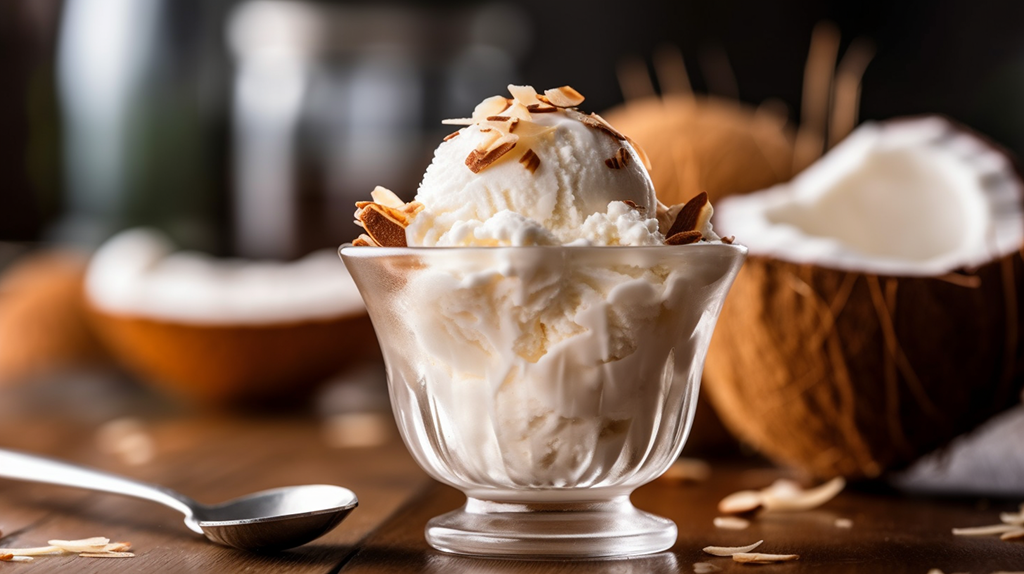 Coconut ice cream reminds me of Beach, Exoticism and hot summer nights. I know it's a bit cliché, but maybe you feel the same way?
If you have your Coconut ice cream with the ice cream maker If you want to make it yourself, then I recommend this recipe. Alternatively you can also find it in the Freezer with a hand mixer prepare, but it will not be as nice and creamy as in the ice cream maker.
A ice cream machine, even without a compressor, is a good purchase if you eat ice cream regularly. The cheap and good Models for home without compressor I have summarized in a separate article.
This delicious creamy ice cream is quickly prepared and with the appropriate toppings very easy to vary (s. Tips). How about a raspberry swirl, chocolate chips or toasted coconut chips?
Below I show you how to make at home the perfect coconut ice cream can make yourself.
Content
ingredients
For 4 servings (approx. 500 g)
Preparation time: 10 minutes
Maturation time: 30 minutes or overnight
Freezing time: 30 minutes (ice cream machine), about 4 hours (freezer method).
Price: € 39.99

(€ 20.00 / Count)
Buy now on Amazon*
Price incl. VAT, plus shipping costs
Amazon
Zuletzt aktualisiert am 30. September 2023 um 7:53 . Wir weisen darauf hin, dass sich hier angezeigte Preise inzwischen geändert haben können. Alle Angaben ohne Gewähr.
Preparation coconut ice cream
First, put the liquid ingredients (milk, coconut and cream) in a pot.
Weigh the dry ingredients. The small amounts of locust bean gum and guar gum should be weighed with a fine balance (

e.g. Josh's digital scale MR5 | Feinwaage the in 0

from € 8.99 )* be weighed. Mix the ingredients well.
Warm the mixture slightly and add the dry ingredients, stirring constantly with a whisk.
Continue stirring the mixture for a few minutes just before boiling. Then turn off the heat and remove the pot from the stove.
Let the finished ice cream mixture cool and ripen in the refrigerator overnight if necessary.
Before freezing, it has proven useful to mix the ice cream mixture once again with a hand blender (e.g. Braun hand blender MQ 5200WH from € 40.88 )* or stand mixer (e.g. Russell Hobbs Stand Mixer 2 from € 59.42 )* to serve.
Now you can use the ice cream machine prepare and pre-cool for a few minutes, depending on the model. In the ice cream maker, the freezing process takes about 30 minutes. Who glycerin or a sip of alcohol (s. Tips) to it, should do this when the ice cream mass already begins to solidify, but is not yet ready.
Alternatively, you can also make the ice cream in the Freezer perform. To do this, mix every 30 minutes with a hand mixer (e.g. Bosch hand mixer MFQ2210P from € 37.99 )* mix well (total time about 4 hours). The ice cream will not be as creamy in this preparation as in an ice cream machine.
If the ice cream has been in the freezer for a while or your freezer is particularly cold, simply let it thaw in the fridge for about 20 minutes before eating.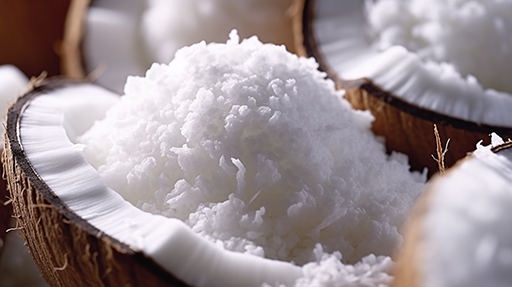 Tips and tricks
For a creamy and rich coconut ice cream, the choice of the Coconut milk crucial. I use as far as possible Coconut milk with at least 80% Proportion. The coconut milk from Amazon (

by Amazon Coconut Milk

from € 1.31

(€ 3.28 / l)

* ) meets this requirement. In the supermarket or organic market you can also find from time to time.
The Sweetness of the ice can be adjusted according to personal taste. If you prefer it less sweet, reduce the sugar in the recipe. However, remember that sugar also contributes to the texture of the ice cream. Too little sugar can result in a hard ice cream. I wouldn't go below 30 grams and above 45 grams of sugar for the recipe above.
During the freezing process you can very well melted chocolate (

e.g. süssundclever.de® Organic Chocolate Drops 3

from € 18.90

(€ 18.90 / kg)

)* can be incorporated into the system. Just as you would for Stracciatella ice cream makes. To do this, melt about 25 g per 500 g of ice cream mass, cool to lukewarm and drop in just before the end of the freezing process while the ice cream machine is running. For the freezer method, the method is different. When the ice cream is ready, put a layer of ice cream in the freezer can, then drizzle some of the lukewarm chocolate on top of the ice cream as a second layer. Repeat the process until everything is placed in the can.
As Toppings for the coconut ice cream are suitable grated coconut (

e.g. health food store coconut rasp organic

from € 3.49

(€ 13.96 / kg)

)* , coconut chips (

e.g. süssundclever.de® | Organic Coconut Flakes | 1

from € 14.90

(€ 7.45 / piece)

)* , white chocolate (

e.g. CALLEBAUT Receipe No. W2

from € 14.64

(€ 14.64 / kg)

)* . Flaked almonds are also a good addition. Coconut flakes, coconut chips and almond flakes taste even better if you toast them briefly in a pan without fat beforehand. Fruit sauces made from strawberries, raspberries or mango also go perfectly with coconut ice cream and can be prepared in a flash in just a few minutes.
Vanilla sugar can also be quite simple homemade be. If you use scraped vanilla beans (

e.g. Bourbon vanilla from Madagascar

from € 21.99

(€ 2.20 / piece)

)* left over e.g. from baking or from the Vanilla ice cream making, then simply put this pod with sugar in an airtight container. After about a week, the sugar is sufficiently flavored.
If your ice cream gets pretty solid because, for example, your freezer is very cold, you can just take a sip of Coconut liqueur (

e.g. Mangaroca

from € 9.99

(€ 14.27 / l)

)* or rum. (

e.g. BUMBU The Original Rum

from € 29.90

(€ 42.71 / l)

)* into the ice cream mixture during the freezing process. It is especially delicious to drizzle the coconut liqueur additionally over the ice cream before serving.
Zuletzt aktualisiert am 30. September 2023 um 7:53 . Wir weisen darauf hin, dass sich hier angezeigte Preise inzwischen geändert haben können. Alle Angaben ohne Gewähr.
---
If you like ice cream with coconut, then try my recipe for Raffaello ice cream, vegan blueberry ice cream or my Ice cream pralines with coconut yogurt off.