Banana milkshake: vegan and exotic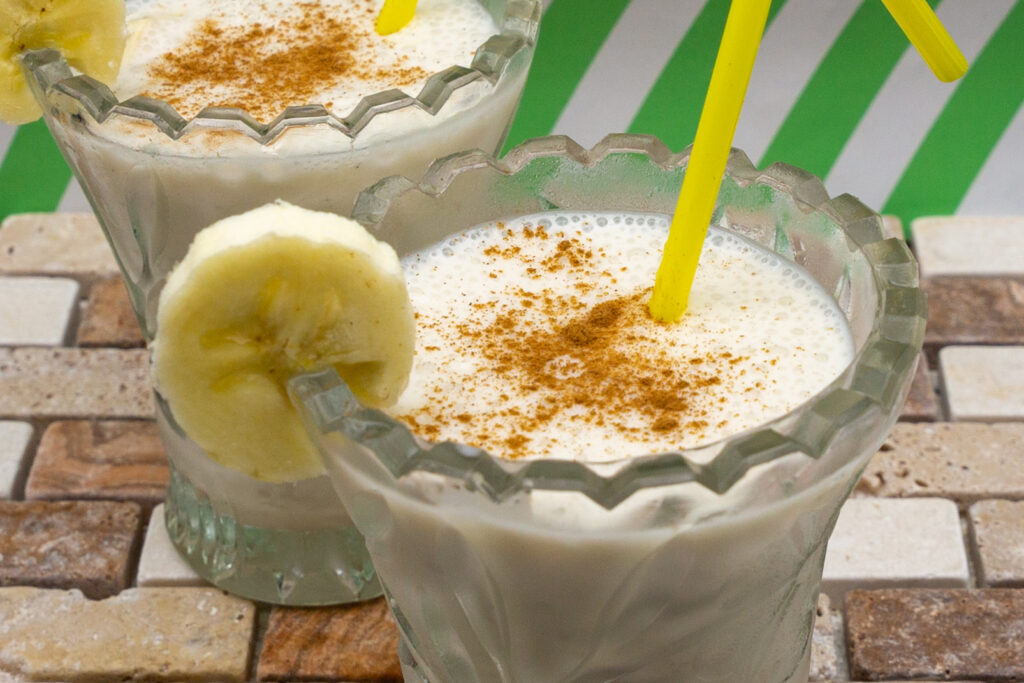 Here I present you a banana milkshake variant, which is vegan and quickly prepared. Only the bananas must be sufficiently frozen beforehand. After that it goes very quickly. All ingredients mash foamy and ready!
If you want to make it even more extravagant, you can add a caramel topping to the banana milkshake - of course with homemade vegan caramel sauce. Or pour the milkshake on a scoop of vegan ice cream (see. Tips).
The coconut yogurt makes the vegan milkshake taste exotic and fresh. Ideal when it is warm and sunny. But be careful: such a milkshake is very rich and can therefore quickly replace a complete meal.
ingredients
For 4 servings you need the following ingredients:
300 g ripe banana (about 3 pieces)
500 g coconut yoghurt
1/2 vanilla pod
100 g sugar syrup (or 50 g sugar, 50 g water)
2 tablespoons lime
160 g coconut milk
Preparation vegan banana milkshake
Preparation: Freeze banana slices at least 3 hours in advance
Preparation time: approx. 5 minutes
Peel and slice the bananas.
Freeze banana slices in a suitable container in the freezer (takes about 3 hours).
If you don't have homemade sugar syrup or bar syrup, you can simply boil sugar and water in equal parts (50 g each) in a pot until the sugar is dissolved. Then let it cool down.
Scrape out the vanilla bean and put the vanilla pulp into a blender or a blender jar. You can use the scraped out pod for example for homemade vanilla sugar use.
Add the remaining ingredients to the vanilla pulp and blend everything very well in a blender or with a hand blender until it makes a frothy milkshake.
If the milkshake is not drunk immediately, it is best to store it in the freezer. After about 2 hours, however, the mass begins to solidify.
Tips vegan banana milkshake
As a topping fit very well cinnamon or even caramel sauce. A recipe for a very quick vegan caramel sauce or a likewise vegan peanut caramel sauce you can find here on my blog.
A ripe banana can be recognized by the fact that the skin shows a rich yellow and brown dots. The more brown dots, the riper and sweeter the milkshake. If you have rather unripe bananas, you should halve the lime juice.
If the outside temperatures are a bit warmer, the banana milkshake can also be served on ice cubes or a vegan ice cream scoop of, for example. Frozen yoghurt be poured.
I still made my milkshake with Crousty Roll decorated. This is a gluten-free cocoa cookie roll filled with coconut (see picture below). This roll is also available in various organic supermarkets, but not vegan.