After-Eight ice cream: refreshing chocolate mint ice cream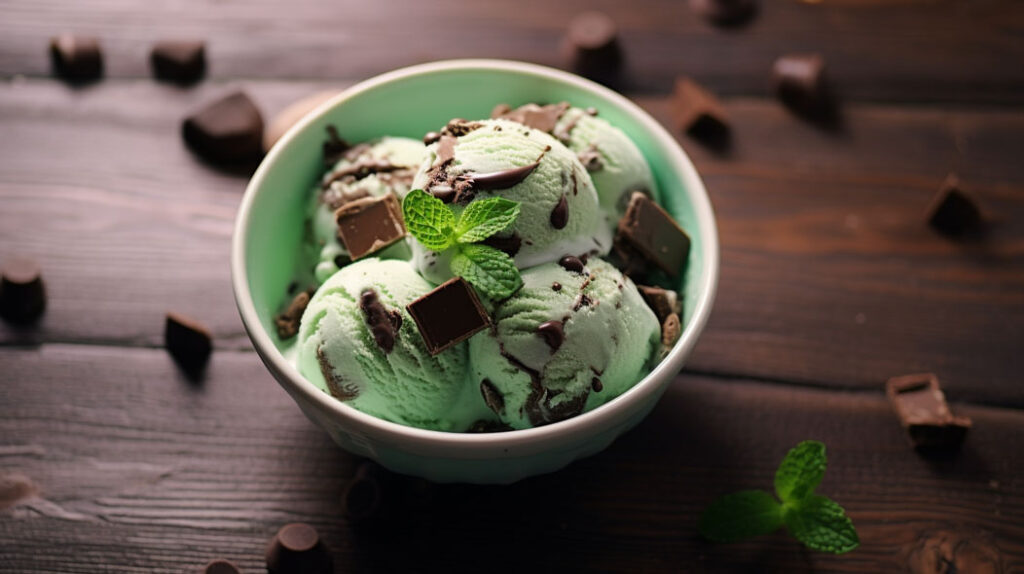 With After-Eight ice cream, we want to offer the familiar combination of Mint and chocolate imitate, as known from the thin tablets. However, we use for this purpose Mint syrup and melted chocolate, to create our own ice cream.
Why don't we just use After Eight for the taste?
Of course, that would also be an option, but would require a light brownish ice result. The wrapping chocolate and white mint filling would have to be melted in a milk and cream mixture and unfortunately, that's not pretty to look at. After Eight is associated with green in our brains because of the packaging and the thought of mint.
In addition, I am of the opinion that one Avoid Néstle products should where possible. In the linked 9-minute ZDF documentary you can get a brief overview of this topic. But of course, everyone must decide for themselves. Alternatively, you could also use other mint chocolates (s. Tips), but I'm more the person who likes to assemble his ice cream from the individual components.
So I had set myself the goal of assembling the flavor itself and to put on each other to vote the way it tastes best to me. This is what created this ice.
Depending on the syrup used, this brings a slight green coloration. Who likes a rich green ice cream wants to have, must additionally Food coloring add. This does not change the taste.
Content
ingredients After-Eight Ice Cream
For 4 servings (approx. 500 g ice cream)
Preparation time: 10 minutes
Maturing time/cooling time: 1 hour or overnight
Freezing time: 30 minutes (ice cream machine), about 4 hours (freezer method).
Zuletzt aktualisiert am 30. September 2023 um 7:55 . Wir weisen darauf hin, dass sich hier angezeigte Preise inzwischen geändert haben können. Alle Angaben ohne Gewähr.
Preparation
Weigh the dry ingredients (dextrose, glucose, skim milk powder, locust bean gum and guar gum) and add a pinch of salt. If any of the ingredients are lumpy, pass the powder through a sieve. The small amounts below 1 g should be weighed with a fine balance (

e.g. Josh's digital scale MR5 | Feinwaage the in 0

from € 8.99 )* weighed out. Mix the ingredients well.
Put milk and cream together in a saucepan. Heat the mixture over medium heat while stirring.
Add the dry ingredients to the milk and cream mixture, stirring constantly.
Continue stirring the ice cream mixture for a few minutes until just before boiling. Then turn off the heat and remove the pot from the stove.
Now stir in the peppermint syrup.
Optional: the mint flavor can be underlined with 1-2 drops of peppermint oil (food grade!). To achieve a greener color add food coloring. Either green or a mixture of yellow and blue.
Let the finished ice cream mixture cool in the refrigerator and ripen overnight if necessary.
Freezing process and completion
Before freezing, the ice cream mixture should be mixed again with a hand blender (e.g. Braun hand blender MQ 5200WH from € 40.88 )* or stand mixer (e.g. Russell Hobbs Stand Mixer 2 from € 59.42 )* can be added.
Now you can use the ice cream machine prepare. In the ice cream maker, the freezing process takes about 30 minutes.
The chocolate melt in a water bath and cool to lukewarm. Drop in at the end of the freezing process with the ice cream maker running. Alternatively, the finished ice cream can be layered with the chocolate in the container.
Who Glycerin If you want to use the ice cream, you should add it to the ice cream mixture when the ice cream is already quite firm, but not yet completely ready.
Alternatively, you can also make the ice cream without ice cream maker in the freezer perform (total time about 4 hours).
If the ice cream becomes hard because, for example, your freezer is particularly cold, then simply let the ice cream thaw a little in the refrigerator for about 20 minutes before eating. Or you use in the production Glycerin.
Tips After Eight Ice Cream
If you have the Peppermint syrup makes itself, pay attention to the sugar content in the syrup for this recipe. I have used the Monin syrup (

e.g. MONIN Le Sirop de Peppermint Syrup

from € 8.69

(€ 34.76 / l)

)* calculated. This means that 76% of sugar are included. For example, if you this or a similar recipe for mint syrup you must use additional approx. 35 g sugar into the ice cream mixture to balance the ice cream. If you have a different recipe, more or less if necessary.
It lends itself to be used as Topping After Eight bars to use, but I personally would not do that for the reasons mentioned. There are also many better alternatives. You can without problems also any other mint chocolate (

e.g. Vivani Peppermint

from € 5.70

(€ 57.00 / kg)

)* chop small and sprinkle over it or simply just melted chocolate or Chocolate sauce about it. A good addition are also Waffles.
Price: € 39.99

(€ 20.00 / Count)
Buy now on Amazon*
Price incl. VAT, plus shipping costs
Amazon
Zuletzt aktualisiert am 30. September 2023 um 7:53 . Wir weisen darauf hin, dass sich hier angezeigte Preise inzwischen geändert haben können. Alle Angaben ohne Gewähr.
---
Another mint flavored recipe is my Cucumber sorbet with ginger and mint. Here, of course, the mint flavor is not so prominent.
Other recipes you might like are Ferrero kiss ice cream, Raffaello ice cream and Peanut Butter Ice Cream.
If you are still looking for a good ice cream maker, I can give you my articles on the best ice machines with compressor for medium households or for beginners recommend.