Top 3 ice machines with compressor: medium households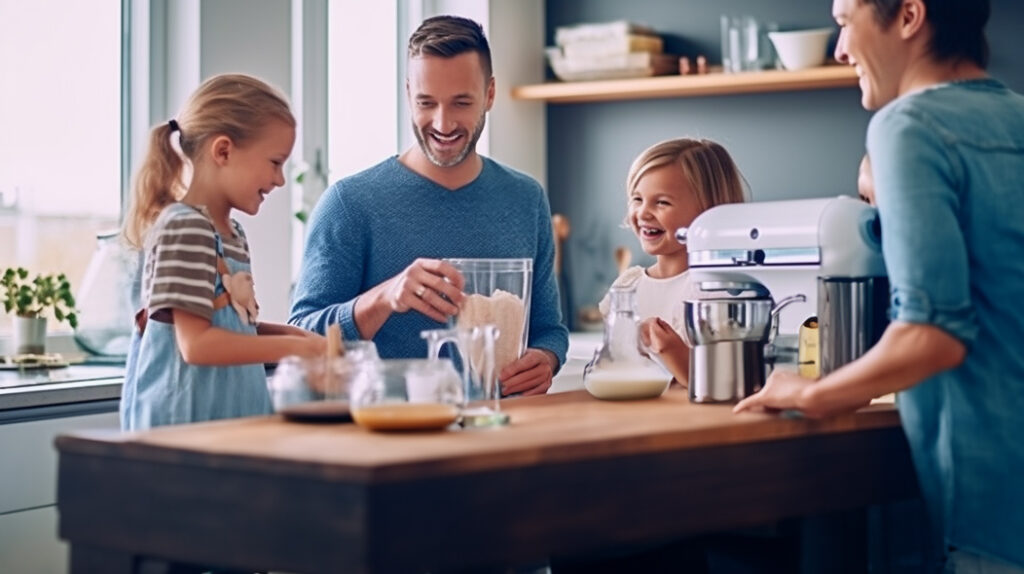 In this part of my series on ice machines we turn our attention to machines with compressor that are self cooling and an excellent price-performance ratio for medium-sized households offer
I define machines for medium households as those that have a Capacity from 1.5 to 2 liters have. This means that at minimum filling you can get about 2 portions and with full filling up to 6 servings can produce.
With an integrated compressor is no pre-cooling of the ice container necessary, as with the Devices with cold packs. So you can immediately start producing your ice cream as soon as the desire for ice cream overcomes you and are maximally flexible.
Are you looking for more of a smaller ice cream maker, check out the top appliances in my article for small households. Article about Ice cream machines for beginners and Without compressor I have also already ranked them.
For more detailed Information about my ranking, I refer you to the first post and the section, explaining how I determined the order of precedence. have. In short, all Ice machines with compressor considered, the At least 100 star ratings on Amazon have an average Star rating of at least 4.0 show and a Capacity from and including 1.5 up to 2 liters (excluded) have. The ultimate goal was to locate the top three machines. This is based on an analysis that includes the distribution of star ratings, the number of ratings, and the average price over the last 180 days. I believe that this approach is a fairer ranking of ice machines than simply the average star rating.
Content
The three best ice machines with compressor for medium households
And here is already the result. The complete ranking can be found at the end of the article.
Last updated on 29 September 2023 at 7:44 . Please note that prices displayed here may have changed in the meantime. All information without guarantee.
A brief technical comparison
| | | | |
| --- | --- | --- | --- |
| | MEDION 18387 | UNOLD Cortina 48806 | Cuisinart ICE100E |
| Dimensions of the device | 28.1 x 40.2 x 24.5 cm | 39 x 26 x 23 cm | 47 x 34,6 x 30 cm |
| Capacity | 1.5 litres | 1.5 litres | 1.5 litres |
| minimum filling - maximum filling | 2 - 6 servings | 2 - 6 servings | 2 - 6 servings |
| Weight | 10,4 kg | 12,1 kg | 10,7 kg |
| Color | silver/black | silver/black | silver |
| Material | Plastic, Aluminum | Plastic, aluminum, stainless steel ice bucket (from 2017) | Plastic, stainless steel |
| Performance | 150 W | 150 W | 150 W |
| Volume | 58 dB | 44 dB | unknown |
| special equipment and accessories | Filling opening lid, digital display, measuring cup, ice spatula | LC display, filling opening in lid, timer, measuring cup, ice cream scoop | two stirring bars (ice cream, gelato), digital display with timer |
Summary and comparison
Medion 18387: Minimalist device
The MEDION ice cream maker with compressor from € 199.99 *  is the Price-performance winner for medium-sized households. The controls are very simple in design. It has only one Rotary switch for the time and a digital display for the temperature. However, the minimalistic design of the Medion 18387 also has the advantage, robust and is rated positively by most customers. The Ice bin is made of aluminum and therefore not suitable for the dishwasher.
Should there ever be something wrong with the device, you have according to reviews with the Customer service from Medion something to fight. However, for the price of 200 Euros on average, you get a solid device that produces excellent ice makes.
This ice cream maker has also already made it in our comparison of Ice machines for beginners up to 250 euros on the second place managed. You can also find more information there. The Medion 18387 only had to compete with the SPRINGLANE ice cream maker Elli 1.2 L with self-cooling from € 179.99 *  which, however, has a slightly smaller capacity.
Unold Cortina 48806: appliance with little extras
Also the UNOLD Ice cream maker Cortina from € 219.65 *  is our goal with the Comparison of ice machines for beginners already met. There she has a good third place is proven. You can find a more detailed technical description and a list of the advantages and disadvantages in the mentioned article.
The Unold Cortina is reminiscent of the Medion 18387 in terms of design, only it appears a bit more modern with LC display and push buttons. In addition, currently ordered devices have a Stainless steel tank. It is also somewhat more expensive on average.
A plus point of the Unold Cortina is that spare parts such as the Ice bin ( easyPART Compatible/replacement for UNOLD 4880610 from € 37.90 * ) and the Stirring arm ( Unold 4880644 mixer for 48806 Cortina from € 13.95 * ) can be ordered separately.
Cuisinart ICE100E: The secret winner
Also on the third place of today's evaluation has landed no unknown. The Cuisinart Icecream & Gelato Professional from € 269.95 *  I have already published in a own item presented.
In relation to the other two ice machines, the Cuisinart ICE100E is on average significantly more expensive. For this it is from the Design (in my opinion) more appealing and compact. In addition, it also has a Stainless steel ice bucket and two different stirring arms for ice cream or gelato production.
The device scores in terms of Customer satisfaction. The distribution of stars speaks a clear language, especially since there are about three times as many reviews (almost 3000) as for the other two devices. Approx 80% of customers give this device 5 stars, whereas Medion 18387 and Unold Cortina still score well, but significantly worse. Only the price has let the Cuisinart slip to third place. So if you don't have to watch your budget, this device is the best choice. actual winners!
Ranking of all considered ice machines
---
Last updated on 29 September 2023 at 7:42 . Please note that prices displayed here may have changed in the meantime. All information without guarantee.
Lots of recipes for your ice cream machines can also be found here on my blog. Try but once a creamy cheesecake ice cream or Raffaello ice cream off.
The Ingredients you need to make ice cream needs, I have described in this article.