Raffaello ice cream: summer coconut ice cream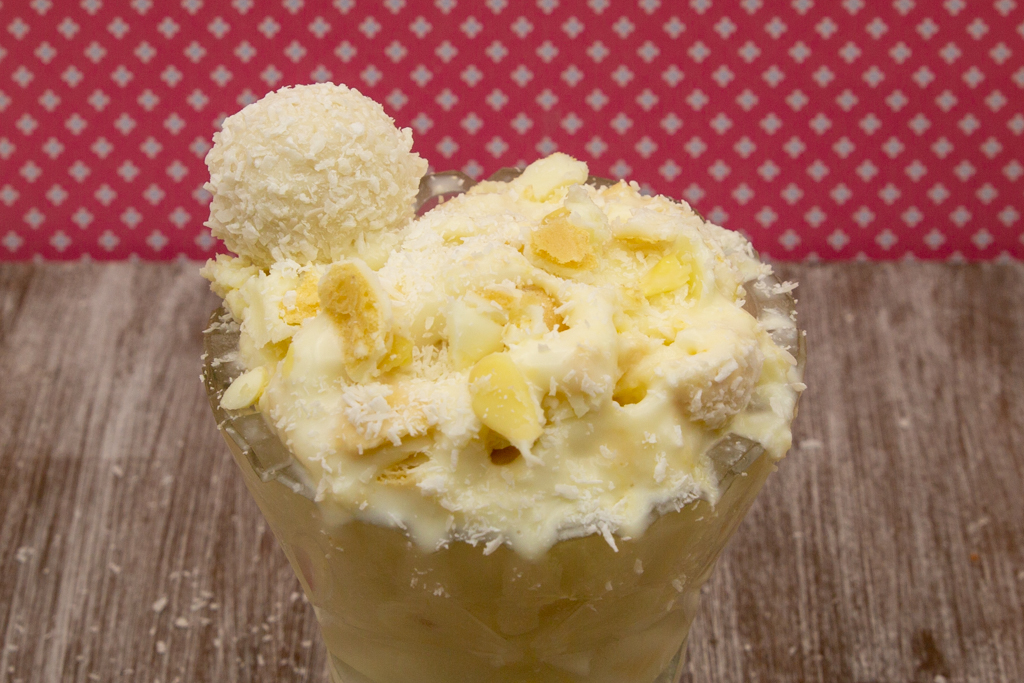 Raffaello ice cream is a delicious and unique dessert. When it's hot outside, there's nothing better than a refreshing scoop of ice cream and Raffaello is a chocolate that immediately reminds you of Summer makes you think.
This creamy treat is made from a Combination of coconut milk, almond paste and white chocolate made. Finally, chopped Raffaello balls are mixed in. However, you can also use almonds, chocolate chips and coconut flakes instead.
The unique combination of flavors of Raffaello ice cream makes it a perfect dessert for any occasion. Whether you want to enjoy it with a festive meal or just as a sweet treat in between. Let yourself be surprised by this great recipe.
ingredients
4 portions
Preparation Raffaello ice cream
Preparation: about 20 minutes
Resting time: at least 20 minutes up to one day
Freezing time: approx. 30 minutes (with ice cream maker) or 4 hours (without ice cream maker)
Mix the milk with the sugar, dextrose, glucose, skim milk powder, inulin and salt while stirring and heat until everything has dissolved.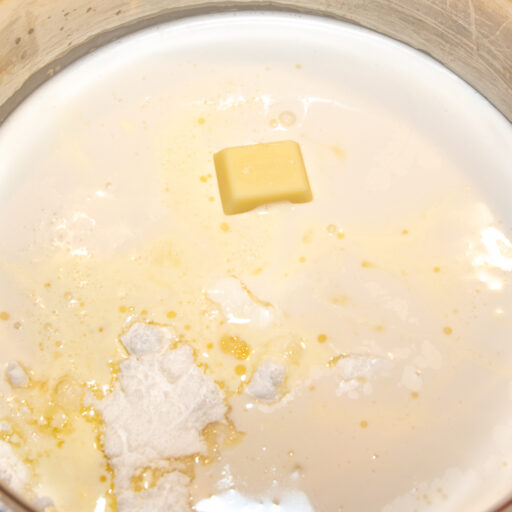 Continue stirring and heating for a few minutes just before boiling.
Turn off the heat and allow the ice cream mixture to cool slightly.
Stir in locust bean gum and guar gum.
Allow to cool and either steep overnight in the refrigerator or continue processing immediately.
Chop the raffaellos with a sharp knife. If desired, save some for decoration.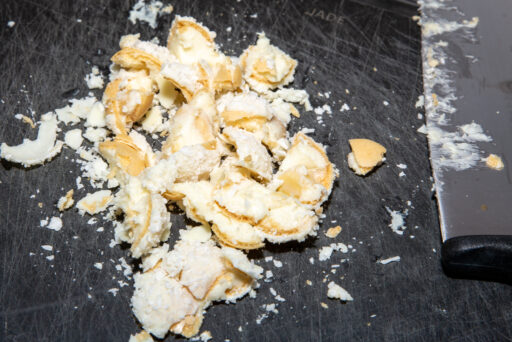 The ice cream machine prepare and pre-cool for a few minutes, depending on the model. Switch on the mixer and pour in the ice cream mixture (duration approx. 30 minutes). Just before the end of the freezing process, add the chopped Raffaellos.
Alternatively in Freezer freeze and mix well every 30 minutes with a hand mixer (total time about 4 hours). The ice cream will not be as creamy when made this way as it would be in an ice cream maker. After the last mixing, stir in the chopped Raffaellos.
If the ice cream has been in the freezer for a while or your freezer is particularly cold, simply let it thaw in the fridge for about 20 minutes before eating.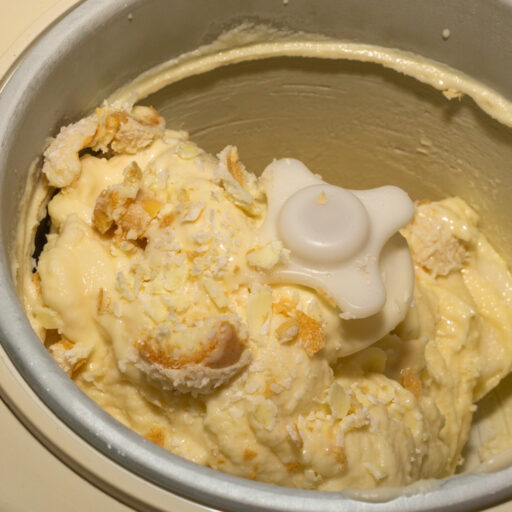 Raffaello ice cream tips and trivia
Use a high quality white chocolate. For example, the white chocolate ("White Vanilla") from Vivani scores well with the test magazine Chclt.net very well. But of course, other brands go as well. Make sure that the cocoa butter content is high and not too many ingredients are listed. In addition, if, then of course real vanilla should be included.
Many recipes freeze the raffaellos before they are hacked. I have with it no good experiences and find it easier to cut the raffaellos when they are at room temperature. Even if then a little of the cream remains on the cutting board.
At Coconut milk you should make sure that at least 80% Coconut is contained. Furthermore, no stabilizers or emulsifiers should have been used. 2020 Öko-Test tested various suppliers. For example, coconut milk from dm, Dennree and Bio Gourmet scored "very good".
Raffaello comes from Italy and consists of a Almond, which is used by a Coconut cream wrapped in a hollow wafer ball and covered with Coconut flakes is covered. The Invention of the Raffaello balls is attributed to the Ferrero company. The idea for the Raffaello balls is said to have originated in the 1990s years ago, when the Ferrero company was looking for a new candy that could repeat the success of Ferrero Rocher chocolates, and it succeeded.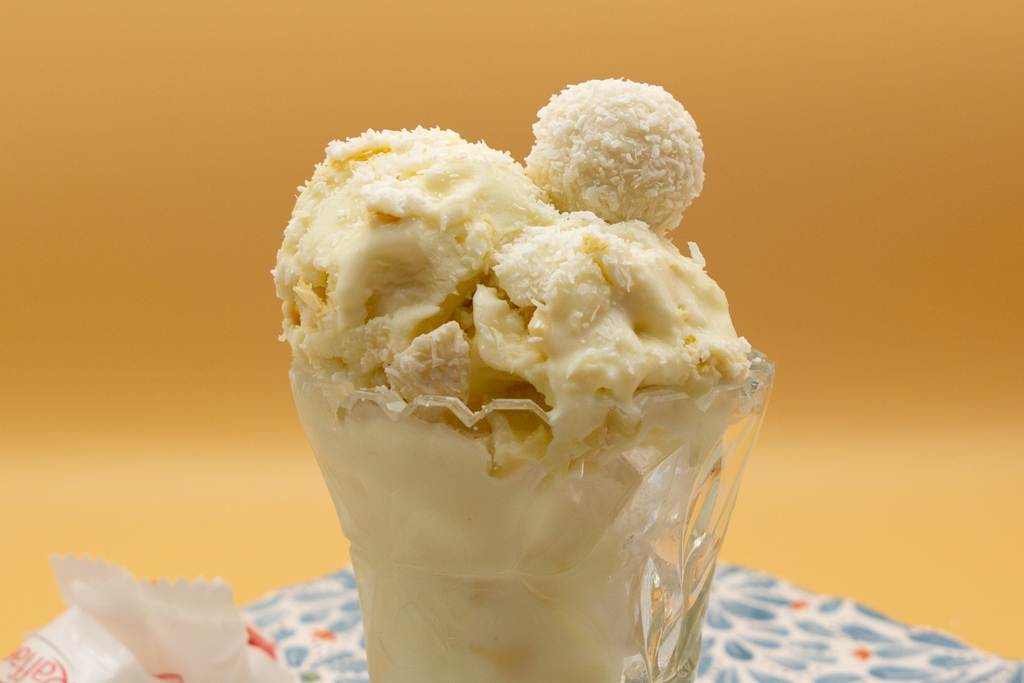 ---
Other Recipes with coconut are Blueberry ice cream with coconut yogurt, Golden milk ice cream or my vegan caramel sauce.
If you like Ice cream with praline flavor then why don't you also try my Ferrero kiss ice cream off.