Marzipan ice cream with chocolate chips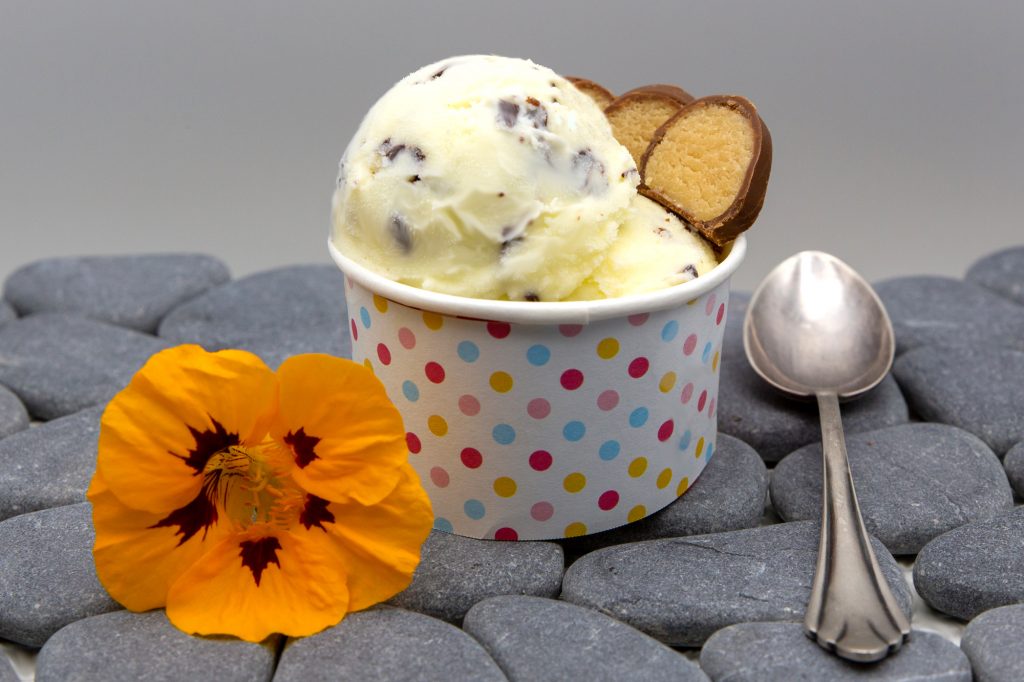 For all marzipan fans: here you will find a recipe for a creamy marzipan ice cream and that without marzipan or egg to use. How does that work?
The secret is that bitter almond flavour and my Ice base. But there is also Alternative to ice basewhich you can find below in the list of ingredients.
Most marzipan ice cream recipes contain real marzipan. This is certainly a nice variation, especially if you have marzipan left over. However, the marzipan leads to a slightly grittier mouthfeel due to the almond pieces it contains. The recipe described here, on the other hand tenderly melting and light.
The Dark chocolate harmonises perfectly with the marzipan taste, but can also be omitted if desired.
Marzipan ice cream is especially popular in the cold season and for Christmas. But I like to eat it just as much Summer. 🙂
Ingredients for marzipan ice cream
3 portions
200 g milk
200 g cream
60 g sugar
1 pinch of salt
10 drops of bitter almond flavour
Preparation
Put milk, cream, sugar and salt in a pot.
Heat, stirring until just before boiling, until the sugar is well dissolved.
Add ice base (alternatively dextrose and inulin) and mix well. Allow to cool slightly.
Add the bitter almond flavour.
Allow to cool to room temperature. If you want to add amaretto, now is the time. Then chill down in the refrigerator. It can also steep well overnight.
Before it goes into the ice cream maker, whip it up again with a hand blender or mixer.
The ice cream machine prepare and pre-cool for a few minutes, depending on the model. Switch on the mixer and pour in the ice cream mixture (duration approx. 30 minutes). Shortly before the end chopped chocolate add to it. Or about 20 minutes before the Melt chocolate, cool to lukewarm and add to the ice cream mixture while the ice cream maker is running. This gives rather elongated and very thin chocolate chips.
Alternatively in freezer compartment (Step by step guide) freeze and mix well every 30 minutes with a hand mixer (total time 3-4 hours). When the ice cream is ready frozen, bring in the chocolate shavings or layer melted chocolate with the ice cream. Then stir well once before serving.
Should the ice longer in the freezer If the product has been stored for a long time, it should be left to thaw in the refrigerator for 20-30 minutes before eating, depending on the quantity.
Last updated on December 7, 2023 at 19:16 . Please note that the prices displayed here may have changed in the meantime. All information without guarantee.
Tips for marzipan ice cream
Marzipan contains ground almonds, sugar and possibly flavorings. The typical flavor of marzipan is given by a certain proportion of bitter almonds. The amount of bitter almonds is strictly controlled, because they contain prussic acid and are therefore harmful to health.
bitter almond flavour is harmless, because unlike bitter almonds it is No hydrocyanic acid contains. However, you should not consume huge amounts of bitter almond flavoring either. However, the 10 drops for this recipe are in any case completely safe.
If you want to decorate your marzipan ice cream with marzipan, then I can as a married Lübeck naturally only to Niederegger marzipan* guess 😉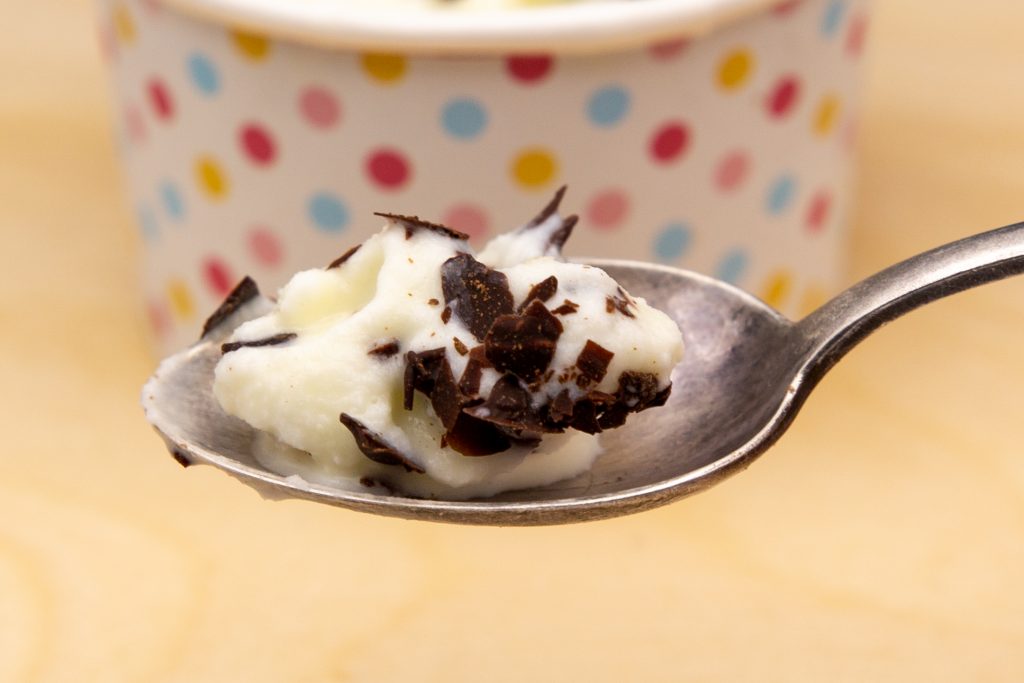 ---
After picking this recipe, you are obviously just as great Marzipan fans like me. Then you must necessarily also my Amaretto parfait from the freezer try
And if you are looking for Chocolate chips is, of course, nothing like a delicious stracciatella ice cream. That I have both in the classic variant as well as in a vegan variant with oat milk developed.