Marzipan ice cream with chocolate chips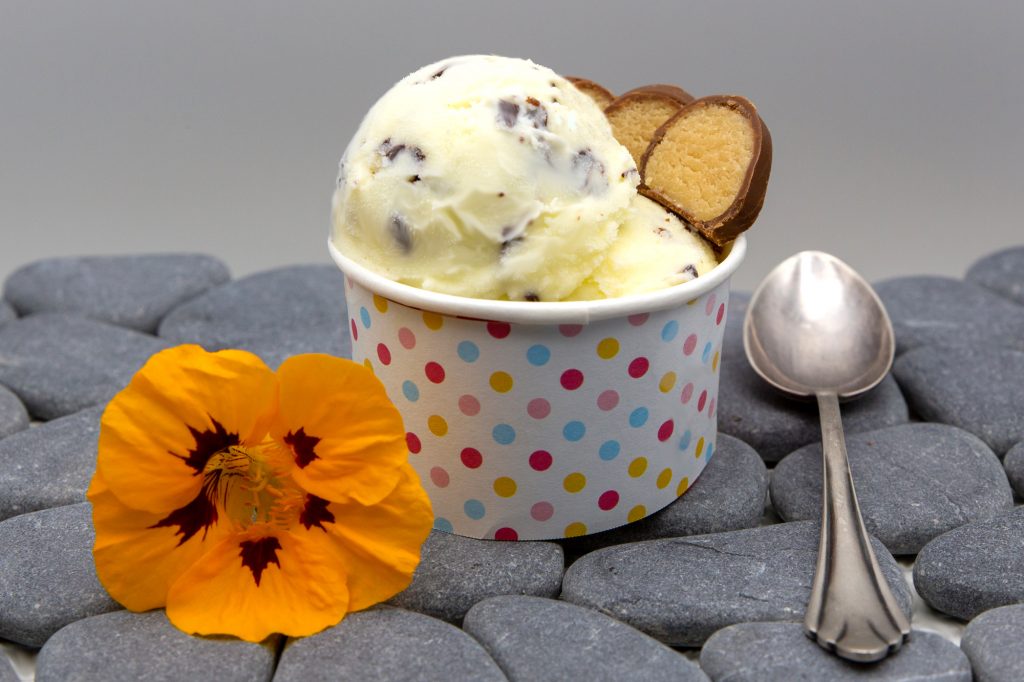 For all marzipan fans: here you will find a recipe for a creamy marzipan ice cream and that without marzipan or egg to use. How does that work?
The secret is that bitter almond flavour and my Ice base. But there is also Alternative to ice basewhich you can find in the ingredients list below.
Most marzipan ice cream recipes contain real marzipan. This is certainly a nice variation, especially if you have marzipan left over. However, marzipan leads to a slightly grainy mouthfeel due to the almond pieces it contains. The recipe described here, however, is tenderly melting and light.
The Dark chocolate harmonises perfectly with the marzipan taste, but can also be omitted if desired.
Marzipan ice cream is especially popular in the cold season and for Christmas. But I like to eat it just as much Summer. 🙂
Ingredients for marzipan ice cream
3 portions
200 g milk
200 g cream
60 g sugar
1 pinch of salt
40 g Ice base (alternatively replace with 30 g glucose and 10 g inulin)
10 drops of bitter almond flavour
30 g chocolate (e.g. 70%)

optional: 1 tablespoon Amaretto
Preparation
Put milk, cream, sugar and salt in a pot.
Stirring until just before boiling, heat until the sugar is well dissolved.
Add ice base (alternatively dextrose and inulin) and mix well. Allow to cool slightly.
Add the bitter almond flavour.
Allow to cool to room temperature. If you want to add Amaretto, now is the right time. Then cool it down in the refrigerator. It can also draw overnight.
Before it comes into the ice cream machine once again with the blender or blender foam up.
The Ice cream machine prepare and pre-cool for a few minutes depending on the model. Switch on the stirrer and add the ice cream mass (duration approx. 30 minutes). Shortly before the end of the chopped chocolate to this. Or the Melt chocolateLet it cool down lukewarm and let it flow into the ice cream mass while the ice cream machine is running. This results in rather longish and very thin chocolate flakes.
Alternatively in freezer compartment Allow to freeze and mix well every 30 minutes with a hand mixer (total duration 3-4 hours). When the ice cream is completely frozen, add the chocolate rasp or layer melted chocolate with the ice cream. Stir well once before serving.
Should the ice longer in the freezer have been stored, it should be defrosted in the refrigerator for about 20-30 minutes before consumption, depending on the amount.
Tips for marzipan ice cream
Marzipan contains ground almonds, sugar and possibly flavouring agents. The marzipan gets its typical taste from a certain amount of bitter almonds. The amount of bitter almonds is strictly controlled as they contain prussic acid and are therefore harmful to health.
bitter almond flavour is harmless, because unlike bitter almonds no hydrogen cyanide contains. However, one should not consume large quantities of the bitter almond aroma. The 10 drops for this recipe are in any case completely harmless.