Lemon sorbet in 4 easy steps
Today I have something very special for you: a recipe for homemade lemon sorbet.
Why should you try this recipe? Well, it is not only incredibly refreshing and perfect for the hot summer days, but also super easy to make. In only 10 minutes and 4 simple steps you have prepared it. And after that it either goes into the ice cream maker or you put it with the Freezer method her.
When you make your own lemon sorbet, you can make it exactly how you like it. You can use the Adjust sweetness or acidity, various Lemon varieties try out or even Additional flavors add (s. Tips). The possibilities are endless!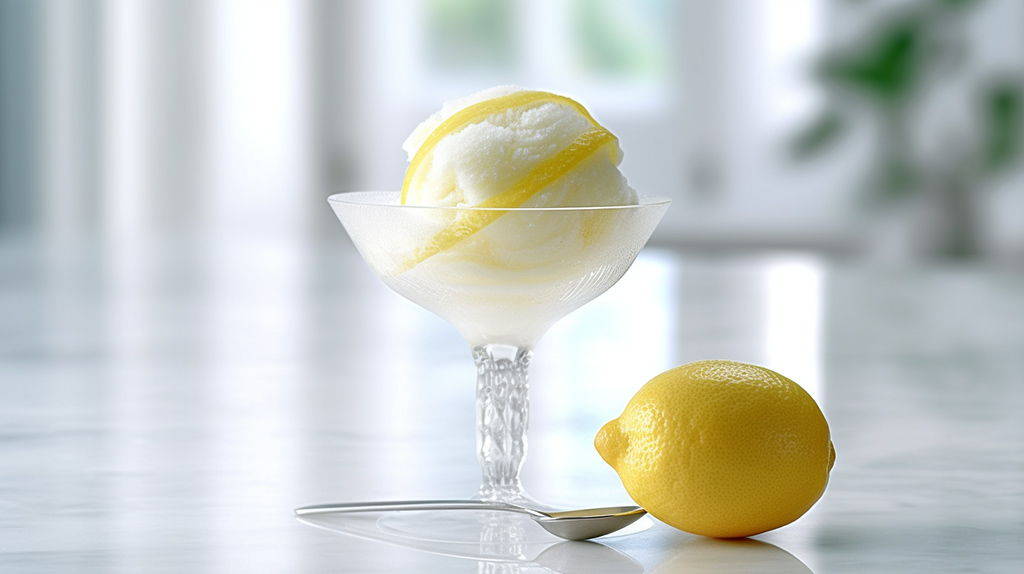 Content
ingredients
For 4 servings
Preparation time: 10 minutes
Freezing time: 30 minutes (ice cream machine), about 4 hours (freezer method).
Preparation lemon sorbet
First put the sugar, glucose, dextrose, inulin and salt together with the water in a pot. Heat the mixture slightly until everything is dissolved and remove the pot from the heat.
Weigh the locust bean gum and guar gum with a fine scale and stir them into the sugar syrup (through a sieve, if necessary).
Now add the lemon zest. To do this, wash one of the lemons hot and grate some (about 1/3 tsp) of the yellow zest into your sorbet mixture. This makes it a little more tart, but also more interesting. I use a kitchen grater (

e.g. Microplane Zester kitchen grater in black for citrus fruits

from € 24.64 )*  .
Now squeeze the lemons with a citrus juicer (

e.g. Brendo lemon squeezer

from € 19.99 )* to extract the lemon juice and mix it into your sugar syrup. Be careful not to have any seeds in your ice cream mixture.
Now you can use the ice cream machine prepare and pre-cool for a few minutes, depending on the model. Switch on the mixer and pour in the ice cream mixture (duration approx. 30 minutes).
Alternatively in Freezer freeze and mix every 30 minutes with a hand mixer (e.g. Bosch hand mixer MFQ2210P from € 37.99 )* mix well (total time about 4 hours). The ice cream will not be as fine in this production as in an ice cream machine.
If the ice cream has been in the freezer for a while or your freezer is particularly cold, simply let it thaw in the fridge for about 20 minutes before eating.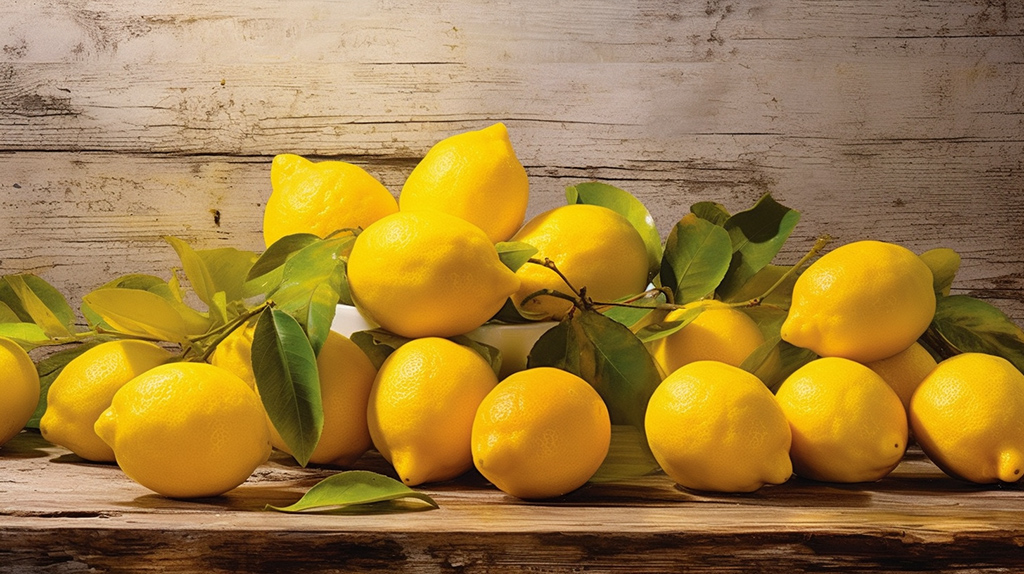 Tips and tricks
Not all lemons are the same. There is actually a Variety of varieties, all of which have their own unique flavors and properties. Known varieties are for example Eureka, Primofiori or Verna. There are also lemons less acid, like the Meyer lemon or the well-known from Italy Amalfi lemon. The latter is large and has a thick, fragrant skin that is often used in Italian cuisine. Try different varieties and find out which one you like best! You're sure to find one in a well-stocked fruit store.
There are countless ways to make your lemon sorbet vary. For example, you could use fresh herbs like Mint or Basil add, which provide a nice contrast to the citrus freshness. Or how about something Ginger for an extra kick? And for a really fancy variation you could even use Lavender (

e.g. lavender flowers dried BIO 500 g I Lavender 100 % natural

from € 17.95

(€ 35.90 / kg)

)* try it out. Be creative and have fun experimenting! The herbs I would always Dose carefully and add finely chopped just before freezing. You can add the ginger already during the preparation of the ice cream mass best finely grated.
If your sorbet is fairly firm and there is nothing wrong with using alcohol, you can use a Shot alcohol into the mass. Due to the freeze inhibition of the alcohol, it takes longer for the ice cream mass to freeze, but you get smaller ice crystals and thus a softer texture. Alcohol that works well for lemon sorbet is Limoncello (

e.g. Villa Massa Limoncello Liqueurs (1 x 0.7 l

from € 16.90

(€ 24.14 / l)

)* or Gin (

e.g. Monkey 47 Black Forest Dry Gin - Harmonious Ultra Premium Gin with juniper aroma & fresh lemons

from € 30.76

(€ 61.52 / l)

)*  .
Last updated on 29 September 2023 at 7:43 . Please note that prices displayed here may have changed in the meantime. All information without guarantee.
Should you be interested in further Sorbet recipes interested I can give you my Melon sorbet, Raspberry sorbet or Blueberry sorbet recommend.