Make your own ice cream confection from coconut yoghurt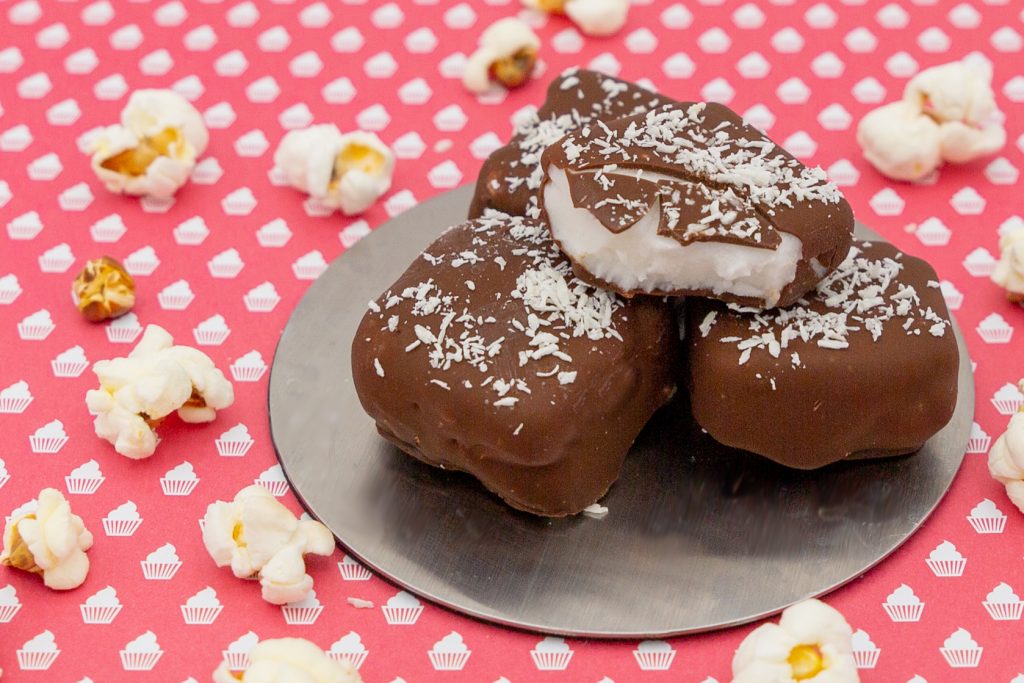 For me, ice cream confectionery is associated with my childhood memories of cinema. No movie without having bought some beforehand. It belonged for me simply to the cinema experience with it. I'm all the more pleased that I can now make my own ice cream chocolates whenever I feel like it.
I wanted to try something new and make a recipe with vegan ice cream create. I'm not vegan myself. But I'm realising more and more that I'm just not very good with cow's milk. Thank God it's not so bad that I would have to give it up completely, but still enough to look for alternatives.
In recent years, there are increasingly Yoghurts also from vegetable milk. If you don't want to start your own yoghurt production, you can usually find it in the larger supermarkets or in any organic market.
Coconut yoghurt ice cream coated with dark chocolate is simply incredibly delicious. So give it a try for yourself.
Ingredients coconut yoghurt ice cream confection
For 4 portions
Preparation of the ice cream mass
If you don't have any sugar syrup in stock, just boil sugar and water in a pot until everything is dissolved and let it cool down. Alternatively you can also use bar syrup or coconut syrup.
Mix coconut yoghurt, sugar syrup, agave syrup, vanilla extract, lime juice and salt well.
The ice cream machine prepare and pre-cool for a few minutes depending on the model. Switch on the stirrer and add the ice cream mass (duration approx. 30 minutes).
Alternatively in Freezer Allow to freeze and mix well every 30 minutes with a hand mixer (total duration approx. 4 hours).
Production of the ice confection
Put the finished frozen ice cream mixture into moulds. Ideas what you can use here, you will find further below. Alternatively, line a square mold (approx. 16 x 20 cm) with foil and smooth the ice cream mixture in it.
Let it freeze in the freezer for at least 3 hours.
Break the chocolate and melt it with the coconut oil over a water bath. Let it cool down a little bit until the chocolate is only lukewarm.
Squeeze the ice cream morsels out of the moulds or turn the coconut ice cream out of the large mould and cut it into 4 x 4 cm squares.
Using a fork, roll each ice-cream bite individually in the chocolate, place on a baking parchment or plate and sprinkle with grated coconut. Work quickly and put back into the freezer in portions.
Before consumption, let the ice cream confectionery thaw in the refrigerator for about 20 minutes.
The ice praline, as you would expect, reminds of Bounty Ice Cream. Only with very much less sugar and significantly healthier than the commercial version.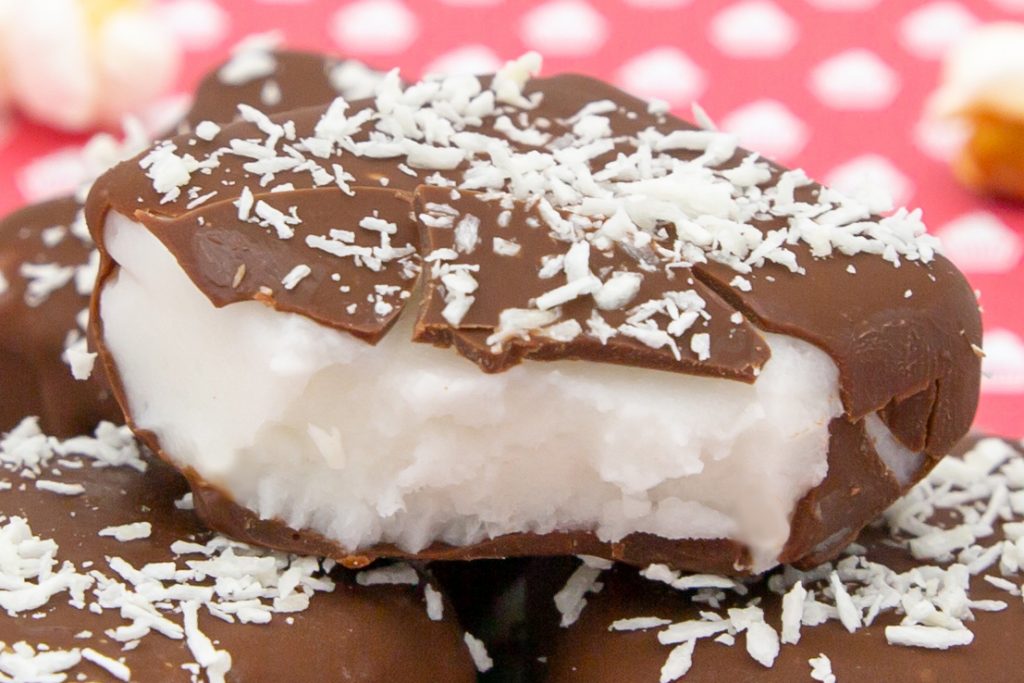 Tips for ice cream confectionery
As Forms for your ice cream pralines you can use many different things: Silicone baking molds, praline molds or small paper molds. Quite simply, you can also use the packaging of various sweets. Then these have also found a second use.
Since coconut yoghurt may contain added sugar, you must be careful to reduce the amount of sugar. I have a Yoghurt without added sugar is used which has an own sugar content of 1g/100g.
Should you need more vegan ice cream recipes search, then I can give you my vegan orange ice cream or Walnut ice cream recommend The Blueberry ice cream with coconut yogurt can also be processed well as ice cream confectionery, but then with white chocolate.
Other Recipes with vegetable yogurt are my Golden milk ice cream, Frozen yoghurt ice cream or Basil ice cream from the freezer.
---