Banana split - classic variant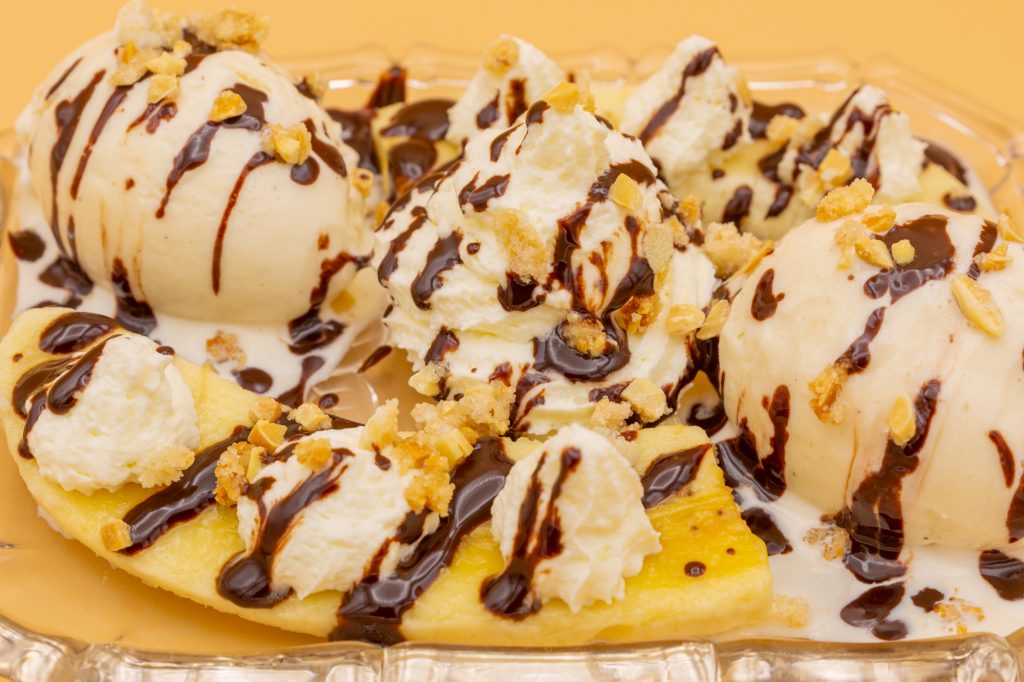 Banana split is a sundae that is usually Germany from Vanilla ice cream, bananas, cream and chocolate sauce exists. Classically, it is served in an elongated bowl. In the ice-cream parlor, you pay a relatively high price for it, although you can buy banana split with only a few ingredients very easy to make yourself can.
However, there are also some variants that look much more colourful. These then consist of different types of ice cream, sauces and toppings. Especially in America you find this variant. This is also where this sundae was allegedly invented. If you would like to try an American banana split, you will find the ingredients at the end of this post.
From the English also comes the name: "Banana Split" from "split banana". It is difficult to say exactly who the author was. In any case, in Wilmington there is even an annual Banana Split Festival.
Ingredients for banana split
Preparation
Peel the banana, halve it and arrange it on a plate.
Put three scoops of vanilla ice cream in the middle.
Decorate with whipped cream and chocolate sauce.
Optionally can be combined with sprinkles or caramelised nuts be decorated.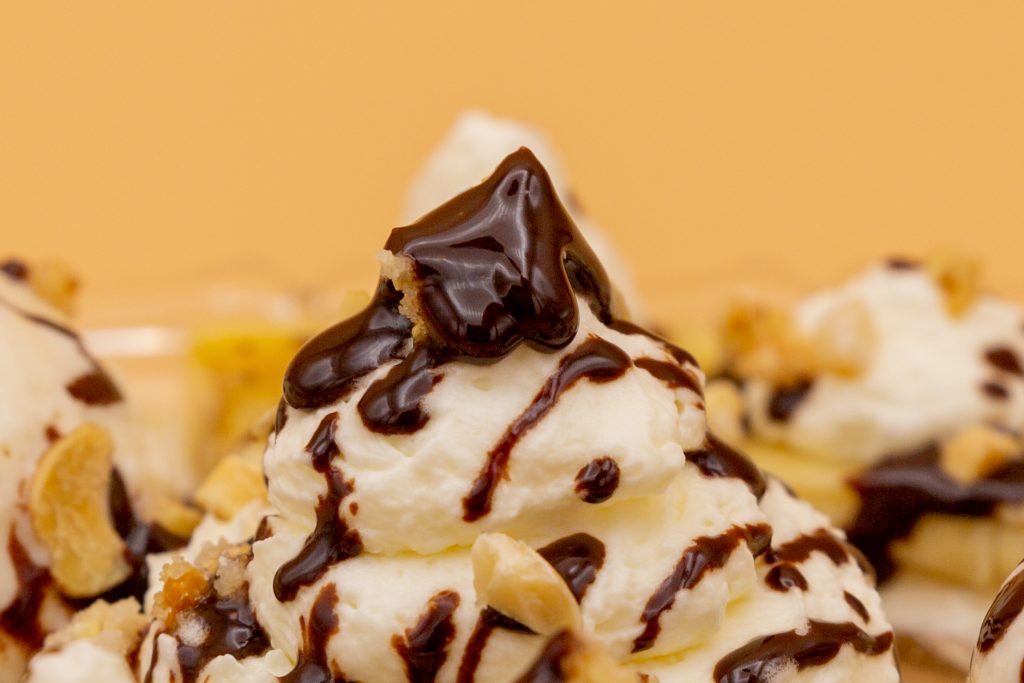 Do you want several sundaes prepare at once, e.g. for a party, it is recommended to pre-cool the ice cream bowls or plates in the freezer. Once you have distributed the bananas and ice cream, you can also cool them in the freezer between meals. Just not too long and provided you have enough space. Otherwise it is also possible to work fast with a refrigerator. Before serving only the cream and the chocolate sauce over it.
Another variant, which is much easier to stack, is the Arrangement in glasses. Ice cream, banana and chocolate sauce can be layered alternately. To finish, decorate the whole thing with cream and chocolate sauce.
American Banana Split Variation
The American version consists of chocolate, vanilla and strawberry ice cream and of course banana. Decorated with cream, chocolate sauce, strawberry, pineapple syrup and maraschino cherry.